Allen: I Lived the Struggle of Black Boys in Special Education, Which Is Why I Decided to Return to the Classroom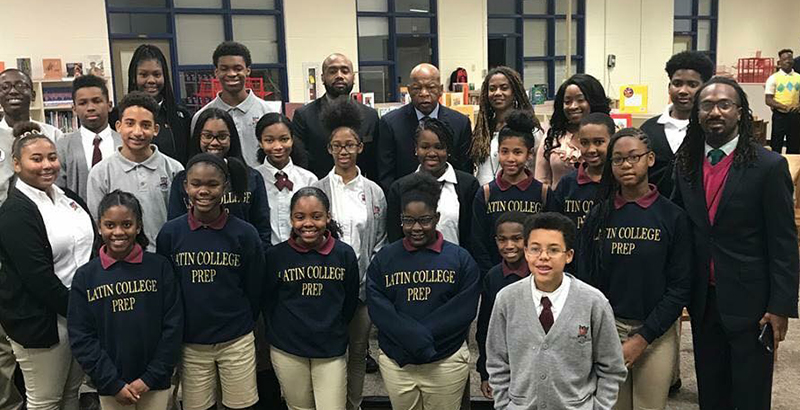 It's your first year at a new middle school and your name is RaQuan. Immediately on the first day of school, you are judged. Your skin color, name, clothes, learning ability all determine if the school's focus is on your academic or your discipline record.
Like many other black boys, RaQuan is immediately grouped, separated, and singled out as a perceived problem and a threat to the learning environment. Too often, black boys are pushed into special education programs because of their behavior challenges that impact their ability to achieve academic success.
I have both lived and witnessed the struggle that black boys face with being in special education programs. It's difficult having to be pulled out of class for special support, especially in middle school years. Black boys would much rather risk becoming a statistic than be viewed as a sped, or special ed kid. I understand the stigma of this word and the cruelty kids show to those who are labeled as having a special need or an Individualized Education Program. This stigma creates an environment that provokes some of the negative behaviors displayed by black boys.
Schools place discipline records for black boys over academics. Every time you do something, your teachers and leaders are documenting and working to push you out because you are a problem already indicated on your label. This becomes a daily experience in school for RaQuan. Eventually, RaQuan becomes irritated and tired of being treated like something he's not. His peers immediately empower his attitude toward authority, which leads to negative behaviors.
I see this daily in classrooms, especially with black boys who have IEPs or 504s. I just don't believe at that age children are able to properly handle that type of pressure on top of dealing with trauma at home. However, some will still argue that emotional distress doesn't impact learning. It does.
That's why I'm such an advocate for family and community engagement in improving educational outcomes for black boys. I can identify with RaQuan's experience. My fourth- through seventh-grade years at Southwest Middle School, now known as Jean Childs Young Middle School, in Atlanta Public Schools were spent in special education services for remediation.
However, I was also on the other side of the spectrum as a student in the gifted and talented program. The stigma of being in the special education program didn't negatively impact me. I attribute this to the engagement of my parents with my teachers and school leaders. I have also witnessed as a special education teacher the impact of building relationships with parents on the academic improvement of black boys in special ed programs.
In order to change the experience of RaQuan and the hundreds of thousands of black boys in schools across America, we must empower black males to become educators. This is one reason I decided to go back to the classroom, specifically to be a special education teacher. Less than 2 percent of teachers nationwide are black men, as reported by The Fellowship: Black Male Educators for Social Justice.
After 15 years in education, I had to make a decision. Do I leave education or stay? I decided to leave school administration and go back to the classroom as a special education teacher. In order for me to be where I truly could make an impact, I wanted to do it through a new area that would support my focus on improving the educational outcomes for black boys.
There's always a lot of talk about black boys and the struggle with their discipline, but what are we really doing about it? I choose special education because as a school administrator, I found that the majority of the discipline problems were from the black boys in the special education department.
In fact, having to suspend black boys in growing numbers became overwhelming. It became overwhelming because I knew that there was more we could be doing. It was the lack of support, resources, will and buy-in from leadership and staff, and, most importantly, the engagement and connection with parents.
Instead of changing the way black boys were learning and being developed, we just suspended them or placed them in in-school suspension. Discipline records put labels on black boys that push them out of school. If we truly invested in restorative, social-emotional-learning-based programs that incorporate strategies that impact black boys, we'd see more of them successfully come out of special education programs. Strategies that I've used in discipline programs and now in the classroom are doing just that.
As a administrator, I enjoyed being able to work with the students on enhancing their academic, life, and leadership skills. However, being in the classroom gives me direct access to doing the same thing with more focus on the academic planning and implementation. The other day, I saw that my presence in the classroom makes a huge difference.
One of the black boys in my seventh-grade class completed an assignment with my support. This was one of his first assignments he finished in school this year. He said to me, "Thanks for helping me." I told him, "That's why I'm here."
Jason B. Allen is a special education teacher in Douglas County, Georgia, and the chairman of the Neighborhood Planning Unit/NPU K in Atlanta. A former administrator at The RISE Schools–Prep, he blogs at EdLanta.org and is a featured voice at Education Post.
Support The 74's year-end campaign. Make a tax-exempt donation now.