Allen: Advice to Secretary DeVos — Lean In, Be Bold, Talk About Power, and Rethink Twitter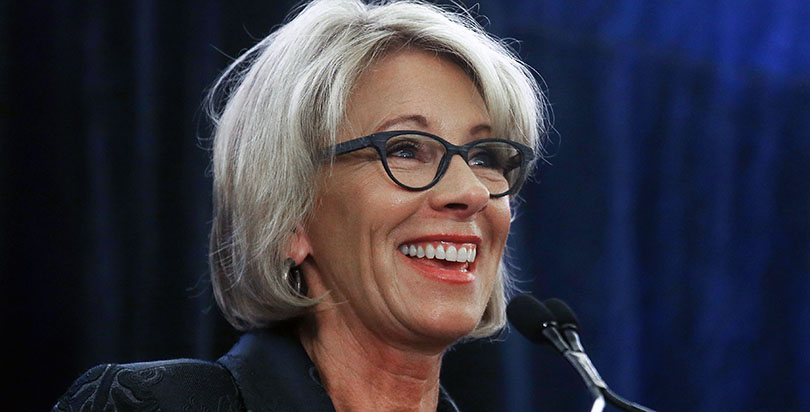 This is the fourth in a series of essays in which policy experts, educators, and journalists discuss their take on top priorities now that U.S. Secretary of Education Betsy DeVos is on the job. Read the others here.
Dear Betsy,
You're a highly accomplished executive, thought leader, philanthropist, and a mother, so the last thing you need is advice. That said, and with deep respect, I offer you a few thoughts I've assembled, not just in reaction to the past few weeks, but as a result of my three decades (that hurts to write) in Washington and my experience with the U.S. Department of Education throughout that time.
Mostly what follows is simply a reflection of the times we live in and what's needed most as I hear from people around the country, from all walks of life.
1. Don't run from who you are and why you are there.
Your leadership in the school choice arena is why you were selected. It's why thousands of people joined the campaign to counteract the calls filmmaker Michael Moore and the unions initiated into Hill offices and newspapers against you.
Lean in.
The compelling narrative of this entire election, and now President Trump's administration, was and continues to be power for those who have none. So what better way to start than by shouting from the highest peaks your conviction about how best to get them that power? Make the case for why we need reform whenever you speak.
Here's what you say: Opportunity matters. It's not about the kind of school one attends but about whether one has the power to make that decision. Opportunity matters for learners at all levels. Our nation is rampant with functional illiteracy: 32 million adults cannot read. Sixty percent of all students graduate college (within six years), but only 35 percent of African-American males do. In cities like Philadelphia, that number is 3 percent. These numbers — and the scary, sad, copious other data points out there — reflect why you believe what you believe, why you were chosen, and why we need education opportunity for all.
2. School visits — why? (Oh gosh, I can see the tweets now. But seriously…)
You got huge brownie points from many for going to a traditional D.C. public school. That is exactly where we need you. Funny, the opposition says you have no experience with public schools, yet they block you when you try to enter one. But Betsy, you've been to dozens of schools, and probably more than most teachers.
The Blob didn't oppose you because you never went to public school or had kids who attended one — that was a smokescreen. They opposed you because you represent a point of view that the union vehemently rejects. But now you are the secretary. Go to schools, of course, but do so explicitly with two goals:
• To learn about and be able to report out how your department's policies and programs really drive school behaviors, and
• To recognize — and shed light on — the education environments created when education choice is part of the landscape.
On the first goal: What can you learn from what educators are forced to do, or what they could do more of if they didn't have to jump through hoops? Yours is a regulatory agency. There is a list of things you can ask, solicit (for all the media to hear) that can help you separate the wheat from the chaff when you're presented with decision points from well-meaning but risk-averse staff. You can also use what you learn to build public awareness about why some schools have so many challenges. It's rarely just about the people, as you know.
On the second goal: Make your school visits representative of the city or state you're in. Here in D.C., almost half of our students are in charter schools (a choice program you're very familiar with), and many traditional public schools have been restructured as a result of this competition. Parents are choosy here, and the schools reflect their interests. When you want to visit schools, visit those that are different because of education reform, where you can see that difference and applaud their willingness to go bold. Go to schools that were virtually on death's door and are now vibrant, healthy communities that transformed the neighborhood. Show what happened; say what happened.
3. Change how the department deploys social media.
This may sound trivial, but it's not (especially in this day and age). Consider why people follow others on Twitter — for the right reasons. They need information about something that affects them, they want to be inspired, and they are hungry for knowledge. Those who follow for the wrong reasons want to play gotcha, want to gossip, and are looking for ways to find fault.
Before the Obama administration began deploying social media, all public pronouncements in various forms were largely informational. Deadlines, data, announcements, activities of its staff, its leaders, promoting various proposals — that was all that a department advertised. That's all it should be. No isolated statements or quotes are necessary. The W.E.B. Du Bois Twitter episode was painful. The news about your visit to Howard University was awesome.
As for your own Twitter account, use it to promote where you are going and what you are doing, to pat folks on the back, and do it personally, yourself. Other than that, it's too time-consuming for someone to manage a department account, and a waste of money. Repurpose that social media position to learning about what's happening across the country and to bring it to you. That brings me to my next point…
4. Convene diverse groups of people, to listen, to learn, and to share, and do so at the department.
That social media person you are going to repurpose could take on the task of watching state and local media and soliciting all the friends, colleagues, leading educators, ed tech leaders, state policymakers, think tank experts, etc., for names of people who are toiling in the vineyards of school change daily. They are the unsung heroes of our nation, and while a school visit is nice, inviting them to Washington, D.C., to meet in your conference room and have the opportunity to tell you, in front of staff (not press), of their hopes and dreams and challenges would mean the world to them. It's a sign of respect, and this is, after all, the nation's capital. Most of us still get chills being here, and without the distraction of leaving your office you will learn much. I organized a group of 20 people from all corners of the charter school movement to visit with former education secretary Rod Paige shortly after he stepped into the job. They still talk about it, and they influenced how he thought and his team thought about — and acted on — charter schools going forward.
We've come a long way since then, with many more stories to tell. You could have a weekly session with people from every kind of school or place of learning, and you could report out what you heard. The viewpoints you would hear from hundreds over a few short months would be representative of thousands, and would be more impactful (though not as fun, I suspect) as going to schools.
5. Read (if you haven't already) The Center for Education Reform's The First 100 Days: The Path to Going Bold on Education Innovation and Opportunity.
It will save you hundreds of staff hours. Speaking of staff, we have to talk.
Get stories like these delivered straight to your inbox. Sign up for The 74 Newsletter