All Teachers Have to Do is Ask: DonorsChoose Brings Dollars into Neediest Classrooms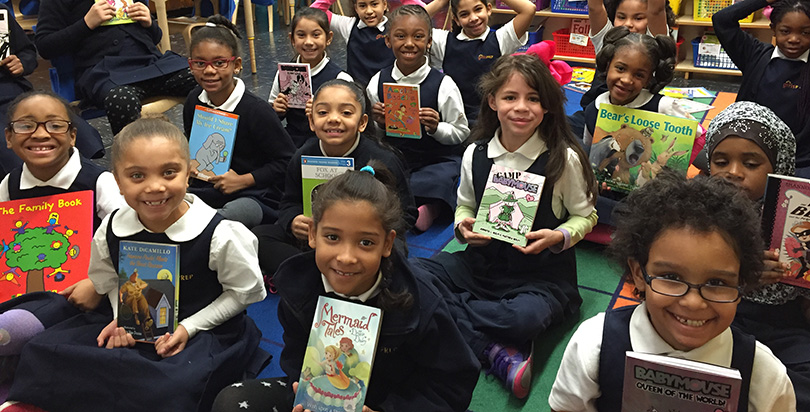 Twenty-five girls sit neatly on the carpet, eyes closed, hands outstretched. Their teacher, Bhawna Gupta, places a book in each waiting hand. Count to three, she tells them, and then open your eyes.
1,2,3… eyes fly open and cheers and shrieks fill the room.
Each second-grader is holding a brand-new copy of B.J. Novak's "The Book With No Pictures." The book that uses wild, silly, and nonsensical words that must be read aloud is the most popular book in the classroom.
"I've never seen a reaction to a book like that one" said Gupta, a lead teacher at Girls Prep Bronx Charter Elementary School, but there was only one book to go around. So she created a DonorsChoose campaign asking for copies of Novak's book and on this particular day, that dream came true when each of her students was given her own copy.
---
---
DonorsChoose was started in early 2000 by Charles Best, a former high school history teacher in the Bronx who, like many of his colleagues, was buying necessary materials for the classroom himself. U.S. teachers on average spent $485 out of their own pockets on school supplies, according to a 2012-13 study by the National School Supply and Equipment Association.
Best devised a plan to create an online platform where teachers could post what their classrooms needed, and with $5 and the click of a button, anyone reading those posts could become a philanthropist.
In 2003, Oprah plugged DonorsChoose on her show, calling it "revolutionary." The site promptly crashed from a flood of donations and DonorsChoose took off. In May 2015, "The Late Show" host Stephen Colbert donated $800,000 to DonorsChoose projects in his home state of South Carolina. Colbert sits on the organization's board.
To date, $383,144,218 has been raised for classroom needs thanks to nearly 2 million supporters. The average donation is $100.
The way DonorsChoose works is simple: Teachers post projects that need funding. These can range from field trips, to art supplies, to batteries for a robotics class. Donors then choose which projects they want to fund. Once a project is fully funded, DonorsChoose sends the classroom the supplies it needed.
This disruptive business model of crowdfunding is not new, having been around since the early 90s as a way for artists and musicians to fund their ventures. By the beginning of 2014, crowdfunding as a resource industry had seen a 1,000% increase in just five years.
And, the philanthropic spirit doesn't seem to be slowing down, with platforms like DonorsChoose emerging every day.
Gupta, a 12-year classroom veteran, has been using DonorsChoose since her first days in the classroom. She happily describes herself as "a little obsessed" with the platform. She has posted 127 projects, most of them a call for books for her second-graders. Two are currently active.
Located in the South Bronx, Girls Prep Charter is predominantly a minority school, where 90% of the students receive free and reduced-priced lunch. "I focus on books," Gupta told The Seventy Four, "because as my kids have become voracious readers, and in the communities I teach in, they may not have a ton of books at home so they need the exposure."
One of Gupta's favorite projects that's been funded was a December 2014 field trip to the Barnes and Noble on the Upper East Side of Manhattan, where each girl was given a $20 gift card to spend. Many of her girls, she said, had never been in a bookstore before.
"There is such a power in being able to choose their own books and go to the counter and use their own card and then come home with a bag full of books," she said. She hopes to have that excursion funded every year.
"You are giving students experiences, and you impact so many more students," said Lynn Hazelman, a gifted and talented teacher for 2nd through 8th grade in Paterson, New Jersey, talking about why supporters should consider DonorsChoose.
"Through DonorsChoose, we are able, as an inner-city school, to have supplies, so my students don't come in and say 'We don't have this,'" she said.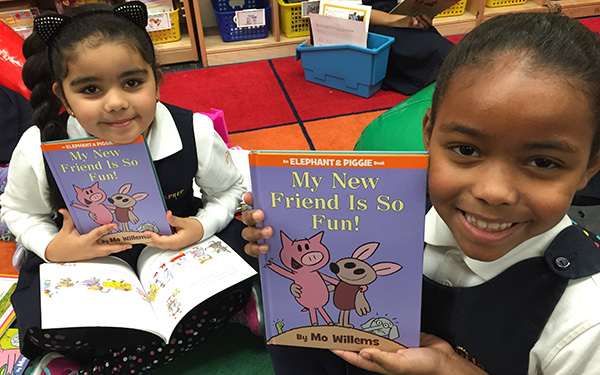 Hazelman has been teaching for 10 years. Before she started using DonorsChoose three years ago, she either had to buy supplies herself or her students would go without. She teaches technology and says her students engage with learning through devices, often expensive ones, in ways they wouldn't be able to without outside help.
Take her classroom's robots: Bear, Penguin, Wolf, and the class favorite, Bob. If she has a student who is having a hard time sitting still and concentrating on a spelling exercise, the student may think he isn't good at spelling. But have him use an iPad to make Bob walk to different letter blocks on the floor to spell out words and, Hazelman said, "You've changed how that student views spelling and learning."
DonorsChoose founder Best spoke to The Seventy Four about the importance of donating to a classroom in need, especially during the holidays.
"Thousands of classrooms lack basic learning tools, and the holiday season is the perfect time to support the teachers who educate our students every day," he said in an email. "The classroom teachers who post requests on DonorsChoose rely on the generosity of citizen philanthropists to support projects that will help the next generation of students succeed."
So in the spirit of the holidays, The Seventy Four has identified a handful of other classrooms also hoping for funding, many of them in high-poverty schools.
Bronx Prep Charter School, Bronx, NY
My students need fencing equipment for our programs including foils and sabers, protective jackets, scoring equipment and professional development from Olympians.
Match offer: Dick's Sporting Goods will fund 50% of the project once donors raise the rest.
George Washington Carver High School, New Orleans, LA
My students need calculators, dry-erase boards with coordinate grids, protractors, and labels (for their super cool math journals)!
Carencro Heights Elementary School, Carencro, LA
My students need a listening center with headsets and book sets to listen to during Guided Reading Time
Dante Alighieri Montessori School, Boston, MA
My students need high quality leveled readers with compelling text, photos and illustrations to build their love of reading and literacy skills.
Rigler Elementary School, Portland, OR
My students need a field trip to Beacon Rock because we are amazing scholars in a very low- income area, who cherish new experiences and excel when given tangible learning tools.
More information on these projects as well as thousands of others can be found at DonorsChoose.org
Support The 74's year-end campaign. Make a tax-exempt donation now.