Airbus Afterschool Classes Help Aviation Careers Take Off
High school seniors start learning to build arliners at night and over summer break.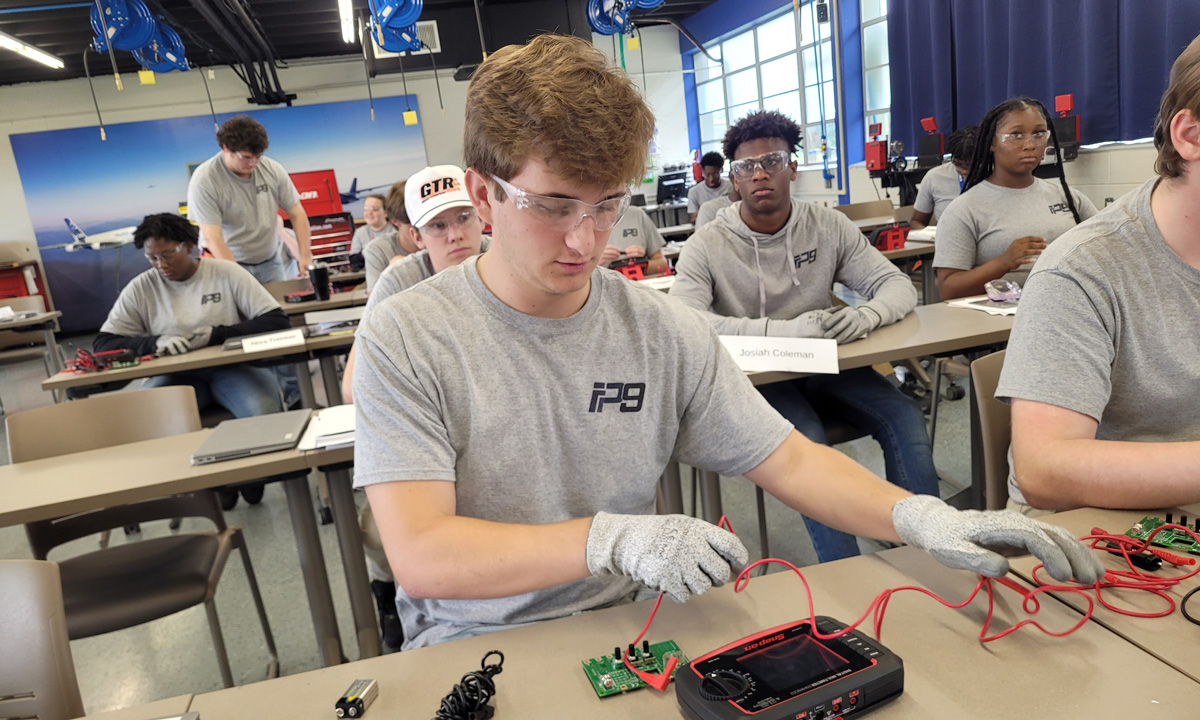 No paywall. No pop-up ads.
When Joseph Berault was growing up and his family would go on vacation, he liked riding on planes and watching them take off and land almost as much as the trip.
So when other students at McGill-Toolen Catholic High School in Mobile, Alabama, started talking last summer about Flight Path 9, a new afterschool and summer program that teaches high school students early skills to build airplanes, Joseph was hooked.
A partnership between Bishop State Community College and airplane manufacturer Airbus, Flight Path 9 is a fledgling pre-apprentice program designed to put high schoolers on a path to careers at Airbus' only U.S. airplane assembly plant located right in their backyard.
Berault and more than 40 other just-graduated high school seniors from across the Mobile area attended classes at Bishop State from 4 to 8 p.m. two nights a week this past school year.
This summer, they pack a workshop floor at Bishop State for 32 hours a week to learn manufacturing skills like riveting, precision cutting and using multimeters.
In August, most will become full apprentices at the Airbus Final Assembly Line, where they will be paid real salaries while they continue to learn and work on the A220 airliners used by Delta, Air Canada and Air France.
"Some students say, when you're going into this two days every week, 'I just don't want to do that,' because it's taking up their senior year," said Berault, who graduated this spring. "But I think it was completely worth it."
"I feel like I feel like I didn't know much of anything when I came into this program, but the amount I've learned in the past couple months is just insane."
Fellow trainee Nicole Olivares, whose parents both work for Airbus, was also excited for a chance to work in aviation. She urged students to join the program, even with the classes two nights a week.
"I think it's so worth it," she said. "You can still do other things. You have a life outside of Flightworks."
Based in France, Airbus is one of the two largest airliner manufacturers in the world. It's also very used to training new employees at a young age. As is typical in Europe, its plants there start students as full-time apprentices at around age 15 or the equivalent of junior year of high school here.
But that's part of the culture in Europe, where general high school education typically ends after 10th grade and students must shift into either a career skills or an intense university academic path. With the United States locked into its 12-year system of students working toward a general high school diploma, Airbus can't just bring its European model here and start apprentices at 15. Students still have to finish high school.
But company officials knew even as they opened the Mobile plant in 2015 that they needed a pipeline for high school students to train to work there. Michelle Hurdle, director of workforce and economic development of Airbus Americas Inc., started visiting other Airbus facilities and began working with schools, community groups and Bishop State to create a curriculum and program that launched in 2019. After a hiatus because of the pandemic, the program re-started in fall of 2022.
"We want our facility to reflect our community," Hurdle said. "So what better way to do that than to recruit and train and grow from within because that's what creates loyalty."
Students in the program earn a certificate in Aviation Manufacturing Technology from Bishop State, several industry certifications for working with things like blueprints, sheet metal and multimeters and they also leave with 18 credit hours that can go toward an aviation manufacturing associates degree when Bishop launches that degree program in fall of 2024.
Having credentials that matter to most manufacturers, not just for Airbus, was important from the start, said Hurdle and Akareem Spears, dean of workforce and economic development at Bishop State,
"Just say 5-10 years from now, they don't want to work at Airbus, they still have these credentials that they can take with them," Spears said. "These individuals have something that are tangible that they can carry with them."
During the school year, Bishop State instructors and others from a nonprofit created by Airbus teach the evening classes. Students are not paid for that time, but are given dinner at the school.
"No mama wants to cook at 8:30 when your children come home," Hurdle said.
In the summer, students are paid a $40 per day stipend as they take classes for five weeks. Airbus declined to say what apprentices are paid during the 14-month apprenticeship. As apprentices, they are monitored and have their work checked by full employees and only work independently after completing the apprenticeship.
Airbus and the college want to go even further with Flight 9 over time.
"Hopefully, we can start younger, and start getting into middle schools, and maybe by elementary school," Spears said. "We can introduce multimeters, and all those kind of things early on, and we built an ecosystem."
Berault said he may go back to school some day to earn the Federal Aviation Administration's Airframe and Powerplant license or to be an engineer. For now, though, he is anxious to start as an apprentice.
"I love the work." he said. "I love being busy. I just like having stuff to do with my hands, like getting to drill, getting to do electrical, stuff like that."
Get stories like these delivered straight to your inbox. Sign up for The 74 Newsletter