After Six Years, Brooklyn's P-TECH to Graduate First Class as the Model Expands Worldwide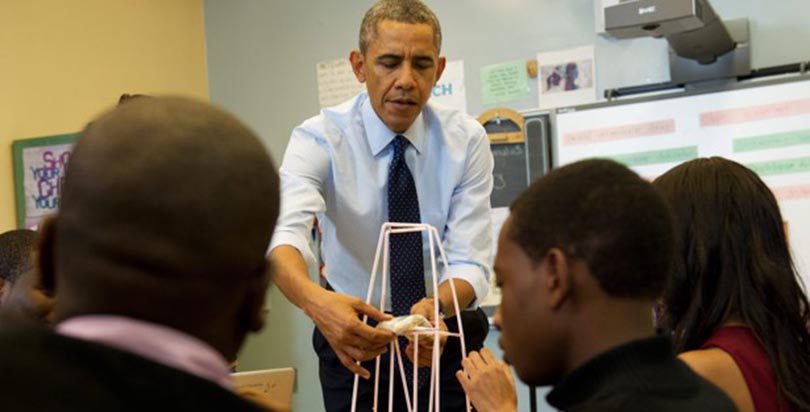 New York City
As a sophomore in Brooklyn's Sheepshead Bay neighborhood, Keron Blackman recalls being distracted from schoolwork, hanging out with friends who left him doubting he'd have many new opportunities to look forward to.
Blackman, 17, the oldest of five boys, said his mother learned about a new school called P-TECH, in Crown Heights, where students focused on science, math, technology, and engineering and could earn a two-year college degree while in high school. A big draw was that the college degree was free. Another, Blackman said, was Barack Obama's 2013
visit
— during which the 44th president
called the school
"a ticket into the middle class." His mother considered that the ultimate endorsement.
"My mom basically wanted to protect me from myself and other distractions that were happening at Sheepshead," Blackman said during a recent interview at the school, in a room whose walls are covered with larger-than-life photos of students and their principal, Rashid Davis, beaming next to Obama during the former president's visit.
Blackman, now a senior and in the vanguard of the school — part of its first graduating class since P-TECH was launched by IBM and partners in 2011 — expects to finish his associate's degree in December. He said he's "keeping his options open" on what to do next — he might continue school to get a bachelor's degree, accept a job at IBM, or maybe do both.
Students like him — young men of color, often from low-income families, and who are statistically
far less likely to graduate high school
than their white peers — are the kind P-TECH was designed to help transition from high school to college and the workforce.
Pathways in Technology Early College High School began with a lofty promise: All students will complete grades 9–14, earning their high school diploma and an associate's degree — at no cost to their family — within six years. Most students would complete internships at IBM or other businesses, like Microsoft, Cisco, and ConEd, and graduates would be first in line for jobs at IBM with $50,000 starting salaries.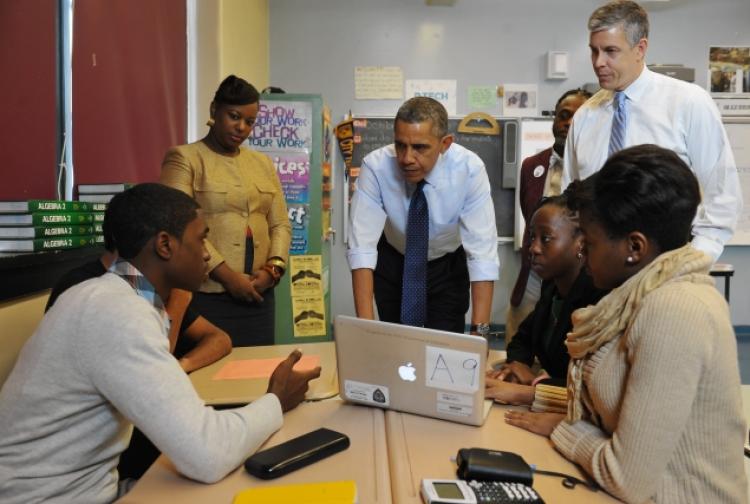 Since it opened, P-TECH has become one of the nation's most sought-after college and work prep models. On average 10 new programs have opened annually across the country and internationally; in this country, at least, P-TECH's endorsers have pushed for its growth. These include, along with Obama (who also praised the school in a 2013
State of the Union speech
), then–Secretary of Education Arne Duncan, Gov. Andrew Cuomo, and John King, who toured a P-TECH
replica program in Troy, N.Y.
, as the state's education commissioner in 2014.
Most recently, even Ivanka Trump expressed support for IBM's education and workforce training efforts,
the Financial Times reported
Monday. But the same day,
an EdWeek report
suggested the Trump administration may reduce spending on the Perkins Act, which supports career and technical education programs, as part of a broad proposal to slash the education budget.
Today P-TECH enrolls nearly 12,000 students at 55 schools in six states, including Connecticut, Illinois, Maryland, Rhode Island, Colorado, and New York, which has 37 schools using the P-TECH model. Cuomo has pledged to fund the model with more than $87 million through 2020, according to a state education department spokesperson.
P-TECH's global sites include Australia, which has seven schools, and Morocco, where two are expected to open this year. The United Kingdom, South Africa, and Canada are also interested, said Stan Litow, the IBM executive who co-designed the program. Earlier in his career, Litow worked as deputy schools chancellor for New York City during the Dinkins administration.
In Brooklyn, indicators show P-TECH making good on its promise to expose less-advantaged students to a world they otherwise wouldn't have access to.
What remains to be seen is how close the school gets to its aim of graduating 100 percent of students in six years with a diploma and associate's degree in computer systems technology or electromechanical engineering.
The data, to date
With few exceptions, according to IBM and Brooklyn P-TECH officials, the majority of the 97 students in the original fall 2011 cohort are on track to graduate on time or have already graduated with both degrees. Fifty-four finished their high school and associate's degrees early, as of January (including 18 from the 2012 cohort). Eight took jobs at IBM. About 25 are pursuing a bachelor's degree, and 15 others are applying to four-year colleges, the company said.
Based on those figures, about 34 percent of the first cohort completed their associate degrees early — a very small sample but one that shows students besting the
national on-time completion rate
for full-time students earning two-year degrees at public colleges. Just 18 percent of Hispanic students and 10 percent of black students graduate on time.
Brooklyn P-TECH high school graduates are on the whole among the most college-ready in the city, according to IBM data: 90 percent of black high school graduates and 88 percent of all students met the state's college readiness benchmarks, placing the school in the
84th percentile citywide
.
And though 12 students from the first cohort left the school between 2011–12 and 2015–16, reflected in a 13 percent drop in enrollment, an IBM spokeswoman said students enrolled in other schools, although officials did not provide program-wide attrition rates despite multiple requests.
When it comes to four-year high school graduation rates, P-TECH performs on par with other New York City students.
Sixty-eight percent of the 2011 cohort
earned a diploma in four years, one percent higher than the city average for all students who started high school in 2011. Citywide, students who started high school in 2012 made slight gains, with nearly 70 percent graduating in four years,
the latest state data
show.
Programs beyond Brooklyn haven't yet produced graduates, making it difficult to gauge their overall success.
Flexibility amid skepticism
In a recent interview, Davis, Brooklyn P-TECH's founding principal, said many were skeptical of the school's approach from the start, particularly educators wary of private companies.
"To take a new model that expected to expose them not only to finishing high school but also meeting college-ready benchmarks, to start taking college courses without remediation, was a huge, huge, tall order, in particular when you look at the demographics of who we serve," Davis said.
P-TECH prioritizes a longer school day, connecting students with mentors from industry, and workplace site visits as early as 10th grade. Teachers are tasked with supplementing lessons with real-world critical thinking lessons — one recent morning, students calculated which cellphone plan was more economical based on data charges, fees, and other small-print provisions.
Also critical to building the model, Davis said, were early decisions like forgoing uniforms and allowing locks on the lockers, little things that helped create a culture where students feel invested in their education and empowered by their environment. Sporting long dreadlocks and yellow sneakers (Obama called him "the coolest-looking principal in America"), Davis is a vivid role model as he walks the halls.
---
---
In the years before graduation rates were available, Davis's staff tracked attendance rates and student performance on the PSAT (Preliminary Scholastic Aptitude Test) to gauge if P-TECH was keeping students on track.
"Those were hard data points for us to know that students who were not academically screened or tested for admissions were responding to the narrow focus that we put in place for year-one students," Davis said. "Those became the building blocks for us."
Building the program from scratch, Davis got to select his own staff, which is three-quarters people of color, a uniquely high percentage.
"First and foremost we are asking for missionaries, people who think they can save the world," Davis said, chuckling. "People who are willing to work almost 24 hours a day because that's what's required, people who understand that they will never be able to be compensated for every single minute that this work requires."
In interviews, students spoke of starting rigorous college coursework in 10th or 11th grade, a
sometimes painful transition
from "normal" school.
William DeJesus, a junior at the Institute of Technology at Syracuse Central High School, which hosts the P-TECH program as one of several career and technical education options, remembers the moment he walked into a room full of industry professionals for the first time.
"I was a shy and quiet person," the 17-year-old said. But the mentors "were able to break me out of my shell. They said, 'In order for you to be successful, you have to have those social skills.' "
The next year, DeJesus didn't hesitate to approach an executive to shake hands. "I really surprised myself," he said.
"When they started, they weren't as motivated; they weren't durable," said IBM's Litow, who will retire at the end of the year but remain as an adviser to the program. "These were students who hadn't gotten any of their top 12 high school choices. There were students who nobody would have thought had the ability to succeed, but they got the support to be able to do it, and they became college-ready, in many cases as early as the summer between grade 9 and 10."
A "great bargain" and growth ahead
IBM has spent about $5 million on P-TECH for paid internships, job site visits, and staffing. The company didn't provide an estimate of dollars collectively spent by the 300 businesses partnering with schools, but it said the private sector's investment is primarily one of "sweat equity," including assigning employees to mentor students. Continued support from college officials and state policymakers is crucial to scaling the program further — these are the primary sources for student tuition costs through grants and scholarships.
How much the retirement of Litow, whose relationship with Cuomo helped pave the way for rapid expansion of P-TECH in New York, will affect the model's continued growth is unclear, but supporters are optimistic.
Tom Vander Ark, who led the launch of early college high school programs at the Bill & Melinda Gates Foundation between 1999 and 2006, said P-TECH's internship requirement might make it harder for students to fit everything into six years, but the program is ultimately "a great bargain."
"I'd love to see a hundred of these," he said. "We certainly know enough about early colleges and the importance of work experience that what they're doing is super important, and I think any place that can find a willing and capable corporate partner and higher ed partner, they ought to open a P-TECH."
He probably won't wait long. P-TECH programs started at two Baltimore high schools last fall, and Maryland Gov. Larry Hogan is pushing to expand them as part of a
$5 million statewide job training initiative
. In Texas, the legislature could soon vote on a bipartisan
bill
to establish a P-TECH program that would replace the current career and technical education program.
Another harbinger of P-TECH's future is the anticipated reauthorization of the Perkins Act, the federal law that provides $1 billion annually for CTE programs.
IBM
is organizing a coalition of civil rights advocates and businesses to lobby for the new version of the Perkins Act to prioritize funding CTE programs that train students for jobs in areas that directly match local workforce needs and pay well. U.S. Secretary of Education Betsy DeVos
expressed support
for updating the law in her pre-confirmation questioning by the Senate HELP committee.
Support The 74's year-end campaign. Make a tax-exempt donation now.