After Reported Opposition, DeVos Defends Ending Transgender Protections to Friendly CPAC Crowd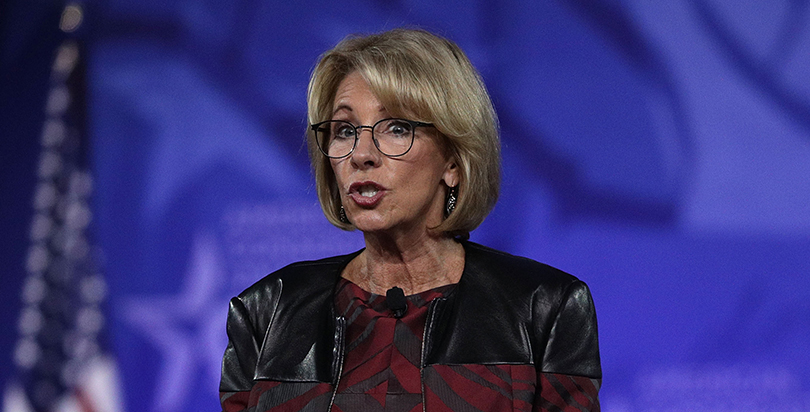 National Harbor, Maryland
Education Secretary Betsy DeVos briefly defended the Trump administration's decision this week to rescind protections for transgender students in remarks to a supportive conservative crowd Thursday.
"This issue was a very huge example of the Obama administration's overreach to suggest a one-size-fits-all approach … to issues that are best dealt with and solved from a personal level, from a local level," DeVos said during an interview with CNN conservative commentator Kayleigh McEnany at CPAC.
DeVos's remarks to the Conservative Political Action Conference, a marquee annual gathering of conservative activists hosted by the American Conservative Union, contrasted with reports that she fought with U.S. Attorney General Jeff Sessions over rescinding the order and only agreed to do so after being directed to by President Trump. The White House denied those reports.
The Education and Justice departments last night announced they would rescind Obama administration guidance requiring schools to allow transgender students to use bathrooms matching their gender identity. The guidance is central to a pending Supreme Court case that will decide whether Title IX, which prohibits discrimination in education based on sex, also protects transgender students.
The ACLU, which is defending transgender teenager Gavin Grimm in the Supreme Court case, has said repeatedly that protecting transgender students under Title IX is a civil rights issue and as such is the responsibility of the federal government. Other protections for children based on sexual orientation and gender identity vary widely by state and school district.
Rescinding the guidance — and DeVos's later calls for more school choice, her signature policy issue but one for which she did not offer any new details on Thursday — were popular ideas with the conservative crowd, as was DeVos herself.
One member of the audience even shouted "I love you!" as the Michigan billionaire took the stage, a dramatic departure from how DeVos has been received at recent events, including being blocked by protesters from entering a Washington, D.C., middle school.
The secretary referenced some of that controversy at the start of her prepared remarks, noting "some of the 'wonderful things' the mainstream media has called me lately." DeVos became Trump's most polarizing cabinet pick, weathering an avalanche of popular protest and organized opposition from teachers unions and other groups. Her nomination was secured only when Vice President Mike Pence broke a 50–50 tie in the Senate.
On the transgender student issue, DeVos also pointed to a separate statement she released last night that emphasized that students should attend schools free of harassment and bullying, and the Office for Civil Rights under her watch would continue to investigate allegations of mistreatment.
"It's our job to protect students," she repeated Thursday.
Overall, DeVos said the Education Department under her watch would have "as light a touch as possible" in education, though it does have a role in ensuring special education rights and "some of the civil rights issues we've referenced earlier."
Republicans in Congress were largely supportive of the decision to rescind the guidance, arguing that it's an issue better left to states. Democrats, teachers unions, LGBT advocates, and others, though, had no shortage of criticism.
Sen. Patty Murray, the top Democrat on the Health, Education, Labor and Pensions Committee, for instance, called the move "deeply disappointing and a huge step in the wrong direction."
Murray in a later statement dinged DeVos for apparently falling in line behind Trump and Sessions, saying, "We need leaders who will stand up and fight for the safety and protection of children, not ones who will buckle under pressure."
AFT President Randi Weingarten said the "Trump administration is compromising the safety and security of some of our most vulnerable children" by revoking the protections.
Others gave the education secretary some degree of credit, including
New York Times
columnist Gail Collins, who has been extremely critical of DeVos
but acknowledged
Thursday she wasn't expecting her to mount a resistance to Sessions on the transgender issue.
DeVos yesterday emphasized her being in agreement with Trump on expanding school choice and urged the crowd to back her efforts.
"We have a unique window of opportunity to make school choice a reality for millions of families," she said. "Both the president and I believe that providing an equal opportunity for a quality education is an imperative that all students deserve."
---
---
Trump on the campaign trail proposed a $20 billion federal school choice program. DeVos has long advocated for charter schools and private school choice programs like education savings accounts, vouchers, and tax-credit scholarships.
The education establishment and defenders of the status quo will do whatever it takes to protect their interests and block new innovation, DeVos said.
"We need you to engage, to be loud, and to never stop fighting for what we believe," she added. "Together, we can make American education great again."
The Dick & Betsy DeVos Family Foundation provided funding to The 74 from 2014 to 2016. Campbell Brown serves on the boards of both The 74 and the American Federation for Children, which was formerly chaired by Betsy DeVos. Brown played no part in the reporting or editing of this article.
Support The 74's year-end campaign. Make a tax-exempt donation now.