Advocates Say Poor NYC High Schools to Blame for Grads' Remedial College Costs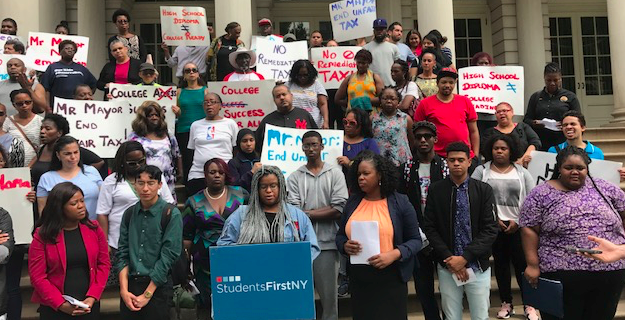 Updated Sept. 15, 12:30 a.m.
Students from five City University of New York campuses said at a rally Thursday that they had been assigned costly remedial courses at CUNY because their public high schools hadn't readied them for college-level work.
The remarks were part of a late-morning City Hall protest by 100 parents and advocates organized by StudentsFirstNY, which opposes many of Mayor Bill de Blasio's education policies. The organization calculated the cost of remedial classes taken by city graduates in the 2015–16 school year at $63 million, which it likened to a "hidden tax" levied on mostly poor families.
Many studies have shown that students who are required to take remedial courses perform significantly worse in college than their peers, usually failing to earn a degree.
"I never failed a class. I was always good enough," said Cristian Cruz, a graduate of Bronx International High School who is a freshman at New York City College of Technology and must complete remedial classes in reading, writing, and math.
"My teachers passed everybody, but some people needed to do more review. But I really thought I was ready."
"This undue burden is imposed disproportionately on low- and middle-income New Yorkers who attend K-12 schools that fail to provide their graduates with the skills and knowledge they need to succeed in college," StudentsFirstNY said in a press release.
Department of Education officials said Thursday evening the StudentsFirstNY analysis, which identified roughly 21,000 graduates in remedial classes, overstated the actual figure by 3,300. That amounts to $10 million using StudentsFirstNY's cost assumptions.
"Every single city college readiness measure is at a record high and increasing," Department of Education spokesman Will Mantell said in a statement. "We have a public college readiness goal, and through our Equity and Excellence for All agenda, we're making unprecedented investments to build on our progress and put every student on the path to success in college and careers."
The Department of Education considers students college-ready if they have met CUNY's readiness standards; 37.2 percent of high school students met the mark in 2016, a 9.5 point gain since 2011. Even so, 80 percent of incoming freshmen at CUNY's community colleges, most of whom attended city schools, were sent to remedial courses this fall.
What is remediation?
Student who fail to score at prescribed levels on the SAT/ACT or Regents exams must take tests as freshmen to determine their readiness for college study, though these tests have been found to be often inaccurate. Those who fail are assigned one or more courses for no college credit that provide a second chance to learn what high school should have taught, usually for the same cost as regular classes.
Unfortunately, research shows that remediation doesn't work, or not well. The chances of earning a degree or even passing a class are substantially lower for the 68 percent of community college students and 40 percent of four-year students assigned remedial work at campuses nationwide (the rates are higher for black, Hispanic, and poor students). Among those in community college, only 28 percent earn a degree in eight years. Only 1 in 5 of all students referred to remedial math ever passes an introductory-level math class.
The scale of the problem is vast. Half of all undergraduates nationally are referred for remediation, and they take an average of 2.6 remedial classes. The total cost or "hidden tax" of $7 billion dwarfs the city's toll.
"It was like a burst of everything," Cris Sackey, a graduate of City Polytechnic High School in Brooklyn, said of his arrival at New York City College of Technology two years ago. Like several of the students at the rally, he said he had been forced to pay for the classes using financial aid. Like the others, he said he felt unready when he stepped on campus but also considered the courses to be "a waste of money and a waste of our time."
Get stories like these delivered straight to your inbox. Sign up for The 74 Newsletter