Protests in Florida Over Possible Law Whitewashing Public Conversations About Race and Gender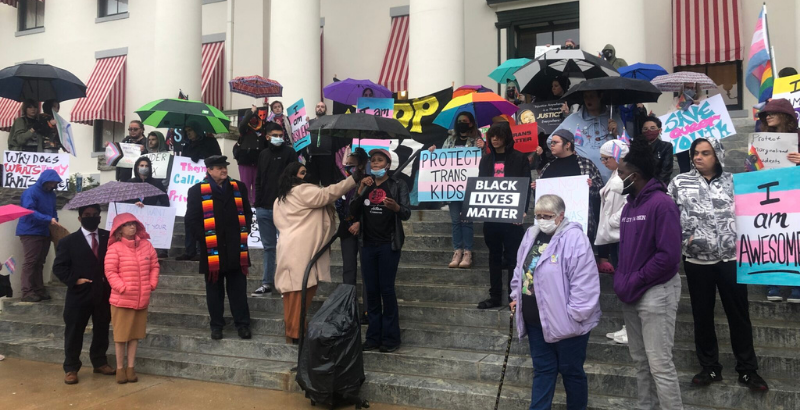 Get stories like these delivered straight to your inbox. Sign up for The 74 Newsletter
Forty to fifty advocates stood on the steps of Florida's Old Capitol building in Tallahassee this past Monday, weathering a cold, rainy rally against legislation that could chill certain conversations about race and gender, or both.
The issues surround public schools and workplaces and a bill moving in the Legislature called HB 7.
Critics fear that the bill will whitewash history, oppression and slavery in America while shielding students and employees from discomfort.
Ranika Ashcroft, an advocacy group named Dream Defenders, has been attending legislative committee meetings and speaking against the bill.
She said on the evening of the rally that supporters of the bill, and others like it nationally, are pushing it "simply out of fear."
"Because the worst thing you can do is educate a person, because if you educate them, you can't take that back. Knowledge is power," Ashcroft said.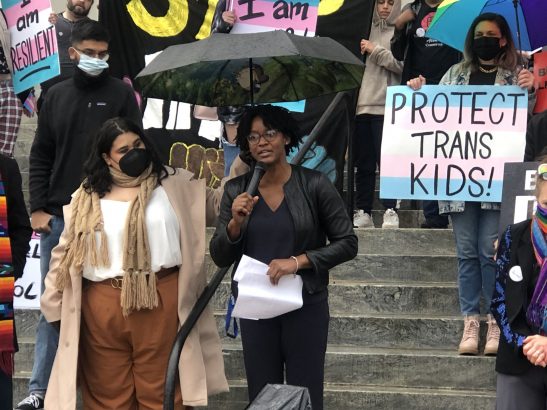 State Rep. Angie Nixon, along with other Democratic lawmakers, criticized the legislation at the rally. Nixon referred to the bill as the "Stop Learning Act" and said that the legislation is "designed to destroy public education and safe working environments in the state of Florida."
"In the Florida Legislature, we are afraid of all the wrong things and it's dangerous for folks who look like me," Nixon said at the rally. She is a Black lawmaker who represents part of Duval County.
"I can't just wash my skin and no longer be Black, as a young boy once told me to do. I don't get to just walk away from these issues when I'm tired of them," she said.
Speaking on the education front, Nixon said that Florida teachers have "always done their best to help our children thrive."
"We've trusted teachers to be on the front lines of a pandemic and deal with gun violence in our schools, so we can trust them to have these necessary conversations and prepare our kids for the real world," she said.
While much of the debate on the bill reflects similar motions that Gov. Ron DeSantis has pushed to limit how race is discussed, particularly in schools, members of Florida's transgender community and advocates say that HB 7 will limit how gender is discussed too.
Delilah Pierre, an activist with a grassroots racial justice organization called the Tallahassee Community Action Committee, said that the DeSantis administration should be focused on other concerns, such as overcrowded classrooms, instead of "attacking queer and trans people" and "trying to make us non-existent."
"We need to get rid of this ignorance that exists within our state that prevents people from truly understanding and learning what our history is, learning how to fight back against the system that oppress them," Pierre said.
She continued: "He (Gov. Ron DeSantis) doesn't want to teach about Black history because he knows by teaching Black history, it empowers Black children. He doesn't want to history about trans people, because if you don't know about the history of trans people, he makes one more trans kid stay in the closet"
Agricultural Commissioner Nikki Fried, who is campaigning for the Democratic nominee in the 2022 gubernatorial election, said that legislation such as HB 7 is "political theater."
"They don't care about you, they don't care about any of us. They care about one thing and one thing only, and that's power," Fried said. "And how they can have power is by intimidation, by scare tactics. By trying to make people feel that they are inferior."
"As somebody who is a member of the Jewish community, what I am seeing in our state makes me so (much) more angry to keep fighting this, to stand up," Fried said. "Because we see what hatred does to a society, and we cannot stand back and let that happen here in Florida and across the country."
The bill includes concepts that teachers and students, or employees, should not be subjected to:
"Members of one race, color, national origin, or sex are morally superior to members of another race, color, national origin, or sex."
"An individual should feel discomfort, guilt, anguish, or any other form of psychological distress on account of his or her race, color, sex, or national origin."
"An individual's moral character or status as either privileged or oppressed is necessarily determined by his or her race, color, sex, or national origin."
Florida Phoenix is part of States Newsroom, a network of news bureaus supported by grants and a coalition of donors as a 501c(3) public charity. Florida Phoenix maintains editorial independence. Contact Editor Diane Rado for questions: info@floridaphoenix.com. Follow Florida Phoenix on Facebook and Twitter.
Get stories like these delivered straight to your inbox. Sign up for The 74 Newsletter