ACLU: We're Monitoring 3 Counties in Mississippi to Ensure State Upholds Ban on Student Restraint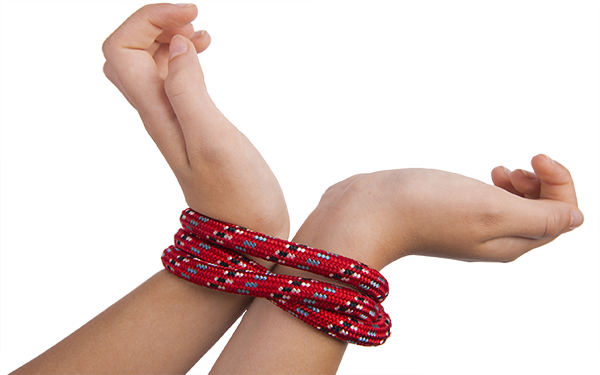 Heather Rhodes was visiting her son, Cade, at school to celebrate his eighth birthday when she heard him screaming. Entering the classroom, she saw Cade's teacher holding the door closed to a three-sided black box referred to as the "Chill Zone," confining her son against his will. Cade is a child with autism, and, as with so many other children who are African-American and disabled, this was not an isolated incident.
Students who have disabilities and belong to racial minorities are more likely to be subjected to this type of abuse than their white peers. And such aversive practices have been steadily rising despite a call in 2009 by then–Education Secretary Arne Duncan for local education agencies across the country to create guidelines and minimum standards concerning use of restraint and seclusion in schools.
The Mississippi Department of Education recently complied with this initiative to keep all students safe by adopting State Board Policy Rule 38.13 — Restraint and Seclusion. At its core, the policy is grounded in prevention through federal Department of Education Positive Behavioral Interventions and Supports (PBIS) guidelines. It prohibits the use of excessive force or cruel and unusual punishment in student management and supports a framework for decision-making regarding data collection and evaluation, training, and evidence-based academic and behavioral practices. It specifies that restraint and/or seclusion shall not be utilized as a punitive measure, or as a means of punishment, but rather are to be used only in emergencies when there is imminent threat of danger or serious bodily injury.
(The 74: Mississippi's Horrifying Trend of Punishing Students Through Restraint Could Be Coming to an End)
According to data compiled and released by the U.S. Department of Education's Office for Civil Rights for the 2013–14 school year, at least 60 school districts in Mississippi use restraint and seclusion techniques on children, including students with disabilities. For that same period, 1,912 incidents of restraint and/or seclusion were reported. This figure represents close to a 600 percent increase in the number of reported incidents in Mississippi since the 2009–10 school year. And it is likely that many other incidents were unreported.
For well over a decade, heartbreaking stories of extreme discipline and the criminalization of young people have poured out of Mississippi public schools, with black males being hardest hit by harsh discipline practices, as evidenced by the school-to-prison pipeline. These practices run counter to the ethical responsibility of society to protect, positively support, encourage and effectively educate even its most vulnerable children, and provide further evidence that persistent strongholds of discrimination and racism continue to threaten the civility and morality of our state. Carefully crafted systemic efforts to prevent equality and equity for certain citizens on the basis of color, socioeconomic background and disability stifle opportunity and challenge the right to life, liberty and the pursuit of happiness afforded to all of us.
Though minimum standards are securely in place, more work needs to be done to strategically align policy with best practices. That is why the ACLU of Mississippi is seeking to work in partnership with district- and school-level leadership to act as an invaluable and tireless resource to ensure the effective implementation of Rule 38.13. ACLU of Mississippi's goal is to assist target-area districts — Sunflower, Harrison and Hinds counties — in achieving sustainable outcomes to reduce and restrict the use of restraint and seclusion in school through training and advocacy geared toward district leadership and all stakeholders in public education.
Our goal is not only to facilitate efforts to meet statewide minimum standards, but to exceed them through the adoption of our district-wide model policy that seeks to provide a more comprehensive and expanded approach, building upon the existing Rule 38.13.
Through future legislative efforts, the ACLU of Mississippi will move forward to defend and promote state mandates to reduce and restrict use of restraint and to prohibit seclusion altogether. We will continue to educate stakeholders that restraint and seclusion are considered to be "treatment failures" by experts in de-escalating and preventing disruptive, challenging behaviors in schools. We will continue to promote an awareness around the abundance of research that questions the humanity of restraint and seclusion, and the lack of evidence that supports the effectiveness of these practices in fostering self-regulation. We will continue to make the case for the economic liability and negative cost implications that restraint and seclusion impose on our already financially deficient districts.
Finally, we will continue to champion the cause of making schools safe and positive places conducive to teaching and learning, and to work to eradicate the ineffective, counterproductive and potentially deadly practices of restraint and seclusion. The evidence is clear that the use of restraint and seclusion erodes the possibility of trust between students and staff, a relationship that is essential to promoting a positive culture and increasing student academic achievement.
As long as the need to reduce and restrict the use of restraint and seclusion persists, the ACLU of Mississippi will continue to stand up to protect the rights of all children in our state.
L. Rene' Hardwick, Ph.D., is the restraint and seclusion advocacy coordinator for the American Civil Liberties Union of Mississippi.
Get stories like these delivered straight to your inbox. Sign up for The 74 Newsletter