Acclaimed Netflix Documentary 'Night School' Profiles Indianapolis Dropouts Getting a Second Chance at Innovative Charter School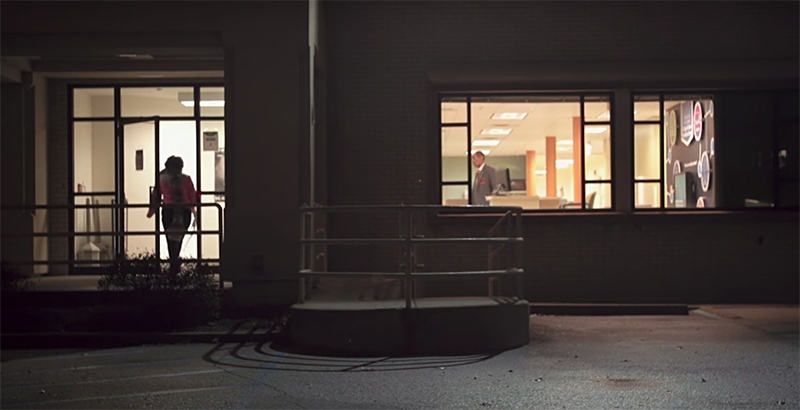 At the end of Night School, an award-winning 2016 documentary that was made available to stream last month on Netflix, graduating seniors from an Indianapolis charter high school gather onstage for commencement. The scene is joyous, if familiar. The vice president of the class gives a short speech. Students grin as they pose for pictures, and family members dispense hugs and high fives.
But the ceremony is anything but typical. For one thing, the graduates are grown men and women instead of gawky adolescents; their speaker, one of the film's central figures, is a 31-year-old single parent who interrupts his own address to embrace his young daughter. And their school, The Excel Center, is no ordinary place of learning. It's a dropout-recovery program specifically targeted toward the thousands of Indianapolis adults who never completed high school.
Each smiling participant followed a different path to the commencement stage. Many were initially sidelined by family tragedy, teen pregnancy, or scrapes with the law. Others simply drifted away from chaotic urban classrooms. But all of them overcame setbacks large and small to return for their diplomas after years — or, in the case of another main character, more than three decades — out of the education system.
Although a high school diploma now represents the minimum level of educational attainment for jobs that pay a decent wage, Census figures indicate that high school graduates enjoy a healthy wage premium over those with a GED. What's more, in 2015–16, 96 percent of Excel Center graduates finished with either college credit or an industry certification. Students begin as dropouts, but they leave as graduates and go on to become college students and skilled laborers.
Director and Brooklyn native Andrew Cohn moved for eight months to a neighborhood near the school to chronicle students' harried lives as they progressed toward Indiana's End of Course Assessments. In relocating, he received almost uncomfortably fulsome access to his three main subjects, each buckling under circumstances beyond their control.
Greg, a repentant ex–drug dealer, is repeatedly back drawn to the hospital, first to tend to his gravely wounded brother and then to his epileptic child. Melissa, languishing in middle age, fights loneliness and self-doubt as she puzzles over algebra homework. The youngest of the three, Shynika, alternates between sleeping in her car and crashing with friends because her job at Arby's doesn't pay enough to cover rent. During Night School's 80-minute run time, each will nearly collapse in moments of helplessness.
"One of the biggest challenges was getting intimate access to the same students throughout the year," producer Steve Bannatyne said. "A lot of people would do one or two days of filming and then disappear once they realized what a pain it is to have a crew following them around for hours at a time."
School officials sympathized with their ordeal.
"It's hard to say I loved [the movie], because it's pretty poignant and at a lot of times very painful," said Betsy Delgado, vice president of education initiatives at Goodwill of Central & Southern Indiana, which founded and operates The Excel Center. On the other hand, she added, "It speaks volumes for our students and will accelerate understanding of what it means to have dropped out of school. And what it means to go back."
As a new school year begins, Delgado helps administer 12 Excel Center campuses around Indiana, collectively serving about 4,000 students. Expansion locations have spread to Memphis, Austin, and Washington, D.C. But when it was first chartered in 2010, the original Excel Center was a single school with a waiting list of 800 — the fruits of Indianapolis's pervasive dropout problem. In 2009, Indianapolis Public Schools' four-year graduation rate was under 49 percent. As of 2016, it has risen to nearly 77 percent, but an estimated 100,000 people over the age of 18 lack high school diplomas.
Tracing the trajectory that left her homeless at 26, Shynika reflects on the end of her academic career in one of the most affecting scenes in the film. An honor roll student as a middle schooler, she lost focus after enrolling in a dysfunctional high school.
"Everybody was everywhere. The teachers didn't care," she says. "I started getting into a group of people that I shouldn't have been around. And after that … I just stopped going."
Luring students like Shynika back to English and physics classes means accommodating work schedules and family obligations. Delgado says that half of all Excel Center students have children, and virtually all are poor.
"We knew transportation was an issue, so we offer free transportation. We knew that childcare was something that many could not afford, so childcare is embedded in the program," she said.
Most important is the program's corps of life coaches, who are assigned to students to provide guidance and support. For graduation, every Excel Center student chooses someone close to them to present their diploma. Delgado estimates that 70 percent select their coaches.
"That's the person that calls them when it's freezing outside, saying, 'You coming?' The person they go to if they don't have tires on their car, or they can't afford gas, or they don't have a home — whatever it might be," Delgado said. "We hire for empathy."
More than encouragement and understanding, though, graduates walk away with a degree.
Night School's success thus far has been nearly as impressive. After premiering last year at Tribeca, it went on to capture the grand prize at the prestigious Heartland Film Festival. Producer Steve Bannatyne was taken aback by the film's initial reception.
"When the lights came up and I saw the audience wiping tears from their eyes but with big smiles on their faces, I knew we had something special," he said. "Tears and cheers in the final scene is a great combination to have."
Support The 74's year-end campaign. Make a tax-exempt donation now.