'Absolutely, I'm Worried': For Children With Special Needs, Unprecedented Coronavirus School Closures Bring Confusion, Uncertainty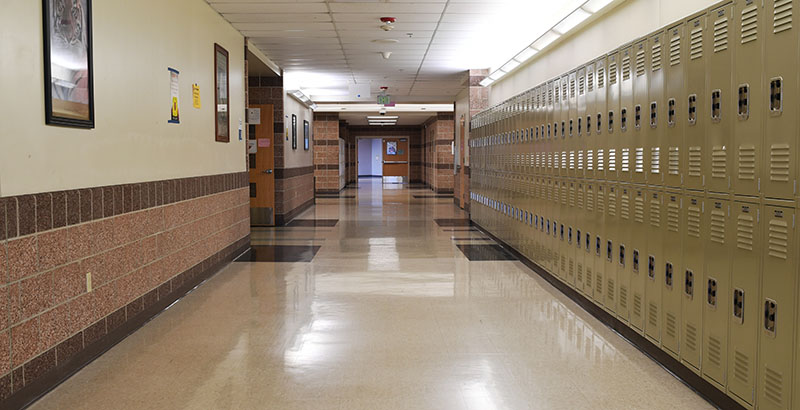 Since a school district in suburban Seattle closed late last week as the coronavirus pandemic intensified, Jen Cole has worried that her 9-year-old son Gabriel, who has a developmental disability, could regress.
During previous summer breaks, the Mukilteo School District provided an extended school year to Gabriel, a second-grader with atypical William's Syndrome who receives special education services that include tailored instruction, occupational therapy and speech language therapy. When campuses shuttered last week, the Mukilteo superintendent told parents that schools could go dark for "weeks to months."
Gabriel's education came to an immediate halt.
With millions of students out of the classroom and education officials across the country scrambling to develop plans on how to proceed, federal law is silent about what should happen to America's roughly 7 million students in special education when schools are forced to close for an extended time.
On Thursday, the U.S. Department of Education issued guidance that seeks to provide a path forward. School districts that close select campuses or offer remote learning opportunities are required to provide special education services to children with special needs, according to the document. That requirement was reinforced in a webinar released Tuesday by the department's Office for Civil Rights. Under federal law, schools are required to provide individuals with disabilities access to participation in learning opportunities equal to those without special needs, officials said.
But districts that close outright aren't required to provide services to children with disabilities if the general education population doesn't receive them, according to the guidance.
Both options have raised significant questions among members of the special education community.
"To say this is unprecedented sounds trite — but it is unprecedented," said Lauren Morando Rhim, co-founder and executive director of the National Center for Special Education in Charter Schools. For some children with special needs, she said, extended periods away from classrooms could prompt major disruptions. "State policymakers are going to need to be really thoughtful" about the implications, she said.
In districts where education leaders have implemented plans for remote learning, special education teachers are scrambling to create strategies to meet students' individual needs. But in the Mukilteo district, Cole said, parents have been largely left on their own as school leaders are shying away from online learning due to equity concerns and logistical hurdles. As of Tuesday, all schools in the state of Washington are closed through April 24.
"This might be one of the longest periods of time" Gabriel has been away from school, said Cole, director of parent training and information at Partnerships for Action, Voices for Empowerment, a nonprofit that provides assistance to parents of children with disabilities. "I have advocated that he [get] extended school year services in the past because the break was too long. So, we will see. I don't know."
As efforts to curb the spread of coronavirus prompt widespread disruptions, students have experienced closures at more than 74,000 K-12 schools nationally as of Tuesday, according to Education Week. In 38 states, all schools have closed or are scheduled to soon, the newspaper reported. In some states, like Ohio, officials have advised education leaders to provide alternatives to in-person classes, and on Monday evening, President Donald Trump issued a similar statement. All Americans should avoid gatherings of more than 10 people, Trump said, while students should "engage in schooling from home when possible."
As of Tuesday, there were 4,226 confirmed cases of the virus in the U.S., with 75 reported deaths, according to the Centers for Disease Control and Prevention.
Among educators who hustled to create a plan for her students was Kayla Wilson, a special education teacher in Youngstown, Ohio. As her school transitions to remote learning, Wilson is providing instruction virtually because each of her students has access to a smartphone.
"I have compiled a packet of review information that adheres to their" special education programs, Wilson told The 74. "I'm hoping with the help of their parents they can complete those independently."
Going digital?
Most children who receive special education services have mild disabilities, and school closures will affect them much as they would students in the general population, said Kathleen Airhart, program director for special education outcomes at the Council of Chief State School Officers. But for those with significant disabilities, online education services could be problematic, she said.
"That's the challenge that districts and schools are facing right now," she said. "In this new social distancing aspect that we're all playing, there's not even an opportunity for bringing a small group of kids together."
Special education advocates said they're concerned that children with disabilities will be left out of conversations about distance learning and school closures, while others have questioned whether the new federal guidance complies with special education law. Denise Marshall, executive director of the Council of Parent Attorneys and Advocates, challenged the notion that schools aren't required to provide special education in cases in which all other education services are halted.
"That's a very broad statement that leaves many questions" unanswered, she said. Her biggest concern is that the federal guidance "leaves the impression that people can do nothing initially," even though districts should be working proactively on plans for children with disabilities.
In some states, such as Connecticut, education leaders have warned that digital learning poses equity concerns, including for children with special needs. On Sunday, all schools in Connecticut were closed through at least March 31. In earlier guidance, state officials had asked districts seeking to offer distance learning to submit waivers to ensure that local leaders had plans in place for children with disabilities. The state education department said on Monday that it's creating a "resource repository" to help districts create "equitable, robust distance learning plans."
Christina Ghio, a Connecticut-based attorney who represents families in disputes over special education services, questioned whether distance learning plans could truly account for the needs of all children with disabilities. For example, some students require frequent prompts and positive reinforcements to stay on task — a system that can't be easily replicated outside the classroom. Asked what other options are available, Ghio acknowledged that there are no easy answers. Though the duration of school closures is unknown, compensatory services to help children recover from lost instruction time may be necessary, Ghio said.
"We've got to figure out how we're going to deliver educational services to those kids to make sure they don't regress and to make sure they're able to make progress," she said. "And so yes, absolutely, I'm worried."
As districts make the switch to online education, school leaders should explore whether their technology is accessible to people with a variety of special needs, including those who are blind or have mobility issues that affect hand control, Randolph Wills, deputy assistant secretary for enforcement at the U.S. Department of Education's civil rights office, said on the webinar. Some students may need access to assistive technology such as speech recognition software.
Morando Rhim, director of the National Center for Special Education in Charter Schools (NCSECS), noted that many schools have long offered tele-therapy, and although services won't be exactly the same as they are in school, there are ways to make it work. The key ingredient, she said, will be teamwork.
"Schools have to see parents as partners," she said. If they transition to remote learning, special education teachers need to call parents to hash out plans and make the arrangements work.
Wendy Tucker, senior director of policy at the NCSECS, knows firsthand the importance of strong ties between families and school staff. Her 17-year-old daughter Langan, who has a seizure disorder and requires one-on-one assistance at school, has been out of the classroom since last week. Like many children with disabilities, Langan struggles with transitions, Tucker said, including changes between summer and the start of the school year. When classes resume — whenever that happens — special education teams will need to be thoughtful about reintroducing children to classroom life, Tucker said.
In the interim, she said, districts must do all they can to include children with disabilities if they offer virtual learning or other outside-the-classroom options. The Individuals with Disabilities Education Act was initially created because some districts believed that "it's not possible to serve these kids," she said.
"It's a civil rights statute that says, 'I'm sorry it's hard, but you have to figure it out,'" Tucker said. "They'll have to think outside the box. They'll have to be nimble."
Support The 74's year-end campaign. Make a tax-exempt donation now.