A Teacher's View: 2020 Can Be an Opportunity for Us to Hone Our Craft and Become Better Educators. We Must Not Waste It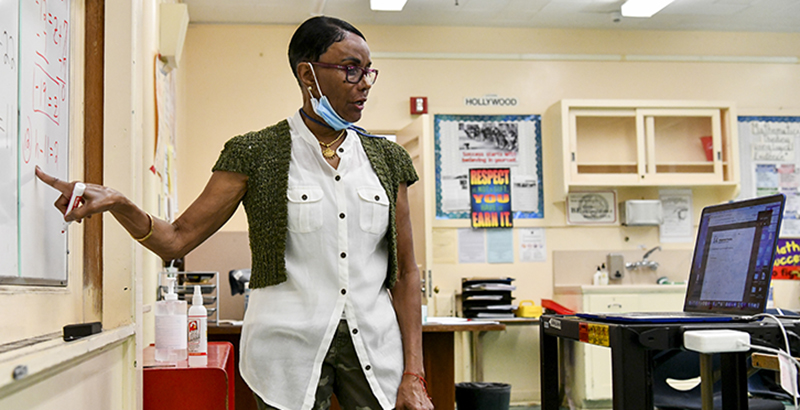 In just a few short months, my city of Houston has experienced massive challenges with the COVID-19 pandemic. Confirmed coronavirus cases total more than 130,000, and our hospitals are at capacity. The hardest-hit neighborhoods have been our communities of color, which are disproportionately bearing the brunt of the health and economic impact of the outbreak.
Challenges abound, and the stakes are incredibly high, as the health crisis could soon morph into an educational one for children.
As nurses work on the front lines battling the coronavirus crisis, we, as educators, are on the front lines of a battle against learning loss. Teachers have always been heroes — and at this moment, we have an opportunity like never before to show the world why that's true.
That's why, despite unprecedented instructional challenges, educators everywhere must view distance learning not as a massive obstacle to overcome but as a once-in-a-generation opportunity to hone our craft. We can rise to the occasion like never before — and remote learning could present unforeseen upsides in making all of us better teachers.
As a public charter school educator, I want nothing more than to be back with my students, in the classroom, nurturing their growth. But despite our distance, being online presents an opportunity to grow closer to them and their families. The very nature of remote learning allows us to understand their individual needs, their personal circumstances and their unique challenges in a way we haven't before. If schools are second homes for kids, virtual classrooms can engage families even more in the learning process, reinvent our relationships with parents and further bind our families to our school communities.
Children and their families are facing incredible obstacles, and whether it's one-on-one time after traditional school hours, phone call instruction or recorded lessons, we need to tailor the way we teach to the needs of our kids in this time of crisis. Nothing is more important right now than an individualized, student-centric approach.
In the process, we can become better educators. At public charter schools like mine, we have always received constructive feedback to help make us improve our teaching. In virtual classrooms, instructional coaches can efficiently dip into and out of lessons, offering observations electronically in real time. Teachers can adopt that feedback and adapt their instruction more quickly and easily than ever before.
What's more, whereas during in-person instruction teachers would all work in separate classrooms, many public charter schools in Houston are structuring virtual lessons by having a single teacher do full-grade instruction, with the best educator on a given topic delivering the lesson before students break up into small virtual groups. This allows for all the other teachers to witness that educator's pedagogical techniques, gauge the response from the class and then integrate them into their own toolkits.
That exposure to the best teacher on a given subject, every day, can help elevate the instructional skills across an entire grade level — almost as if it were real-time professional development.
Of course, there are incredible challenges. Many teachers and students are experiencing not only a lack of supplies, technology and internet resources but also social isolation. Some educators feel that they have been working harder than ever as they sit behind their laptops, all while trying to reach out to students who do not possess the technology or internet access to engage in distance learning.
As teachers, we also have to balance the needs of our own families. The grief that my children have faced during these challenging times is extraordinary. My daughter had been planning and eagerly awaiting her once-in-a-lifetime quinceañera – a tradition that celebrates a girl's 15th birthday to mark her passage from girlhood to womanhood. Due to the pandemic, we were forced to delay this culturally significant milestone.
But just as there are unique challenges in this time of crisis, there are unique opportunities, and teachers everywhere can and should meet this moment to show just how important we are to eventually achieving normalcy amid a pandemic — and to exemplify the difference we can make, particularly for kids who need our support most.
We have a pedagogical obligation — and a moral imperative — to do no less. Our kids are counting on us.
Mandy Peyrani is a teacher at the Harmony School of Excellence-Houston, a K-8 public charter school.
Get stories like these delivered straight to your inbox. Sign up for The 74 Newsletter