A Teacher's Tip: Want to Foster a Love of Reading? Let Students Pick Their Own Books. Giving My Kids Voice & Choice Changed My Classroom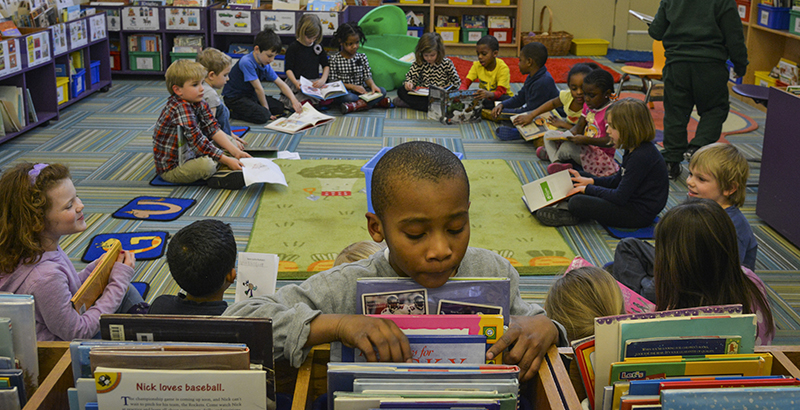 At the start of each school year, looking out at the fresh faces of my new students, I give my inaugural speech. I tell them about myself — my family, my Starbucks habit and my love of books. I share my expectations for the class and tell them about activities that they can look forward to throughout the year. For the most part, they remain silent, still stuck in their summer slumber or timid in front of this brand-new (and clearly caffeinated) teacher. While most of my jokes fall flat and my probing questions remain unanswered, two revelations are guaranteed to elicit a reaction: my hatred of the Accelerated Reader test, and the fact that in my classroom, students are free to read whatever books they choose.
This disclosure induces smiles from some, gasps of "Really?" from others and sighs of relief from all.
For the first few years, I chalked it up to middle school dramatics. Surely, these kids were able to choose what they wanted to read. Wasn't that the best part of visiting the library with your English class? Choosing a book (or books), looking at covers, reading the blurbs that inhabit the inner pages … trying to find which new titles had arrived or been returned.
But eventually I realized my students had been restricted in their choices. Limits were placed on them in regard to genre, Lexile score and page count, just to name a few. They were used to being told they could not be trusted to choose what novels they wanted to read. If these already reluctant readers did happen to find books that they enjoyed, often they were told these texts were not long enough, were above (or below) their prescribed Lexile level or were too similar to books they had previously read. Over time, these limits and the absence of true choice make these students — who are in the midst of developing their identities as readers — give up on trying to choose at all.
As adults, no limits are placed upon us when we enter a library, walk through the bookstore doors or power up our Kindle App. My own bookshelves are a hodgepodge of texts — some intellectual literary fiction, some of what my grandmother would call mindless drivel, assorted young-adult novels and self-help tomes, texts on Buddhism and, of course, the entire wizarding world of Harry Potter. From those shelves (or from any source, for that matter), I am free to choose what I please, not limited by subject or Lexile. (Just because I can read Anna Karenina doesn't mean I have to.)
If we do not trust our students to make these same choices, how can we expect them to grow into the readers they have the potential to be?
My observations are not an anomaly. Educators across the country have noticed the same phenomenon. According to Pernille Ripp, author of Passionate Readers — The Art of Reaching and Engaging Every Child, what her students say they want most in regard to reading is choice. By robbing children of this power, "They never get to go through the selection process. They never get to just read and struggle with text and have meaningful conversations and sometimes, yes, make the wrong choice," Ripp told educator and blogger Jennifer Gonzalez.
Sometimes, freedom of choice means the freedom to abandon those choices. In our book chats at the beginning of class, I often tell my students about books I have chosen and decided not to read, citing reasons from "It sounded better than it is" to "I'm just not ready for this one yet." My students are free to do the same. While many of my colleagues do not share this view, Ripp speaks of the value in allowing students to move on from a text that they may not be connecting with: "We should be celebrating when we abandon a book … because we know ourselves enough as a reader to know that this will not provide us with a reading experience that will matter to us. And we need to start building up that stamina, so we need books that work for us at that time, and that's really important for my students to remember, and to know and to recognize that what they need at this moment might be different than what they need a month from now." Letting students discard chosen books helps them develop as independent readers by allowing them to recognize not only what they do enjoy, but also what they don't.
In their recent book, Game Changer!: Book Access for All Kids, Donalyn Miller and Colby Sharp also tout the value of self-selected reading. The cited benefits include a growing sense of confidence, ownership and autonomy as both readers and learners. With more choice in books comes an increase in the amount of reading students actually do. As with any skill, the more students read, the better they are at it, leading to improved reading ability and greater achievement in other content areas. Finally, and most important to me, choice in books gives rise to lifelong readers.
We need to do better by our kids. If we want to foster a true love of reading within our students, we need to stop limiting their choices in books and allow them to find their own reading identities, regardless of Lexile level, genre or page count. We need to allow them the experience of finding that perfect book that they will count as their favorite years later. We need to let them try books and abandon them. We need to allow them their voice and choice — with no limits.
Beth Jarzabek is a veteran public school educator and a blogger who is pursuing a second master's degree in teaching and leadership through Mount Holyoke College.
Support The 74's year-end campaign. Make a tax-exempt donation now.