A Teacher's Take: Why 'Relational Communities' Matter — and Why We Should Celebrate School as a Place Where Students & Teachers Learn to Believe in One Another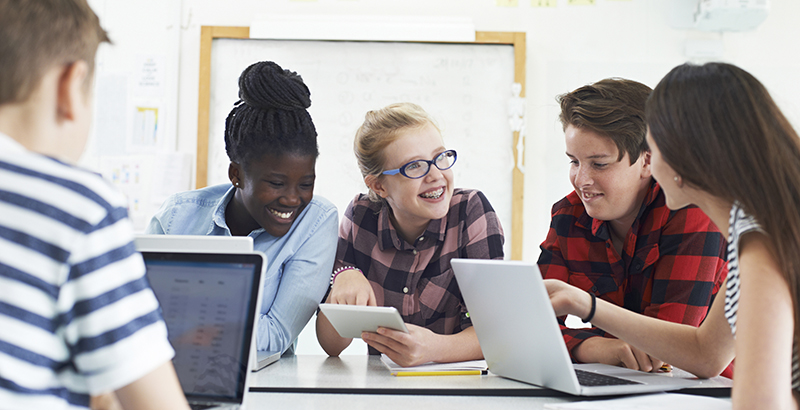 We rarely discuss the role of belief in schools. Yet belief is an essential part of the ecosystem. Students look to their teachers to be their mentors and motivators. They want to be validated for their effort, thoughts, and ideas. They are hungry for people to believe in and for people who believe in them. Teachers, in turn, want to be believed in for the work they do to motivate, challenge, and explore.
In order to believe in someone or something, there must be trust, which takes time to cultivate and a nanosecond to break. Trust requires safety, and the world can at times feel remarkably unstable.
Because of the instability of the outside world, schools should become havens for belief in everyone's potential. They should be lauded not just for standardized test scores but also for the positive growth that results when students are challenged to succeed. They should be spotlighted for prioritizing individual connection and respected for the relational communities they strive to become.
Relational teaching is not about carving out blocks of time for connection (e.g., "Thursday fourth period is devoted to relational time"). Rather, relational teaching focuses on the micro-moments that count: The sidebar conversation between teacher and student as they walk down the hallway together. The smiley-face sticker a teacher discreetly places on a student's desk before a challenging test. The recollection of the hat trick the student scored in last Friday's hockey game … the following Monday at the beginning of class. These micro-moments take barely any time at all, yet they deeply resonate in the connection that results between teacher and student.
Imagine the power generated from such connection. Learning improves, because, having made such relational connections — taking time to build a trust-based connection — the teacher becomes more emboldened to challenge her students.
Recently, I found myself sharing a plane with about 40 British high school students. After getting permission from their teacher, I asked a handful of them a question I've asked a thousand times before: "Who's your favorite teacher? No names."
A girl spoke up. "The biology teacher. He's very hard. But he's my favorite."
"Actually, he's mine, too," a boy chimed in. The other students started nodding.
The girl continued, "He's hard, but he wants us to get it. He makes us work hard but he also works hard."
The boy added, "He knows we can do the work. And he shows it."
The students on the plane were verbalizing the power of belief in teaching. Here was a teacher who was not merely liked but respected for his ability to communicate belief in his students. Much like the airline pilots holding our lives in their hands, the biology teacher was unconditionally trusted to make the correct decisions and recalibrate when necessary. His students believed in his expertise, instinct, and knowledge, and they communicated this by rising to his challenges.
It is time to value belief as an essential component of teaching and learning, to build relational schools that both challenge and inspire. It is time to prioritize the micro-moments as ripe with opportunity for connection. It is time, because everyone — student and teacher — rises when they feel seen, heard, and believed in.
Nat Damon is a 25-year educator and the author of Time to Teach: Time to Reach — Expert Teachers Give Voice to the Power of Relational Teaching.
Get stories like these delivered straight to your inbox. Sign up for The 74 Newsletter