A Summer Crunch for Desperate D.C. Families: Parents Seeking Child Care (and Students Yearning to Socialize Again After the Pandemic) Now Face Overflowing Waitlists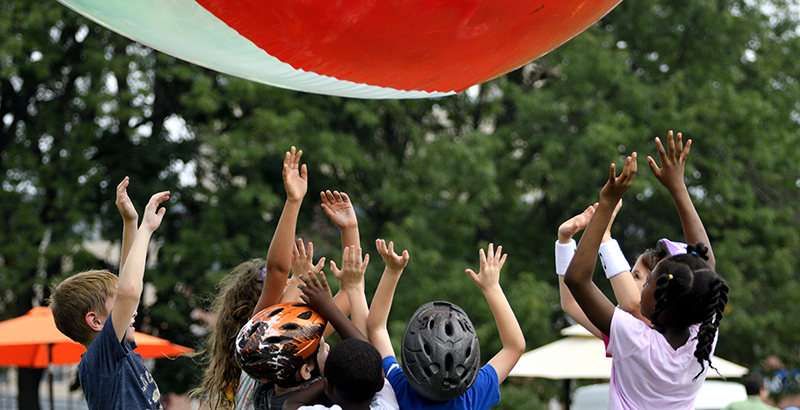 Get essential education news and commentary delivered straight to your inbox. Sign up here for The 74's daily newsletter.
In late March, DaSean Jones was ready at his computer at 11:59 a.m. — paperwork in hand — to register two of his kids for the D.C. Department of Parks and Recreation's summer camps at noon.
But for the first time in 13 years, he got stuck on a waitlist.
"The desperation is a lot greater now than in the past" to get into these camps, he told The 74. "There's scratching and clawing to get a spot."
While many D.C. parents, especially those of color, chose to keep their kids home this year even as schools reopened, families are seeing summer programming as especially critical after an unprecedented stint of remote learning. Many are being asked to return to work in-person and need child care; others want their children to socialize and get back to a structured schedule for fall.
But demand is far exceeding supply—especially for the popular and low-cost Department of Parks and Recreation camps, which are operating at lower capacity because of COVID-19 — leaving many parents scrambling for options with just a week until school lets out.
As of last week, DPR had a waitlist of about 7,000 for its full-day summer camps, even after upping its number of available seats from 4,500 to more than 5,900. (DPR hosts four two-week sessions; kids can be on the waitlist for multiple camps and sessions).
"[We want her] getting on a schedule to prepare for school. Getting some exercise," said Miah Robinson, who's on the waitlist for her 7-year-old daughter. "And honestly, I really want her to have some fun. She's been locked to a computer for over a year. She deserves to go run and play."
In 2019, DPR had 8,000 spots available. This year, though, camp groups are limited to 10 kids each, down from 15 to 30 kids before the pandemic. Nationwide, nearly two-thirds of all park and recreation agencies are expected to operate at reduced capacity this summer, according to the National Recreation and Park Association.
"We have considered" adding even more spaces, a spokesman for the D.C. DPR wrote in an email. But he noted the department is facing "several limitations, including: space, money for staffing, money for supplies and operations."
There has been a historic injection of federal funding in wake of the pandemic, including about $30 billion for summer and after-school programs nationwide through the American Rescue Plan.Asked whether DPR is benefiting from that investment or the at least $3.3 billion in ARP fundsD.C. is receiving, the spokesman said federal money DPR received went toward creating its new Boost Camps, a free education-focused program for students at select D.C. schools.
Reporting by DCist suggests that pre-pandemic, it cost the city about $5 million to add 1,000 DPR camp spots.
DPR camps are not the only summer camp options for families.But they're highly sought after because they're more affordable — most are $110 for a two-week session, compared to north of $700 for some other D.C. programs. Their nearly 40 locations across the District also make for convenient options for working parents.
It's "the location, the price" that's most attractive, said Robinson.She likes how there are "specialized" camp options, too, like aquatics and cheerleading, to give kids an array of experiences.
Robinson, who works for D.C. government, found out just a few weeks ago that she's expected back to work in-person starting July 12. But as of now, she's only secured one of the four DPR sessions. And while her daughter's school, Anne Beers Elementary in Ward 7, is offering summer programming, spots were prioritized for children who teachers recommended for additional academic assistance.
For waitlisted families like the Robinsons and Joneses, there's no set timetable for when they'll hear back; a spot becomes available "when a refund is requested by another family" who'd initially signed up, the DPR spokesman said.
So Robinson and her husband are getting "creative," currently looking at dance camps and swimming schools in Maryland as a backup. Jones is trying to squeeze his 4-year-old into her charter school's summer program, and plans to lean on his mother to help watch his 12-year-old — especially when his job transitions to a hybrid model in July.
Other parents, like Jemahl Nixon, missed the sign-ups for camps like DPR altogether, not realizing until recently how many in-person options have opened up for this summer amid loosening restrictions. His 6-year-old's charter school is offering summer programming through late July, but August remains an open question.
Affordability is critical, he said, as his work hours have been cut down during the pandemic — most recently, to 20 hours a month.
If you don't have connections, "you won't really know what's going on. That's the issue I have right now, there's frustration with that," Nixon said. "Though being a parent is a great job … you have to still have resources to do it effectively. You can't be a parent alone and support your child alone."
Finding other options
D.C. Council member Christina Henderson had been "hopeful" that more DPR spaces would be available this year, she told The 74 in an email.
But with spots in short supply, she's been recommending alternative options to families, like Learn24, a network of programs and summer camps supported by the Office of the Deputy Mayor for Education; summer enrichment opportunities through D.C. Public Schools and charter networks; and community organizations like the YMCA and the Boys & Girls Club.
DPR is offering a few other camp opportunities separate from its traditional camps as well. It's partnered with D.C. public schools to host new Boost Camps — academics-infused summer programming for more than 700 kids in wards 5, 7 and 8. Availability is limited to students attending the participating schools: Creative Minds International PCS, Two Rivers PCS, Randle Highlands Elementary, KIPP DC Smilow Campus, Stanton Elementary and Ingenuity Prep PCS.
The department is also hosting a virtual "DPR Camp-at-Home" option for free. As of last week there were about 500 registrants; "there is a capacity limit, however we still have plenty of availability," the spokesman said.
Families with younger kids may also have increased access to subsidized child care in the coming months. Mayor Muriel Bowser this month announced more than $184 million in her FY 2022 budget proposal "to expand access to affordable, quality childcare and strengthen early childhood education programming across the District."Her office did not respond to The 74, though, on whether child care centers have any of this funding on-hand for this summer.
As the D.C. Council continues its review of Bowser's FY22 proposed budget, Henderson said she'll look to invest more in out-of-school-time programming that both provides child care options for families and high-quality learning opportunities for kids.
It's "a priority of mine," she wrote.
Get stories like these delivered straight to your inbox. Sign up for The 74 Newsletter