A Student Protest at High-Achieving Charter High School Spotlights Teacher Diversity Struggle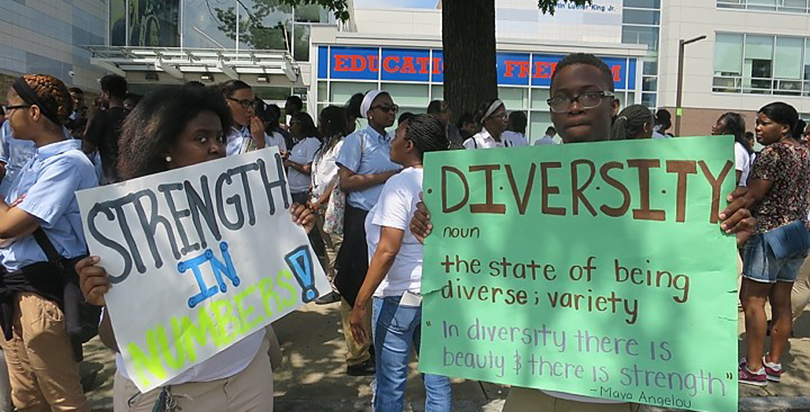 Political demonstrations are often thought of as a kind of student rite-of-passage and in the age of the Black Lives Matter movement, youth protests about race have become commonplace.
That's why it was no surprise when some 100 minority teenagers walked out of their New Haven school in late May to decry what they said was a paltry number of educators of color and a racially insensitive campus climate.
What was unusual was that they weren't boycotting Yale University or any other Connecticut college, but Achievement First Amistad High School, ranked the third-best high school in the state this year by U.S. News & World Report.
"Our school has a bunch of Hispanics and blacks and minorities, and we're being controlled by white teachers," Diva Carter, an Amistad junior told the New Haven Register. "We have this system called the merit system and they're taking advantage of it, scolding us scholars."
Several major charter networks contacted by The 74 post-protest reported stronger percentages of diverse teachers than the public school teaching force nationally, both charter and traditional, but they are also more likely to be located in urban areas and educate student bodies with larger shares of black and Hispanic students. The racial gap between students and teachers also tends to be wider in charter schools than it is in all public schools. Achievement First's teacher diversity is better network-wide than it is at Amistad.
The flashpoint it became at the New Haven high school focused renewed attention on a diversity imbalance between teachers and students that is a condition of both district schools and charters and is getting worse in most of the country's largest cities.
While the number of minority students attending public schools is swelling rapidly — and now represents the majority — the percentage of minority teachers has barely budged over the last decade. The result is that students of color are deprived of being taught by minority teachers, who research says are more likely to boost their academic success, recognize their potential and discipline them less harshly.
"I think it's a fallacy in the case of the individual (to say) that (the) race (of a teacher) is the only thing that matters," New Haven Public Schools Superintendent Garth Harries told The 74. His district has smaller percentages of both minority teachers and students than Amistad.
"The flip side of that is in aggregate, students are inspired by and identify with their teachers," Harries added. "For a student to go through their education career without that … identification distances them from engaging with their education. It is a systemic problem."
Amistad's students had data on their side. Some 98 percent of the school's 498 students are black or Latino while only 27 percent of the school's staff identifies as black, Latino or multi-racial, according to the network. Among traditional New Haven public schools, just under 20 percent of teachers identify as black and Latino while 83 percent of the district's student body does.
Across the Achievement First charter network, which has schools in New York, Connecticut and Rhode Island, some 46 percent of the staff identifies as a race other than white.
Achievement First leaders said the protest was evidence of Amistad's emphasis on nurturing student leadership.
"We are a school that focuses on developing student leaders, and the rally is an example of their leadership — we are proud of our students for their activism, advocacy and voice," Achievement First co-CEO and President Dacia Toll said in a statement. "Staff diversity is a priority at AF Amistad High and across Achievement First, and we are proud of the progress we've made."
Several other major charter networks report that they have made gains in increasing their teacher diversity. During the 2014-15 school year, 51 percent of KIPP's teaching force were minorities, up from 46 percent during the 2010-11 school year. More than 95 percent of KIPP students in schools across the country—from Albany, New York to San Diego, California—are people of color.
At Uncommon Schools, which are primarily based in New York, New Jersey and Massachusetts, the share of minority teachers grew from less than 30 percent during the 2010-11 school year to 42 percent during the 2015-16 school year. The network attributes part of its diversity growth to it Summer Teaching Fellows program, which brings on college upperclassmen as interns in its schools.
More than 93 percent of students at IDEA Public Schools, a Texas charter network, are Hispanic while the share of minority teachers is 83 percent, 72 percent of whom are Hispanic. At Uplift Education, another Texas-based charter chain, about 94 percent of students were minorities during the 2015-16 school year while only 34 percent of teachers are people of color, according to the organization.
Two other networks, Noble Network of Charter Schools in Chicago and Success Academy in New York City, did not respond to a request for the information or declined to provide a racial breakdown of their staff, respectively.
Overall, the share of minorities in the nation's teaching force increased to 17 percent in 2012, up from 12 percent in 1987, according to a report from the Albert Shanker Institute, which is affiliated with the American Federation of Teachers.
But in nine major cities, including New York, Chicago, Philadelphia and New Orleans, the share of black teachers declined over that time period, the report found. Black teachers, who were more likely to work in urban settings in high-poverty schools, were leaving the field at a faster rate than other groups.
"What the data show is that retention is a much bigger issue (than recruitment)," said Travis Bristol, a Stanford University research fellow who has studied the topic. "We know they are working in the most challenging schools. The question is are they choosing to work there or are they being placed there? That is a question that research has not answered."
What research has answered is that there are tangible benefits for students of color when they are taught by minority teachers. A 2015 study found that non-black teachers have "significantly lower" expectations of black students than black teachers do. Black students are also less likely to be rated as disruptive when they have a black teacher in front of their classroom and when black students are taught by a black teacher their test scores on math and reading tests improve faster.
Those minority teachers might also be better at recognizing the academic potential of students of color too. A study released earlier this year found that after controlling for test scores, black students are less likely to be referred to gifted and talented programs if they have a non-black teacher than if they have a black one. Jason Grissom, a Vanderbilt University professor and one of the study's authors, said there could be multiple explanations for this trend, including teachers' implicit biases and the differences in the way non-black and black parents interact with teachers but "they still lead back to the conclusion that race and ethnicity among the teacher workforce is an important factor in schools."
Discussions about race in the classroom are only going to continue at Achievement First. The charter network held a follow-up meeting with the student activists to discuss their concerns after the May 31 demonstration.
Meanwhile, Harries, the New Haven superintendent, said his district will continue to recruit minority teachers through Historically Black Colleges and Universities and Teach For America, a highly selective program that takes graduates from the country's top colleges and trains them to teach in low-performing urban and rural schools.
Teach for America has often been praised for its efforts to successfully recruit a diverse teacher pool (more than 50 percent of its new hires in 2015 were people of color) though it made headlines earlier this year after it let go its chief diversity officer amid a large-scale layoff.
Teacher diversity in the charter sector is being questioned at a time when the debate is particularly pointed over who should carry out the mission of closing the achievement gap for low-income students of color.
(The 74: Social Justice, Education Reform and How This Whole Left-Right Feud Is Missing The Point)
Harries said there are ways to find common ground.
"I think this is a challenge for every district including charter districts," he said. "I do think (there) is a question of cultural competence (for white teachers). To what extent do you listen to and engage students' voices along racial lines and across racial lines."
Get stories like these delivered straight to your inbox. Sign up for The 74 Newsletter