A Slow-Motion Crisis: Gen Z's Battle Against Depression, Addiction, Hopelessness
Stern: New research reveals the depth of the mental health crisis among America's youth. Some organizations that are finding innovative ways to help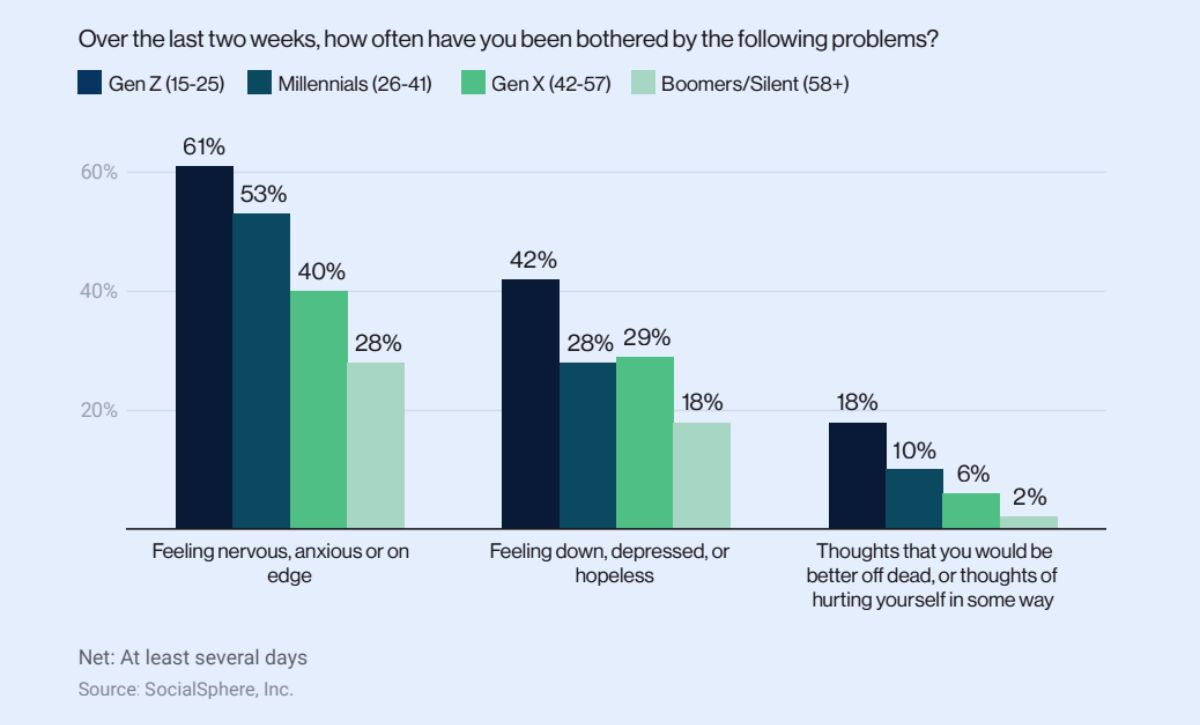 Support The 74's year-end campaign. Make a tax-exempt donation now.
Whenever disaster strikes — through war, famine, acts of terror or natural calamity — the first images that fill our screens are often those of traumatized kids.
In the urgency of those moments, we feel compelled to help.
But what happens when a crisis unfolds in slower motion, not over days or weeks, but years? Do we respond with the same urgency?
New research on Generation Z reveals the alarming depth of the youth mental health crisis unfolding in our country — a slow-burning fire now raging in the wake of COVID-19.
The research, from the Walton Family Foundation and Murmuration, shows that more members of Generation Z — those born between 1997 and 2012 — are grappling with mental health issues than people from older generations.
Among the findings:
Gen Z (42%) is about twice as likely as Americans over 25 (23%) to battle depression and feelings of hopelessness.
Gen Z is three times as likely (18% to 5%) as Americans over 25 to say their challenges are so severe that they thought they might be better off dead.
More than half of Zoomers (52%) know someone battling depression.
1 in 4 have someone close to them dealing with drug addiction.
1 in 5 know someone who has died by suicide.
The poll's findings reflect the corrosive, compounding damage COVID-19 has inflicted on youth who were already struggling before the pandemic.
School closures, disrupted social routines, family illnesses, deaths or job losses and extended periods of isolation are but a few of the factors driving the surge in mental health distress.
The symptoms often go unnoticed, revealing themselves in awkward dinner table silences and closed bedroom doors. But the pandemic has exacted a toll too heavy to ignore.
For people ages 10 to 23, suicide rates increased almost 60% from 2007 to 2019, according to the Centers for Disease Control and Prevention. Emergency room visits for suspected suicide attempts among adolescents rose 31% from 2019 to 2020, the CDC also reported.
During a crisis of this magnitude, inertia is our worst enemy.
I've spent much of my career working in disaster relief. Three words guide the response: Rescue. Recover. Rebuild.
With the pandemic, rescue came in the form of widely available and effective vaccines. Recovery began with reopened schools. Now, we must rebuild. Doing that involves confronting the challenges America's children face at every moment of their day — not just in school, but from the time they wake up until their head hits the pillow at night.
Amid the economic and social upheaval of the past two years, kids are struggling to recover lost academic skills. Broken social bonds remain fractured. Some children have lost homes. Others have lost hope. One day, they are hanging out with friends; the next, they might be in quarantine and told it's not safe to go outside.
Helping kids recover means taking time to look at the whole world in which they now live — and listen closely to what they are saying.
At the Walton Family Foundation, we are supporting communities and organizations in finding innovative ways to foster mental and social well-being beyond the classroom.
In Birmingham, Alabama, for example, parents, students, educators and community leaders formed the Birmingham Coalition for Student Mental Health to confront disparities in mental health supports for students in communities of color. The coalition of more than two dozen organizations, including parents, students and community advocates, created a Student Mental Health Policy Playbook with proposals to support well-being in schools, including a call for more on-campus mental health professionals.
The educators and researchers at Turnaround for Children, meanwhile, have created a well-being index tool to hear directly, quickly and frequently from students about how they are feeling and functioning. Educators collect information from students about their physical, social,
psychological and emotional well-being, then use it to support individual kids and identify mental health trends and across classes and schools.
And KIPP Public Charter Schools has launched an alumni network to help its 30,000 graduates with mental health, careers and finances. Efforts include a National Alumni Impact Team that provides mental health resources to help former students address the impacts of COVID-19.
No one organization, or sector of society, can do this work alone. Everyone — parents, teachers, bus drivers, hall monitors, cafeteria workers, coaches, counselors, therapists, school board members, policymakers, community activists — has a responsibility to act and provide all children with opportunities to thrive.
Philanthropy can help start those conversations — and we welcome allies from all sectors to join in meeting this challenge on the scale it requires.
Disclosure: Walton Family Foundation provides financial support to The 74.
Support The 74's year-end campaign. Make a tax-exempt donation now.