A San Antonio Mental Health Desert Became a Beacon of Counseling Services for Thousands of Children and Families — Just as the Pandemic Hit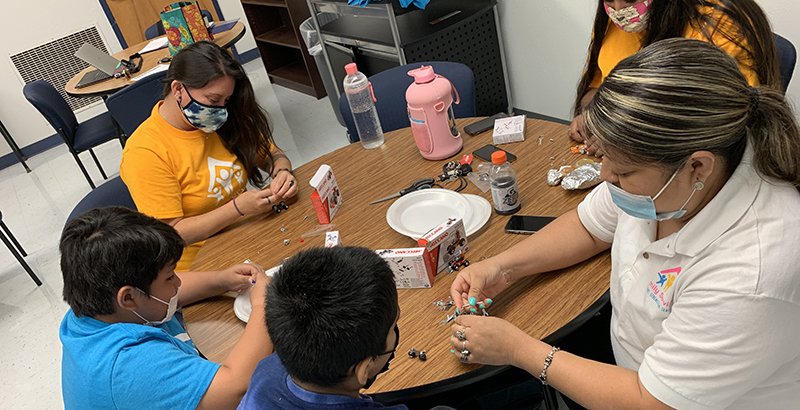 The Second Pandemic — Averting a Children's Mental Health Crisis: As many children prepare to return to in-person learning and amid alarming reports from around the world pointing to an escalating crisis surrounding children's mental health, some communities are rushing to get out ahead of the grim forecasts. In Texas, teachers and mental health care providers are fortifying support systems, investing in kids' resilience, and expanding what works as they continue to fight for the future of the COVID-19 Generation. This is the second in a three-part series examining those efforts.
Updated
For years, kids in Veronica Salgado's "transition camps" have enrolled because they are anxious about making the challenging leap from elementary to middle school, or from middle to high school.
But this summer, after more than a year of isolation, the struggle to keep up with online learning and little contact with friends, Salgado, Youth Development Manager for Family Service Association, and her team are seeing bigger problems than just helping kids figure out how to find their lockers or make new friends.
Anxiety levels are skyrocketing as kids worry about their ability to keep up with school work, focus in a room full of peers, and navigate social situations with peers they have not seen face-to-face in more than a year. The need is so great that some of the kids in the camp are in non-transitioning grades.
"It's all hands on deck, for sure," said Salgado of the camps, hosted in coordination with school districts, and now connected to a hub of mental health services, many established just months before the pandemic hit in March 2020 in what was once a mental health desert on San Antonio's South Side.
Counselors say it was just in time too: The six organizations at the hub were inundated with requests for services during the pandemic. Now, with the pandemic waning and re-entry weighing on the minds of anxious students and families, they are going full steam to prevent disaster.
At the transition camp, Salgado and her colleagues are on alert for signs of what educators and healthcare providers are calling a "second pandemic" of mental health issues in young people.
"We want to keep them as motivated as possible," Salgado said. Without someone making a deliberate effort to draw them out, she said, many remote learners will not simply bounce back into the social rhythms of school. "They just go back into their shell."
While students are participating in transition camps, other family members can access counseling, addiction support, and parenting classes.
The pandemic itself originally accelerated the demand for mental healthcare. Where they had expected to provide about 300 people with counseling and related services in their first few months with the collaborative, said Talli Dolge, CEO of Jewish Family Service, which provides counseling services at the hub, by May 2020 her organization saw over 1,600.
Demand stayed strong in the next school year: From August 1, 2020 to May 27, 2021, the collaborative served 4,619 people.
Most of the counseling during the pandemic had to do with grief and fear as jobs disappeared, loved ones fell ill, and domestic violence increased.
The collaborative weathered the pandemic with telehealth, including donating burner phones to families who didn't have access to the necessary technology. Family Services continued seeing clients in person, and Communities in Schools, another collaborative partner, made house calls.
But now there is a new issue: re-entry.
Kids started going back to school mid-year, Dolge said, and instantly the mental health crises exploded — the hazards of being isolated at home gave way to all out panic over returning to school.
"The crisis rates are up tremendously," Dolge said. "Social anxiety is huge and across the board."
It's a daunting forecast, but two years ago it would have been devastating.
In 2018 student advocates in South San Antonio ISD hadn't begun speaking out on the mental health challenges they faced, and the extraordinary lengths they had to go to in order to get help. Texas ranks 50h out of 51 states (and the District of Columbia) in access to mental healthcare for children and adults, and the situation is far worse for lower income communities like the South Side of San Antonio.
The first Mobile Mental Wellness hub opened at a building on the campus of a South San Antonio ISD elementary school in November 2019, not knowing then that a once-in-a-lifetime crisis would soon begin on the other side of the globe.
Going forward, experts say organizations like Rise Recovery, a hub partner, will have their work cut out for them. Alcohol, marijuana, and prescription drug abuse rose during the pandemic as teens self-medicated in isolation.
Experts say they won't really know how much until students return to school, where the eyes of teachers, coaches, and counselors can spot the warning signs.
What worries Rise Recovery CEO Evita Morin and others are the new cases, the ones that have been hidden behind screens during remote learning.
"The lack of data (during the pandemic was) disturbing," said Morin said, "I'm not a fan of disciplining kids with addiction, but at least before COVID schools were catching drug use and they could report it to us."
Because Texas schools started bringing a percentage of students back in the fall of 2020, educators got early glimpses of the coming mental health crisis. So, even with the pandemic still raging in San Antonio, other school districts asked the collaborative to set up shop in their district.
Neighboring school district Harlandale ISD launched their hub in November 2020, and Edgewood ISD, where the pandemic was falling heavily on working class and impoverished neighborhoods on the city's West Side opened a hub in January 2021.
Altogether the three hubs have created mental healthcare access for 23,535 students from pre-k to twelfth grade.
For many, Dolge knows, the suffering is only getting deeper as the world moves forward, and traumas, anxieties, and grief goes unaddressed. She's trying to raise more awareness in the community that help is within reach.
"If you didn't know where to get help before," Dolge said, "It's so much more important to get help now."
For mental health support related to COVID-19, call Texas's 24/7 toll-free support line at 833-986-1919. You can also call the National Suicide Prevention Lifeline at 800-273-8255 or text 741741 from anywhere in the country to text with a trained crisis counselor.
Support The 74's year-end campaign. Make a tax-exempt donation now.