A Principal's View: We Can't Wait for In-Person School to Return. So My D.C. Charter School Is Ready for a Full Year of Remote Learning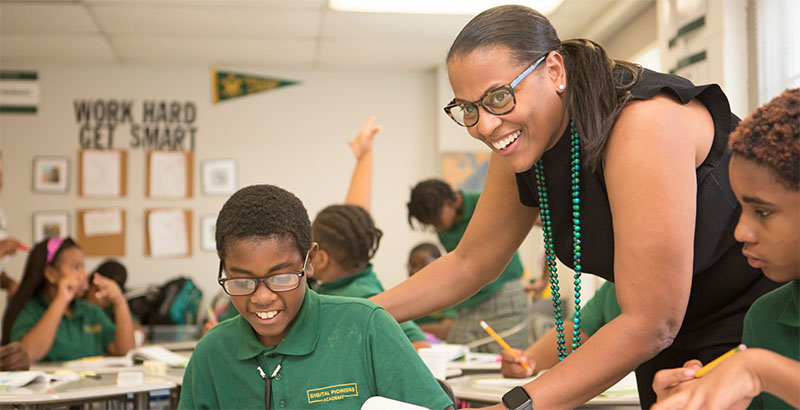 Summer has just begun for students and teachers nationwide, but next school year already feels too near. With COVID-19 data indicating an impending second surge, the menu of school re-entry scenarios is changing daily. The urge to reopen is understandable and attractive — as the economy restarts, so do jobs. Students need socialization as an essential element of development. Patchwork remote learning programs have not been successful as a holdover until in-person school returns. All this is true and is significant when weighing how and when to reopen.
The brutal fact, however, is that COVID-19 will not be cured in the immediate future, and until then, remote learning is necessary. I hope for the day when full-time, in-person learning can resume. Until then, I am optimistic that all schools can invest the planning time and resources to create remote learning programs that are as rigorous and engaging as in-person models.
At Digital Pioneers Academy (DPA), my public charter school in Washington, D.C., our scholars, families and staff are all too familiar with the impact of COVID-19. Virtually all are Black and qualify for free or reduced-price school lunch. From having loved ones diagnosed or getting sick themselves to exposing themselves to the risks of essential work and navigating the hidden impacts, like limited public transportation, our families know the risks. And they want a safe, consistent and reliable option for school.
Only 16 percent of DPA parents surveyed indicated that they plan for in-person instruction, and 96 percent cited safety, hygiene and consistent schedules as the top priorities for my team to consider as we plan for next year. The voice of our parents is clear, and designing a high-quality remote program for our 360 scholars in grades 6 to 8 is the safest and most consistent solution to meet that demand. Given that they predominantly reside in D.C.'s most vulnerable communities, access to a strong remote program is critical, equitable and non-negotiable.
The opinions of DPA families are also fueled by our approach to remote learning — in early March, confronting the same challenges as school leaders nationwide, we decided to go all in with the approach that would keep our community together and deliver the best possible education for our scholars. For us, that was daily, live instruction on Zoom, with a predictable and consistent schedule of homeroom, math, English and electives. We received feedback early and often from families and scholars about what they needed from our remote program, and, adjusting as we went along, we ensured that every student had a device for participating in school, 95 percent had reliable internet access, and 81 percent logged in to all their classes each day.
This summer is an opportunity to get remote learning programs right. We learned that students need daily, live touchpoints with their teachers. Work packets and independent learning materials are necessary logistics of the remote world, but they are not the core of learning, and we must maximize live content instruction. Social distancing alters opportunities to socialize, but we can lean into students' mastery of digital connection to preserve community and build social skills. We leveraged our staff's talent and commitment to scholars — our deans of behavior pivoted to attendance and family well-being coordinators, teachers flexed their creativity and joy of learning to increase engagement, and our operations team developed the expertise to serve as a hotline for scholars' technology issues. Thinking outside the box of our school's walls transformed the potential of our remote learning program, and it has prepared us for an entire year of online education, if need be.
I trust the guidance and counsel of our health and city leaders, and I equally weigh the needs of our families. This summer provides a buffer of time, and we have the opportunity and responsibility to collaboratively digitize rigorous curriculum, coordinate technology distribution and adjust our thinking about what's possible with remote learning. We cannot hold out until in-person school returns or, worse, rush its return. Remote learning is here for the time being, and we have to chart this new way of doing school.
Mashea M. Ashton is the founder and principal of Digital Pioneers Academy.
Get stories like these delivered straight to your inbox. Sign up for The 74 Newsletter