A Nevada High School Senior Could Have Been Prom King. But He Gave the Title — and Crown — to a Special-Needs Classmate Instead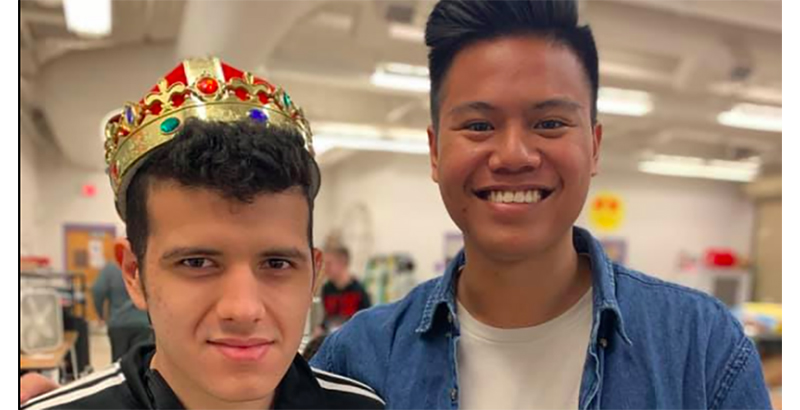 This article is one in a series at The 74 that profiles the heroes, victories, success stories and random acts of kindness found at schools all across America. Read more of our recent inspiring profiles at The74Million.org/series/inspiring.
Some teenagers wait four years to reach the pinnacle of popularity by being named Prom King or Queen.
But for Shaun Mabanta, an 18-year-old senior at Liberty High School in Las Vegas, kindness toward a classmate was more important than accolades from his peers.
Chosen as one of four candidates for Prom King, Mabanta withdrew and gave his spot to Edgar Hernandez instead.
Hernandez, 18, is a senior at Liberty High, diagnosed with autism. Though some students may have difficulty befriending a teenager with special needs, the kids at Liberty treat him like royalty.
Hernandez gives them reason to. During lunch, he goes around to each table, greeting everyone. "He puts himself out there so much," Mabanta told The Washington Post. "I wanted him to win from the beginning."
When the two became friends, they would just say hello, but after a while, Mabanta noticed that "Edgar [had] been practicing [his conversation skills]." That effort inspired him. "It makes me think there's nothing impossible in this life," said Mabanta, who told the Post he champions the outsider because he once was one himself. During eighth grade, the paper reported, "he would spend hours each day sitting alone feeling invisible and anxious."
What got him out of his funk? Being kind to others. According to the Post, Mabanta began "holding doors, saying hi to someone who looked alone, [and he] even started a kindness club."
So when Hernandez just missed making the cut as a candidate for Prom King despite his warmth and natural charisma, Mabanta withdrew his name from consideration and gave the spot to Hernandez. And then, he put his popularity and passion for graphic design to work promoting Hernandez's candidacy. He made "Edgar for Prom" posters and posted them all over school, and started social media campaigns on Snapchat and Instagram.
Students voted online and eagerly awaited the announcement at the prom.
A video reaching more than 51,000 views shows the celebrating teenagers ringing the dance floor as the announcer exclaims, "Last but certainly not least, is our Prom King Edgar Hernandez!" The students scream and cheer, chanting, "Edgar! Edgar! Edgar!"
Hernandez covered his face in disbelief. And then, after composing himself, he danced with the Prom Queen, Taylor Covert, to Ed Sheeran's hit "Perfect."
According to InspireMore, when asked how he felt being Liberty's Prom King, Hernandez replied, "Special, I feel special."
A week later, he was still wearing his crown at school, and his classmates continued to treat him like a king.
Get stories like these delivered straight to your inbox. Sign up for The 74 Newsletter