A Mom's View: What to Do When Coronavirus Turns Your Home Into a School? As an Educator, I Know — You're a Parent. You've Got This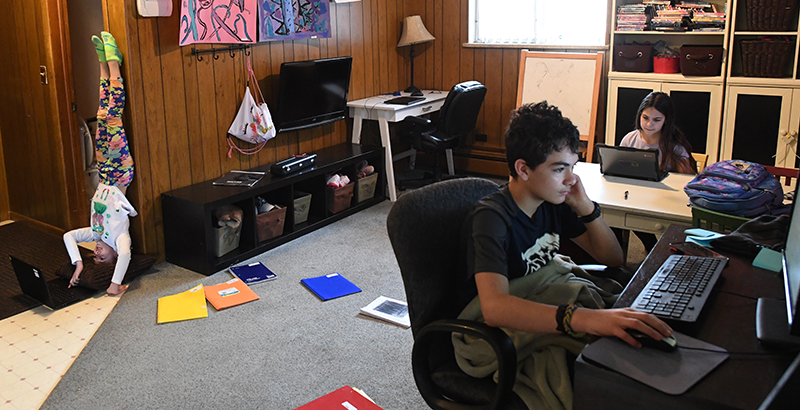 As the coronavirus continues its spread across the country, it threatens lives, upends work schedules and shuts down public events. Schools are shutting their doors, sending students home to learn. How are you going to manage it all, even while navigating changing work demands, shopping for life in a pandemic and getting tonight's dinner on the table?
You're a parent. You've had years of practice at adapting to unpredictable challenges. You've got this.
It would help, though, to have a preview of what to expect if or when your child's school shuts down and transforms your living room into a classroom.
Managing expectations
It's important to keep reasonable expectations — for yourself, your children and your children's teachers. We are all doing our best to rise to an unprecedented challenge, and empathy can play a role in helping us all succeed.
No one expects you to play the role of parent, professional and teacher at the same time. Your child's teachers have years of training and classroom experience that tells them just how tough a teacher's job can be. And they know you probably haven't looked at algebra since you were in ninth grade.
You should soon receive home learning plans to help you and your child understand the road ahead. These may include information about topics to be covered, assignments due and quizzes and tests that need to be taken. If you are uncertain about expectations, ask your child if teachers have already provided home study plans, or reach out to the teacher directly for more information.
Remember that your child's teachers are treading on uncertain ground like everyone else. Even veteran educators may have not taught in a fully digital environment before. It will take time for them to familiarize themselves with new teaching tools, establish norms and routines, and iron out the wrinkles in this new process.
As for your kids, what might seem like an extended snow day at first will wear quickly as the days roll on. Young people may experience fear or anxiety about the ominous health threats they hear about on the news, or they may not respond well to the disruption in their daily routines.
Whether the crisis lasts for days or months, compassion, kindness and empathy will be some of our greatest assets.
What learning will look like
Learning from home won't look much like school, with students focused for long blocks of uninterrupted study. Individual schools will manage expectations differently. Some may require students to be online at certain times, to meet with teachers and peers using virtual platforms or to block off specific hours of the day for assigned tasks. Others may expect students to structure their time independently. If you are in doubt about daily expectations, reach out to teachers or other school authorities for clarification.
Technology is going to play a central role in enabling students to learn and progress during a coronavirus shutdown. Many districts already have technologies in place to make remote instruction possible. One-to-one programs have put laptops or Chromebooks in the hands of many students, while others rely on students having their own devices to continue their learning online. District instructional technology staff may be able to help families get the gear they need to make learning happen at home or to properly configure devices they already have.
You may feel like you need a translator when your kids say things like "I need to get this Flipgrid done" or "I Slacked with them for an hour." It seems as if students use an unlimited number of oddly named digital learning tools in their daily school life. If you are unfamiliar with any of the online resources your child will be using, take a look at the application website or YouTube channel for beginners' tutorials. You can also ask teachers for information to help you get up to speed.
A home-study supply list
Your temporary home-study center will need a few key items so your child can learn without unnecessary disruptions. These include:
An internet-enabled device. Depending on needs and resources, this may be a laptop, Chromebook or other touchscreen device.
Wi-Fi access. If you don't have a connection in your home, your school district may be able to provide a hotspot or other means of accessing the internet.
Headphones. Video learning and conferencing will likely play a major role in your children's learning during this time, so headphones can help preserve their concentration — and yours.
Charging cables. Be sure you have not only the cables but also the wall plug to recharge any devices.
Workbooks or other supplemental print materials. These are especially useful if your child prefers to learn from the printed page, so be sure to get these in place before a school closure if possible.
Books. For many learners, especially younger ones, consistent daily reading time is a must. Now is a great time to go to your local public or school library and borrow several books at your child's reading level.
You may also need other materials to keep your home-study center running smoothly. Reach out to your child's teacher in advance of a shutdown to ask. Give the system a trial run so you can problem-solve sooner rather than later.
Prepping for success
There is a lot more to home-study success than websites and power cables. You can take steps to help your child thrive by setting up a learning environment — get furnishings, lighting and other items in place so it feels like a comfortable and productive space. Find out whether your child prefers one dedicated spot or will want to move from place to place to keep things fresh.
Develop social supports for yourself. You can set up online communities with other parents to share tips, tricks, frustrations and successes. Other parents can be your allies in this struggle, and you will benefit from the shared contact and experience in what may be an isolating time for yourself and others.
Social support is important for your children as well. Most kids already have well-established digital social networks. Encourage them to use their social networking tools productively to strategize, collaborate or share their struggles with their peers toward better success and more efficient learning.
Then, too, make time to get them away from screens for a while. Kids will need recess while studying at home as much as they do at school. Build in breaks and give them outdoor time so they can stretch out a bit.
A true learning experience
Normally, disruptions to the school routine come in smaller sizes — a sick day here or a snow day there. This is sure to be a learning experience for us all. We don't know when the coronavirus pandemic will end or when school life will resume, but by making yourself aware, setting up a vibrant learning environment and reaching out for help when needed, you can ensure that your children — and you — pass this test.
Education expert (and mom) Kate Finnefrock is CEO of ProjectEd and works with students and educators to design curriculum and programs in partnership with K-12 schools.
Get stories like these delivered straight to your inbox. Sign up for The 74 Newsletter