A Mom's View: Two Generations of School Choice Have Enabled My Newark Family to Meet the Challenges of Dyslexia and Thrive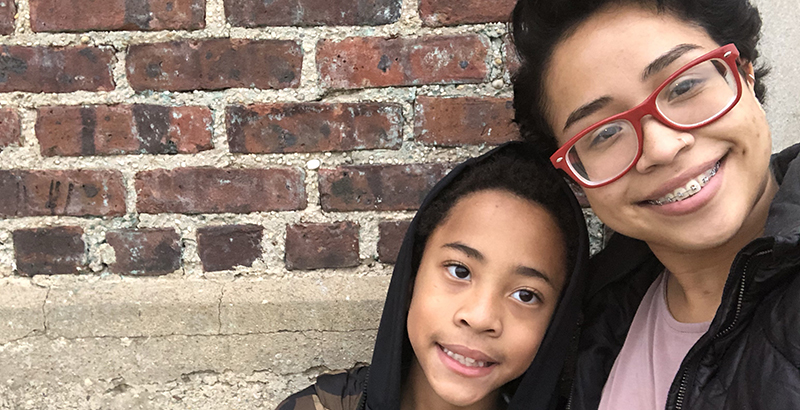 When school choice is available to families, the benefits and support are felt for generations. As students grow into adults, they recognize the impact school choice had on their personal and academic growth and want the same for their children. I know this personally and now search for the same for my son.
Like all parents, my mom and dad believed it was crucially important that we receive an education that offered opportunities to learn in a safe environment. But growing up in Newark in the early 2000s, our options for quality schools were limited, so I struggled in school for years. I had been diagnosed with dyslexia, which made reading and enjoying school difficult for me. I spent long hours doing homework because I received little individual support from my teachers.
In 2004, my family and I found KIPP TEAM Academy. At first, my mother wasn't convinced that I would excel there, especially given the struggles I had experienced at my last school, but we quickly learned that this school provided the resources and support I needed.
Just two months in, I started to enjoy going to school and often didn't want to leave the building until late into the evening. The teachers and staff supported me as I worked to thrive despite my dyslexia through frequent, individual coaching and carefully selected book recommendations to help me gain confidence. By working with me, they realized that I was a whiz at math and offered me more challenging work.
Beyond that, they showed how deeply they cared about me as a person and focused on helping me develop my character. Our principal, Ryan Hill, taught me to be mindful of my actions and how they affect other people, and that I could make smarter decisions. I realized I could always count on him to be there for me and believe in my potential.
That support didn't stop after I left middle school and entered a magnet high school in Newark. During high school, I gave birth to my son. For many young parents, this life event becomes an obstacle to their education and career path. But I was able to persevere using the support provided to me by the KIPP Through College team, who reached out to me with resources, advice and encouragement. They helped me apply to Rutgers University and start an internship with the Newark Board of Education, which led me to my current position in operations at Newark Public Schools.
When my son turned 5, I never questioned where he would go to school. Like many proud alumni, I knew we would continue the tradition and apply for KIPP Newark. But it's having the option to choose that is so vital.
After we learned my son had progressive hearing loss, his teachers made accommodations for him to ensure he continued to succeed. They regularly share news about his progress and provide tips on how to best support his learning at home. But if I thought for a moment my son needed a different environment, I would want to be able to be his best advocate and find the right school for him. Most families living in suburban towns like Montclair or Westfield have the resources to just pick up and move or hire private tutors. But that doesn't mean that as Newarkers, we shouldn't have options.
When I think of school choice, I think of how my parents' decision back then opened a world of opportunities for not one, but two generations of learners. Every family deserves that chance.
KIPP Newark alum Generra Rodriguez serves as a clerk in the Newark Public School system. She has helped dozens of families find the right school for their child, acting as a community outreach specialist, operations coordinator for data management, enrollment specialist and social media manager. She is currently working toward a degree in information technology and hopes to support school districts by protecting student data from potential threats.
Support The 74's year-end campaign. Make a tax-exempt donation now.