A Mom's View: Online Learning Isn't Working for Students, Parents or Teachers. Here's What's Happening in My Home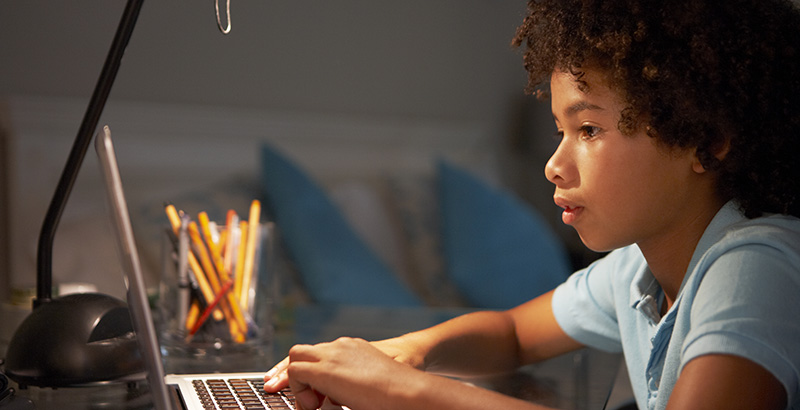 As a parent, my motto has always been that education begins and ends at home, pandemic or no pandemic. Easier said than done, I know. However, if our children are to flourish this school year, the bar for parents must be set exponentially higher than many of us are accustomed to. I've been heartbroken at stories of students "camping" outside their schools or shopping centers to access strong enough Wi-Fi to study or attend class. Yet even my own children, who have good internet access, struggle to stay on task with all the distractions inherent in distance learning; as a mother and small-business owner, I, too, have wrestled with time management and procrastination as never before.
Back in the spring, when schools closed and our lives were abruptly changed by COVID-19 and quarantine, my three middle-school-aged children believed summer vacation came early. But as a mom, I found the switch to a fully remote schedule, even with access to high-quality technology and reliable internet, to be the beginning of one of the most challenging and unsettling times for my children. While I have always considered myself to be an involved parent and an advocate for my children, I know now that all changed dramatically with the reality of distance learning. My days are consumed with tending to a 5-month-old, checking my middle schoolers' courses for missing assignments, constantly reminding them that they should be focused on schoolwork and not watching YouTube or TikTok videos, and trying to squeeze in some time to focus on my business. In short, unproductivity runs amok in my house!
This fall, we chose a hybrid class schedule rather than just remote because attempting to learn while fully remote in the spring had proven to be a debacle for academic growth as well as physical and emotional well-being. Initially, we all hoped that going to school two days per week, meeting new kids and being in a classroom setting would go a long way toward normalcy and learning. However, my husband and I quickly discovered that in adapting to two learning settings, we now have exponentially more work to do to prevent further learning loss — or, worse, learning failure. And I suspect many teachers are feeling the same way!
There are entirely too many education platforms to keep track of — my children work with 11 different types of software. Though accessing assignments and grades has been made relatively easy through Schoology, it seems there is considerable opportunity for students to hide work from their parents because there are too many places to go looking for it, unlike the old days when we simply checked homework logs.
My once competitive, optimistic, academically driven daughter has had a particularly difficult time transitioning from traditional school to distance learning in the hybrid model. My sons have frequently and nonchalantly claimed to be on top of things; it wasn't until midterm progress reports arrived and my children could see the Fs and Ds listed that they understood that while their teachers allowed more time to submit work, if that work wasn't turned in, those would be marked as zeroes.
To me, the problem with distance learning is there's more than one problem. Students aren't getting full weeks of learning. Parents continue to struggle to find their footing as moms and dads, teachers, homemakers, employees, employers and everything in between. Teachers can't lend themselves fully or effectively to their students. We will undoubtedly incur academic capability gaps that will require years of supplemental instruction to mitigate.
With all the federal stimulus spending, I have yet to hear about giving school districts funding for additional teachers so that all students have immediate access to educators during normal school hours and, more importantly, so that actual live teaching is occurring, rather than independent learning. Pursuing autodidact learning standards for students to appease budgets is unfair and counterintuitive, given our children's learning needs. We must demand a higher bar.
Melissa C. Smith is a Pennsylvania mother of five and co-founder of a financial wellness startup whose mission is to change the economic narrative and landscape of communities of color. She is a member of the Association of American Educators and an AAE Foundation advocacy fellow.

Support The 74's year-end campaign. Make a tax-exempt donation now.