A Mom's View: New York City Mayor Bill de Blasio Says He 'Hates' Charter Schools. We Need Less Hate and More Hope for Our Kids' Education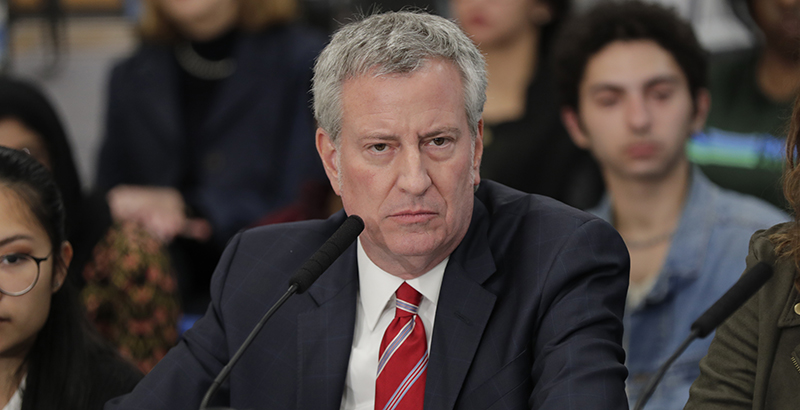 As a New York City public school parent, I was shocked to hear our city's Mayor Bill de Blasio say he "hates" charter schools. I know he was trying to score points on the presidential campaign trail, but he shouldn't forget that he still has a day job. As our mayor, he's accountable to all public school children — including those who attend charters.
The mayor shouldn't be pushing hate and causing division. Instead, he should be supporting the families in his hometown who want something different from what his schools provide. I wish he'd spend more time focused on what New York City families want and less time worrying about getting into the next Democratic debate.
There are currently 235 charter schools in New York City, serving 123,000 students in all five boroughs. There are more than 50,000 additional children on charter school waiting lists — that's tens of thousands of families who desperately want a spot in a charter school, but there aren't enough seats available for them. When I heard the mayor's comments, I wondered how those 123,000 children feel about their mayor using his hatred of their school as a talking point in his presidential campaign.
As a parent whose child is stuck on one of those waiting lists, I was heartbroken. I'd much rather hear the mayor talk about his plan to lift up more kids instead of shutting down the one hope we have in neighborhoods like mine.
My youngest son, Parker, will start middle school in the Bronx in September. I want the best school experience for him, but our neighborhood middle schools have less than a third of the students proficient in English, and the results are even worse in math. There are thousands of students in the same situation as my son, where we don't have a single decent district school option to send our kids to. However, at the charter schools where we live in the South Bronx, the proficiency rates are 30 percentage points higher. I also saw a recent news story about an entire class of eighth-grade students at a charter school in my district who aced the state's high school Regents algebra exam.
It's been so hard for me to find a quality school in the Bronx for Parker and for my two older boys. For Parker, I decided to apply to some public charter schools, but he is stuck on the waiting list for two of them, so I have to roll the dice with a traditional district school.
In some ways, I guess I understand where de Blasio is coming from – because I can tell you straight up that I HATE this situation. I HATE that there are no quality school options for my son. I HATE that our last hope for a good school was denied because there aren't enough spots. But "hating" charter schools? No way!
It makes me angry that school leaders have great ideas for new charter schools that can serve our kids better but they can't open. Families in the Bronx need more quality schools and more options, and that includes charters. That's why I hope the mayor starts to use the "hate" he feels to do something good. I hope the mayor's "hate" inspires him to set his alarm a little earlier, roll up his sleeves and get to work.
The mayor has the power to fix this. Sure, it might mean he has less time to spend in Iowa or South Carolina, but we elected him to be our mayor, not a presidential candidate. Our kids deserve less hate and more hope.
Gloria Alfinez is a South Bronx resident and the mother of a son who will start sixth grade in September.
Get stories like these delivered straight to your inbox. Sign up for The 74 Newsletter