A Mom's View: My 2 Kids, Who Are on the Spectrum, and I Are Getting Through With Love, Family Support & a Dose of Social-Emotional Learning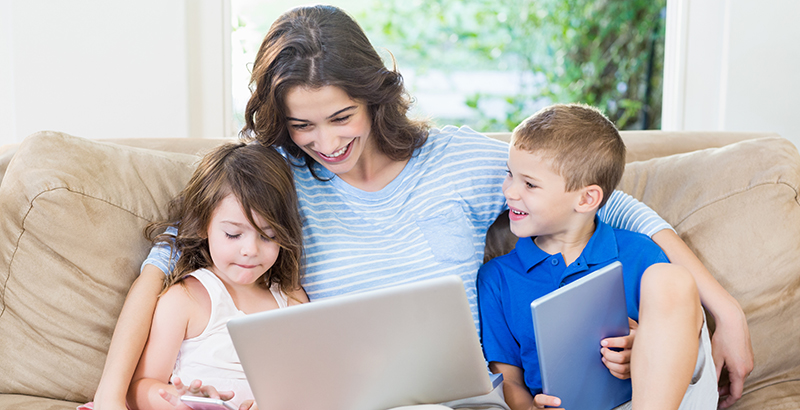 Correction appended
I barely have the time to type this reflection, but as the mother of two children on the autism spectrum, I feel that the need for responsive, innovative instruction is more relevant now than ever. Social-emotional learning can provide students with the strategies and tools necessary to cope with stress and anxiety and regulation of their emotions. And in my opinion, it also sets the foundation for good mental health.
There is no better time to embrace SEL than in this current environment of uncertainty, anxiety and fear. As parents, educators and administrators struggle to make adjustments in their own lives, we should pause and acknowledge what all students are struggling with during this rapid period of change.
The other day, my 5-year-old FaceTimed on my iPhone with his little 5-year-old friend who lives across the street. This was my idea, not only to encourage the continuation of social skills lessons he normally receives in school but also to maintain some level of normalcy in his life with playdates in our neighborhood. While the exchange was heartwarming to witness, I burst into tears at one point when my son repeatedly asked his friend, while showing and telling about a toy, to "just come over to the house and play."
All four of my children are adapting to the current virtual learning environment a lot better than I had anticipated, but like all families right now, we have our challenges. How we choose to respond to our children's needs during this time is going to make all the difference.
So, what am I doing differently than prior to the coronavirus pandemic? I'm doing my best to start each day taking social and emotional cues from my children, who are now also my students. I am giving them a sense of control over certain subjects and having honest conversations with them about my strengths and my weaknesses.
For example, allowing my 11-year-old daughter to lead an art class with her three siblings from start to finish — knowing that Mommy cannot draw even a stick figure — gave her a sense of confidence and belonging that let her know we truly are stronger together as a family when we rely on one another. During this lesson, she also learned what it was like to take on the responsibilities of researching and planning a project, gathering the materials and then figuring out how to teach and reach three children in three different grade levels. If I were an observer in the school setting, I would give her an A-plus.
Each morning, I start my 5-year-old's day by having him lead and teach me the alphabet and numbers from 0 to 100 with a lightsaber. Yes, you read that correctly: with a lightsaber. While structure and routine are still important, particularly to my kiddos on the spectrum, so, too, is having fun. I wasn't handed a pandemic playbook for homeschooling. If my youngest child wants to come to class dressed in pajamas or his dragon costume, I'm not going to stress about the little stuff, because these are the fun things we should all be embracing at this time. My progress monitoring will not be halted by the use of a lightsaber as a pointer.
Overnight, we parents became general education teachers, special education teachers, specialist educators, arts teachers, reading specialists, education support professionals, curriculum planners and related-service providers, just to name a few. Can you imagine how this rapid change has impacted not only parents but also the children who receive special education services in school?
How challenging must this be for the students who receive speech and language therapy, occupational therapy, social skills, behavior analysis and physical therapy during normal school hours? Although these are uncharted waters for all of us, together we can choose how to respond, through flexible, creative innovation, in order to support our children's needs to the greatest extent possible.
Teletherapy was against the law in New Jersey until just this week; so, too, was online learning in satisfying the 180-day school attendance requirement, until a few weeks ago. We must allow ourselves to do complete mind shifts and respond to the needs of our educators and students in ways never before imagined. Don't place too much emphasis on what current administrative codes say about the delivery of special education services, because codes that applied yesterday are not enforceable today. As parents and stand-in educators, we need to allow ourselves to be flexible for the sake of our children's education and their future.
Fortunately, in this digital age, all the resources we need to get started in incorporating SEL in our daily lives are easily accessible. Did you know March 27 was International SEL Day? There is a whole education and mental health movement that advocates for SEL instruction. We have the means to change our children's lives for the better and provide a lasting positive impact.
Right now, I see that I have been given a gift as a result of this tumultuous period in our lives. I now have time to spend with my children, uninterrupted by the daily demands of overscheduled calendars and far-flung commitments. Most importantly, I can model for them what calm looks like in this sea of confusion.
Correction: Teletherapy was made legal in New Jersey on April 1.
Liz Parlett Butcher is a passionate special education advocate for children with disabilities and the New Jersey Regional Director for the Association of American Educators. 
Support The 74's year-end campaign. Make a tax-exempt donation now.