A Mom's View: Changing Schools Is Hard for Military Kids in Normal Times. In a Pandemic, It's Even Harder. How Schools Can Help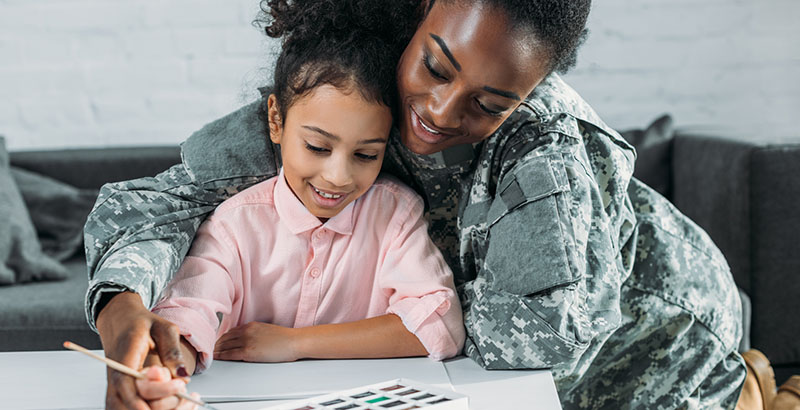 Even without a raging pandemic, changing schools can pose a sweeping challenge for military-connected children.
Every two to three years, when they pull up stakes to transition to a new school, military families face a range of issues, including adjusting to a new curriculum, arranging special education services, adapting to different educational standards and ensuring sufficient graduation credits.
The pandemic injects yet another layer of complications. With school buildings closed, military kids now face a patchwork of online learning platforms. Each state, county and school district seems to have its own approach for returning to schooling in the fall. Transcripts and medical records may not be available from school and medical offices whose employees are working from home, if they're even open.
For military families, it is like navigating the K-12 landscape through a kaleidoscope.
When a military-connected child arrives at a new school this fall, teachers and administrators should understand that it has been a hard journey to get there — much more difficult than in normal times. They have moved homes during a pandemic, maybe across the nation or from overseas, and now face integrating into an entirely new school system where everyone is working remotely, without the ability to make in-person connections.
To help smooth the transition, school staff should be well versed in an essential document called the Interstate Compact on Educational Opportunity for Military Children.
An agreement signed by all 50 states and the District of Columbia, the compact addresses the key issues encountered by military families in educational transitions. The goal of the compact is to standardize the widely varying school policies affecting transitioning military students moving state to state or overseas. Specifically, it covers education records, class placement and attendance, eligibility for student enrollment and extracurriculars, and graduation requirements.
Whether it's the ability to obtain official transcripts from a school that has shuttered its doors until further notice or immunization records that are missing because parents couldn't find a health care provider in a new location, these hurdles and many others shouldn't delay military-connected students from registering for school — because they fall under the compact.
Still, military families often face hurdles, despite the compact and its good intentions.
"In key areas, significant challenges remain," according to a report by Columbia University's Center for Public Research and Leadership and the Military Child Education Coalition. "Course placement and credit transfers continue to present problems that may undermine transitioning military students' opportunities for academic advancement and may add to the difficulties of struggling students. Many schools (and students) struggle to manage the social and emotional impacts of multiple school transitions, particularly when a parent's deployment increases the turbulence. The site-specific processes and culture around special education also complicate transitions for an already fragile population."
When military kids come into a new school, whether in person or on Zoom, a simple gesture of understanding by teachers and administrators will do wonders to get the child off on the right foot. And compliance with the compact will help families begin the process of settling into a new school during this very unsettling time.
Stacy Allsbrook-Huisman is a member of Military Families for High Standards, an Air Force spouse and a co-author of the book "Seasons of My Military Student: Practical Ideas for Parents and Teachers."
Get stories like these delivered straight to your inbox. Sign up for The 74 Newsletter