A Mom's Perspective: Even With 111,000 Seats Sitting Empty in NYC Schools, Mayor de Blasio Can't Find the Space for the New Middle School That Was Promised Years Ago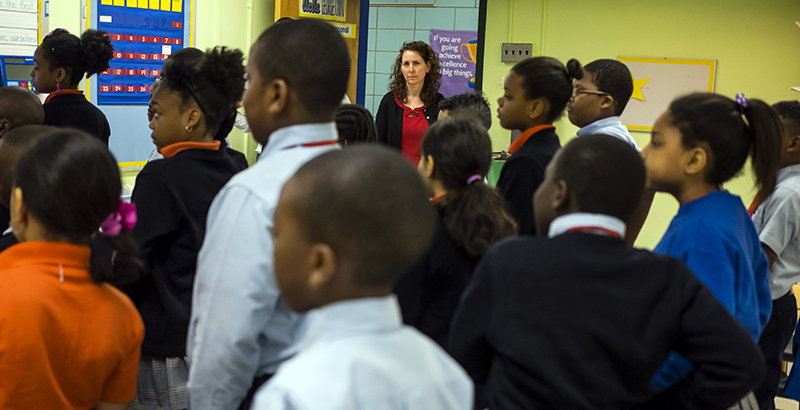 Imagine a subway train pulls into your station and you step into the car. About half the seats are taken by the commuters who boarded at an earlier stop. There are plenty of seats, but the commuters who boarded earlier have filled them with briefcases, backpacks and other personal stuff. At each stop, the subway car fills with other passengers, yet none of the seated passengers allows anyone to use a seat.
In New York City, Mayor Bill de Blasio has set up a similar dynamic of special privilege for district school students when it comes to sharing space in public school buildings. With a new report showing 111,500 open seats in 218 of the city's emptiest school buildings — an 18 percent increase from three years ago — this is a colossal waste of taxpayer money as well as a cruel denial of education opportunities for families seeking public charter schools.
Co-location — the practice of two or more schools occupying the same building — has been a NYC practice since 1898, and it has allowed smaller schools, both district and charter, to provide additional choices for families. For example, Middle School 447, now a popular and well-regarded middle school in Brownstone Brooklyn, was able to open in 2003, with the support of then-Chancellor Carmen Fariña, by sharing space with the Brooklyn High School for the Arts. Under former mayor Michael Bloomberg, dozens of other small schools opened in underutilized buildings, and studies showed this approach was particularly beneficial to poor students of color.
But de Blasio has taken the opposite approach. Since he took office, fewer than 50 permanent charter school co-locations have been approved, compared with triple that number in the corresponding period under Bloomberg.
At the same time, the city's school buildings have become emptier, with more available seats today than in years past. District enrollment is in decline — down 3 percent in the past four years — and the number of underutilized buildings has grown. According to the city's most recent data, there are 73 buildings with 500 or more empty seats and 11 buildings with at least 1,000 empty seats, including one with more than 2,000 empty seats. In just these 73 buildings, there are nearly 56,000 empty seats.
The most recent victims of the mayor's stance on co-location are hundreds of Success Academy elementary school students in southeast Queens. Their parents have been pressing de Blasio for a middle school that was promised two years ago, urging him to stop stalling and identify a location now. Chancellor Richard Carranza recently reaffirmed the mayor's promise but stopped short of giving details, warning: "We have a process, and … a cornerstone of our process is engaging the community."
Just how much community engagement does the chancellor require? These Queens parents have been advocating on behalf of their children since July, making hundreds of phone calls to the mayor's office, organizing a petition that garnered 12,000 signatures, sending thousands of emails to local elected officials as well as the mayor. About 4,000 of them turned out for a rally in late September.
Sadly, what the chancellor and mayor mean by community engagement is to talk to the families and teachers of students currently using these mostly empty buildings, granting them virtual veto power in whether they share space with Success students.
Like subway riders who plop their bags and belongings on adjacent seats, school administrators are not always keen to share. They rarely agree with the city's utilization data. A building could be 42 percent utilized, with space for 800-plus students, and the community would still resist sharing space.
Public school buildings do not belong to a privileged subset of students, and de Blasio should set aside his hostility toward charter operators and listen to his constituents. He's responsible for all public school students, district and charter. Kids are taught to share, and adults can learn as well.
Miriam Reyes is a parent of students at Success Academy's Midtown West Middle School and Hell's Kitchen elementary school. She lives in Brooklyn with her family. 
Disclosure: Campbell Brown sits on Success Academy's board of directors. Brown co-founded The 74 and sits on its board of directors. She played no part in the editing of this essay.
Support The 74's year-end campaign. Make a tax-exempt donation now.