A Homeschool Mom on Distance Learning for Special-Needs Kids, Socializing Online — and Why Parents Shouldn't Try to Re-create Public School at Home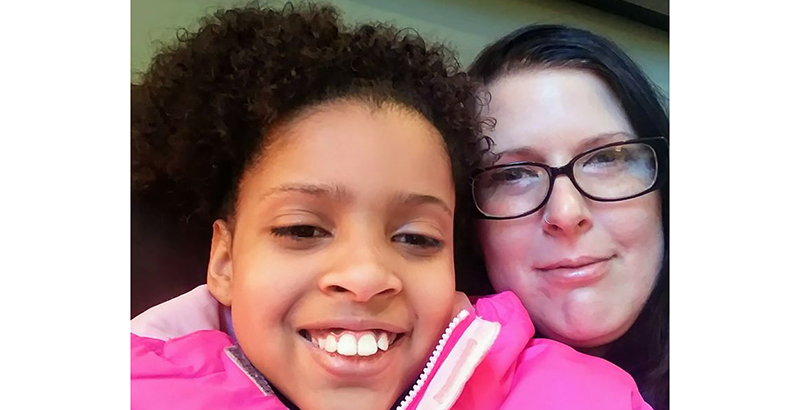 After years of frustrated attempts to get the right special education services for her oldest child from a school district in suburban St. Paul, Melissa Davis decided to homeschool Jayanna, now in fifth grade, and Malia, now in third. Jayanna has autism, and Malia, while not formally diagnosed, has many traits associated with being on the spectrum. Both girls are very bright yet went unchallenged academically in conventional school.
As of 2016, some 1.7 million American students, or about 3.3 percent, were homeschooled. While dissatisfaction with schools' environments and academic programs is cited as the most frequent reason a family chooses to teach its kids at home, some 20 percent cite a child's special needs as a top motivator.
Parents like Davis, then, are among those who have mixed emotions about schools and districts shutting down because of coronavirus; some are even halting their switch to remote schooling out of fears that in a digital environment, they can't guarantee an equitable education to children with disabilities. While local, state and federal leaders go back and forth about what schools' obligations are, Davis says homeschoolers of children with disabilities might have some lessons to offer the education establishment about serving kids like hers equitably.
What follows is a conversation between The 74's Beth Hawkins, also a special-needs parent, and Davis. It has been edited for length and clarity.
The 74: Tell me your reaction to the debate over whether schools may operate remotely without a guarantee in place that special-needs students have equitable access to everything.
Davis: To me, it almost seems like a cop-out. When have they ever really pushed the whole idea of doing anything equitable for students with disabilities?
With writing, for example, I always struggled with the school district. Jayanna has dysgraphia, so she has a difficult time with writing. I pushed for them to provide the accommodation of allowing her to type things. She's better at typing, so she's able to write for a longer period of time than with a pen and paper. I could never get them to do that. Now that we're at home, we don't have to worry about that. She's able to show me her work. She has more thoughts to get down on paper.
From our experience, I've found homeschooling much less stressful. It's easier to work with my child without all the extra hands in there. For her, being a preteen female on the spectrum, having a lot of extra people in the mix, having her be singled out in the classroom for having paraprofessional support or having to be pulled out for occupational therapy or social skills, really put a lot of stress on her.
We primarily do online schooling through a subscription program that provides me as a parent with a lot of useful data. We go with the flow of the day. If my daughter got a good night's sleep, had a really good breakfast and is in a great mood, then we concentrate on some of the core things, like math, English, those kinds of things. If she's struggling, I let her choose between the subjects. She goes straight for Spanish, or straight for science, because those are her two favorite things.
As far as her mental health, which in our household we put first, it's been great. I'm lucky enough to be the core person who is here all the time who takes over that core role.
What are some advantages of homeschooling for students with disabilities?
You can stand up. You don't have to raise your hand to go to the bathroom or if you need to go fidget. She can just do it. It's one-on-one here, her and I. And it's very, very quiet. There's not any distractions — I don't know how that can be accomplished in a regular school setting that's also inclusive. She has the ability to have "brain breaks" on her own, not at set times. Afterward, she can do the rest of her stuff.
Schools are so hyper-attuned to students being off task. How do these "brain breaks" differ from just disappearing into her room and goofing off?
For Jayanna, it's understanding her body and understanding her limits. It's about her being able to gauge when she's completing a task and when she's hitting a roadblock. Then she's able to pick out what self-stimulating thing it is that she needs to take a break in order to get back to her task. I've never had a time when she tried to extend that, or do it the whole day, or anything like that. Giving her tools to bounce back is something she's going to need as an adult, when she's in the workforce or in college. These are normal accommodations, something an adult would be able to use.
Other parents have talked about their fear that their kids might regress in terms of social skills and self-advocacy during an extended school shutdown.
What we're experiencing right now, what parents are experiencing, is definitely not homeschool. Most homeschoolers are much more social. We're able to go to museums. We go to plays. We go to parks. There are a lot of homeschool groups we can pick and choose from. But since we're in a time when things are shut down and we are told to just hunker in place, that would be a worry for me. Knowing that this is not forever, I'm not too worried about it, but I can see where other parents would.
My daughter plays Minecraft. My youngest daughter plays Roblox. Online socializing counts.
Many parents feel that screens are bad. And yet for kids who are neurodiverse, screen time is really important.
Oh, yeah. Learning from autistic adults, and hearing their points of view on social media; screens and chatting online are easier for them than face-to-face conversations. It totally makes sense. And if that's the way my daughter is going to socialize and build her friendship circle and feel supported — so long as she is feeling those things, then whatever mode we need to get there, I have no problem with it.
What was the biggest change when you switched to homeschooling?
Putting my own expectations and knowledge of school to the side. Not feeling like I needed to re-create the public-school model in my home and pushing my kids and pushing them until it's just not helpful for anyone. So really just relaxing, and learning to enjoy learning together. When we're all in a good place and we're all relaxed, learning comes a lot easier.
Support The 74's year-end campaign. Make a tax-exempt donation now.