A Historic Literacy Effort in California Brings Personalized Learning to English Language Learners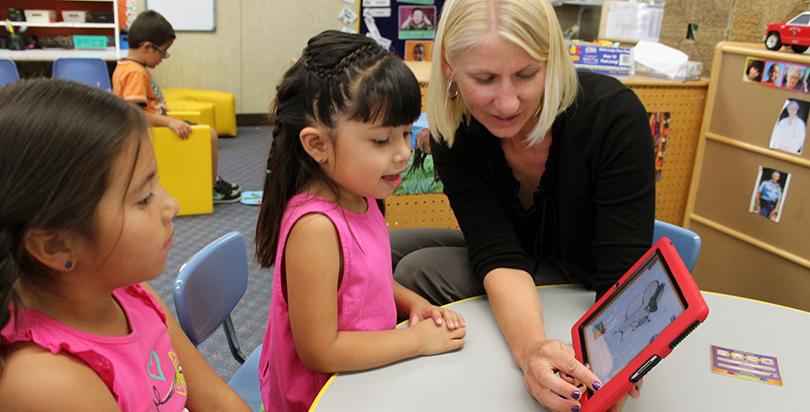 The country's first countywide digital early learning program can trace its roots back 26 years, to the day Barbara Nemko, now the Napa County, California, superintendent of schools, was listening to her young nephew have a conversation with an adult.
"At that moment, it occurred to me he was going to go to kindergarten with kids who didn't speak English," she tells The 74. "That disparity was daunting, but it was more of an observation that gnawed at me."
Two decades later, Nemko was able to turn that observation into action, partnering with Ilene Rosenthal, CEO of Footsteps2Brilliance, to bring a version of digital early learning literacy to students in Napa County.
A pilot personalized learning program in 2011 gave 16 English language learners iPads equipped with an app that contained more than 200 books and learning games in both English and Spanish, as well as full-color interactive stories. Kids could touch the screen and make things happen — prompting a cow to moo or having every word appear in red when it is said aloud to improve sound correspondence.
With around-the-clock access, students could share the learning and engagement with their parents and move through the app's reading levels at their own pace. A simple toggle button allowed kids, or parents, to switch between Spanish and English, improving comprehension in both languages for learners of all ages.
In just four weeks, reading comprehension scores among the students skyrocketed from 11 percent to 76 percent. The second year of the pilot program saw English learners identify words at a 79 percent success rate, up from 43 percent the year before.
That success prompted Napa County in 2014 to launch its Digital Early Learning initiative, a five-year evaluation study following 325 students from preschool through third grade. And in 2015, with 24 preschools across five districts engaged in the program, the U.S. Department of Education recognized it as the first countywide effort in the country.
And it continues to grow. With a public-private nonprofit helping to fund the effort, Napa offers the app free to anyone who lives in the county.
In the years since the pilot program launched, the app developers have added sequencing games and new animated stories, based on feedback from teachers working in the classroom. Students can stop language in real time while reading an illustrated story, progressing at their own pace through each page, book, or reading level.
Early on, animation ties words to images for easy contextualization. Rhyming and alliteration help with understanding, and questions at the end of each story encourage comprehension. Those assessments are geared for different levels too, ranging from simple questions with hint buttons to multiple-choice, inference, and open-ended queries.
Since typical English language learners come from homes where reading in any language isn't common, Nemko says, students enter school without exposure to many words or to written language. That uncertainty around English leads kids to remain reserved, reluctant to interact with classmates and teachers. "Now, the students come to school and they have a richer vocabulary," she says.
Because the students take their devices home, parents can join in, helping to bridge the word gap that exposes kids from lower-income homes to 30 million fewer words than children from upper-income households by age 3. "In addition to the incredible growth the kids are making in vocabulary, the parents have told us their English is improving," Nemko says. "That has been huge."
"Now parents can be reading to their children and also learn English," Rosenthal tells The 74.
A tracking system inside the app allows teachers to see what students have done — which books they have read, which phonics games they have played, and how they have progressed through the levels.
Nemko says that through ongoing federally funded research, they hope not only to highlight the success of the students involved in English language development, but also to try to correlate language improvements with cost savings by eliminating pricey remediation.
The data will come soon. Meanwhile, districts across the state and country have taken notice.
"The first message is, digital works," Nemko says. "Digital is engaging, and the one thing we know is that student engagement is the biggest measure of achievement. If you are engaged more — and this has a breadth and depth because of all the additional games and letter recognition — you are going to learn more."
Support The 74's year-end campaign. Make a tax-exempt donation now.