A Form of Professional Development That Research Shows Might Actually Help Teachers: Coaching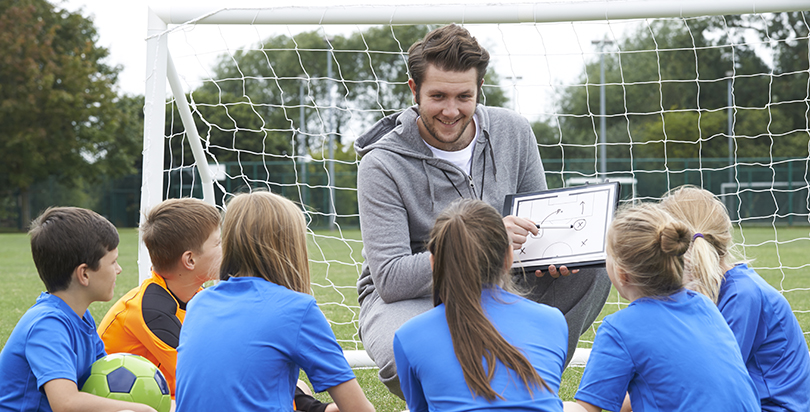 "Professional development" is a four-letter word to some teachers, calling to mind all-staff lectures promising quick fixes, often from consultants who appear on inservice day and are never seen again.
Similarly, researchers have
generally been unable
to find strong evidence on what forms of teacher professional development work or even whether the estimated billions of dollars districts spend on it annually are worthwhile.
Now a
new study
points to one promising strategy for helping current teachers improve: one-on-one coaching.
"The results of [our analysis] suggest that teacher coaching programs hold real promise for improving teachers' instructional practice and, in turn, students' academic achievement," the authors conclude.
Sounds good, but the researchers note two big catches: It's likely quite expensive to carry out, and delivering it to large numbers of teachers may diminish the quality.
The coaching study was presented as a working paper at the Association for Education Finance and Policy research conference in Washington, D.C., in March and is what's referred to as a "meta-analysis," meaning a comprehensive summary of past research.
The authors — Matthew Kraft and Dylan Hogan of Brown University and David Blazar of Harvard University — note that there are "multiple, sometimes conflicting, working definitions of coaching." They settle on the idea that teacher coaching involves "instructional experts work[ing] with teachers to discuss classroom practice in a way that is" individualized, intensive, sustained, context-specific, and focused.
1
The researchers examined 37 past studies meeting this definition that looked at how coaching directly affected teachers' performance, their students' achievement, or both.
The overall results were quite encouraging.
"We find large positive effects of coaching on teachers' instructional practice," the authors write, relying on 25 studies that measured teachers' classroom performance.
Similarly, the 21 papers that looked at student achievement found notable positive results, on average. Again, the effects were pretty big — the impact on students was comparable or even a bit larger than a
reduction in class size
of 10 students.
Based on this study, the temptation, then, might be for districts to start scrapping traditional professional development and go on a spree of hiring coaches. The researchers acknowledge the caution flags of scaling, implementation, and cost.
"Decades worth of research have documented the significant challenges of taking education programs and reform initiatives to scale," the study states. "Given the fundamental importance of implementation quality, major questions still remain about the feasibility of expanding teacher coaching across schools and districts."
Indeed, when the research examines large-scale programs (with more than 100 teachers involved), the benefits, relative to small coaching initiatives, are cut roughly in half. That suggests that expanding coaching may still yield positive results, but that quality will suffer to some extent in far-reaching programs. A particular challenge could be recruiting effective educators to serve as coaches, though one recent
study
suggests that simply pairing a struggling teacher with a more effective colleague can work.
There's also the issue that existing research often relies on teachers who volunteer to participate in the coaching program. Perhaps they are most amenable and open to feedback, and the benefits would not extend to the types of teachers who don't volunteer to be coached.
"I would be very pessimistic about the notion that teacher coaching is a professional improvement program that will work well for all teachers," said Kraft, one of the Brown researchers. "Coaching is a two-way process."
Another limitation is cost.
"Any way you design a coaching program, it's going to have a large sticker price," Kraft said. "The question is what you get from that investment."
The benefits might justify the expense, but the analysis is unable to test this because many of the reviewed studies don't reliably document the costs of the coaching program.
One way to make coaching more affordable and specialized would be to do it virtually rather than in-person. Encouragingly, the researchers did not find a major difference in effectiveness between the two approaches, suggesting that online coaching might be a good alternative. Another approach, the study highlights, would be to focus coaching on the subset of teachers who most need to improve.
Regardless, the researchers argue that districts should not use the cost of coaching as an excuse not to explore the practice.
"Given the billions of dollars districts currently spend on [professional development], coaching should not be seen as prohibitively expensive from a policy perspective," they write. "Instead, policymakers and administrators must judge whether their current expenditures on [professional development] could be maximized more effectively."
"It's not that there's no money out there," said Kraft, pointing out that districts often spend on professional development programs with little or no evidence. He thinks it might be worth it to try something new, like coaching, that at least has some research base.
"Why not in some districts take a leap of faith?"
---
1. Specifically, the researchers define each term as follows: "(a) individualized — coaching sessions are one-on-one; (b) intensive — coaches and teachers interact at least every couple of weeks; (c) sustained — teachers receive coaching over an extended period of time; (d) context-specific — teachers are coached on their practices within the context of their own classroom; and (e) focused — coaches work with teachers to engage in deliberate practice of specific skills." (return to story)
Support The 74's year-end campaign. Make a tax-exempt donation now.