A D.C. Charter Wins $10M to Invent Virtual Reality Programs That Will Change High School — All of Them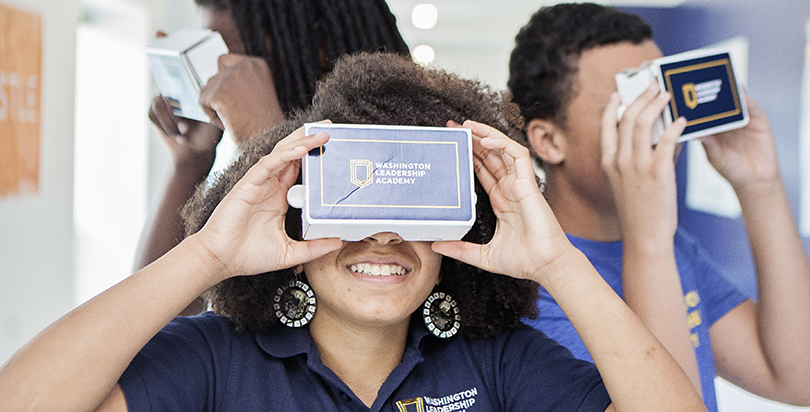 The XQ: Super School Project winners were unveiled Wednesday in a heavy-hitter event befitting a $100 million award. The prizes went to schools across the country: Michigan (Grand Rapids Public Museum High School); California (Summit Elevate, Vista Challenge High School, RISE High); Delaware (Design-Lab High); New York (Brooklyn LAB High School); Texas (Furr Institute for Innovative Thinking); Louisiana (New Harmony High) and Massachusetts (Powderhouse Studios). The Washington Leadership Academy also made the elite list. The 74's Richard Whitmire spent some time there last week to learn more about what a next-generation high school will look like.
Washington, D.C.
In just 11 months, all the ninth-graders at D.C.'s Washington Leadership Academy are scheduled to take chemistry as they enter 10th grade. Only there's no chemistry laboratory at their just-launched charter school, and no plans to build one.
Instead, students will walk into the nation's first-ever virtual chemistry lab, a crash development project that starts today, the direct result of a $10 million prize won by the tech-driven high school. It's one of 10 $10 million awards announced Wednesday by XQ: The Super School Project, which issued a call a year ago for "unconventional, unconstrained ideas to reinvent the American high school." The contest is the brainchild of Laurene Powell Jobs, wife of the late Steve Jobs.
During my visit to WLA last week, co-founder Seth Andrew was under strict orders not to openly discuss the prize, so he had to carefully check his excitement as he walked the halls surrounded by students.
But minutes after the announcement on Wednesday, he and co-founder Stacy Kane pushed the button on hiring a virtual reality design team. The publicity of the prize, they predict, will help attract top talent.
Imagine this: Students enter the lab, strap on a virtual reality headset (just like the HTC Vive Andrew had me put on during a demonstration), and instead of playing video games, students will enter a fully immersive and scientifically accurate virtual reality chemistry lab. They will see their lab partner, and the two will discuss what they will do in the experiment, just as students would do in a traditional lab.
Let's lay out a simple experiment: Does adding salt affect the boiling point of water? The student would reach out with hand controllers, take a graduated cylinder, fill it with water, measure out the salt, light a Bunsen burner, add a thermometer, track the boiling point — and then repeat the experiment without adding salt.
"During that time, no child will be burned, no child will have a chemical spill, and it will cost the school a fraction of what building a lab would require." said Andrew. "In virtual experiments, we can use chemicals like sulfuric acid or mercury or lead that we can't use with 10th-grade students in actual reality."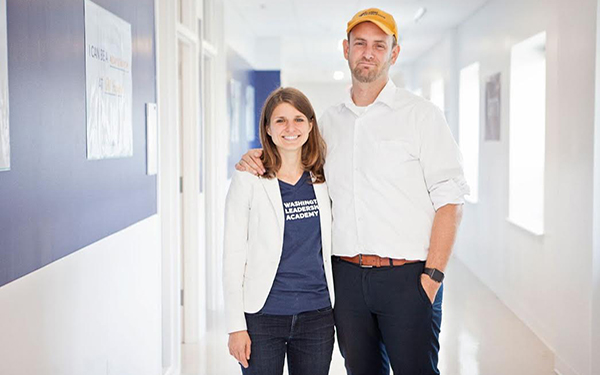 Even in the best high school chemistry labs in the country, said Andrew, you can't see inside the atoms that make up the chemical reactions. "In virtual reality we can go all the way into the sodium chloride or the H2O to see the molecular structure. We can drill down into the valence of each individual atom to see how the electrons are spinning in a way you can't in a regular laboratory."
Once the software and hardware have proven themselves, WLA will release the tool to schools everywhere. Overnight, poor urban and rural students will have access to a chemistry lab superior to anything offered in the swankiest private or wealthy suburban schools – or even some elite college campuses.
"Once we tweak and perfect and iterate the first generation of the chemistry lab, we can make it open source and available. There are a million kids in the United States alone who don't have access to chemistry at all, so we need to figure out how to get those kids the access that they deserve," Andrew said. "This will not be just a high-quality experience; it will be a game changer for kids who have nothing as the alternative."
Designing a Version 3.0 school
A reasonable question to ask here: How does a brand-new charter school win a prize like this? It's a good story, one that tracks the progression of charter schools laid out in The Founders: Inside the revolution to invent (and reinvent) America's best charter schools.
That story starts with Andrew, who founded Democracy Prep, which today runs 20 charter schools, in Harlem, the Bronx, Camden, Baton Rouge and Washington, D.C. To design his schools, Andrew followed the path of many founders, visiting the seminal charter schools: North Star in Newark, Roxbury Prep in Boston and Amistad Academy in New Haven.
He thought of those "no excuses" charter schools as Version 1.0. His Democracy Prep schools pushed that model, he said, with a focus on civics, taking in all kids in all grades with public funds, and using student growth — rather than proficiency rates — as the primary metric for success, meaning students are judged on the progress made from where they start to where they are now, not just on their test scores.
Democracy Prep schools may be less likely to top the charts when state proficiency scores are announced, but the students appear to be successful: To date, 90% of the roughly 300 Democracy Prep students are persisting in four-year degrees, said Andrew, with 80% at selective colleges.
Despite that achievement, three years ago Andrew decided to turn over his charter network to a new generation of leaders. In part, that's because he believes a leadership change is healthy. But there are other reasons.
Andrew says he became discouraged by elements of the charter school sector. Too few charter leaders reflected the minority students they serve, he said, and the emphasis charters placed on proficiency rates, rather than growth, led to unhealthy practices.
"The distinction is night and day. A proficiency mind-set produces perverse incentives … not to backfill seats, not to recruit tough kids, not to seek out special education kids, not to welcome ELL kids, not to keep the kid who's giving you a hard time in third period. Alternatively, if you have a growth mind-set, then the incentives are to take the hardest kids because those are the kids with the most room to grow."
Yet another reason for his discouragement: High-performing charter schools, especially those that grow only a grade at time, are never going to fulfill the overwhelming demand for high-quality schools, especially in big cities.
The answer, Andrew concluded, lay with education technology.
After departing Democracy Prep, Andrew worked first on educational technology for U.S. Education Secretary Arne Duncan and then as a senior adviser in the White House.
For all those three years, he was prepping for his new launch.
"We have tried and failed for 100 years to really transform the fundamentals of school," he said. "I believe it's technology that will finally lead to that revolution."
Those three years were enough time to design a Version 3.0 school: Washington Leadership Academy.
Creating — not just consuming — virtual reality
The 100 ninth-graders here, drawn from 32 different middle schools around Washington, make up the "founding" class – as the T-shirts they proudly wear make clear. Given that many new charters get launched in grungy church basements or dilapidated buildings that districts spun off, these founding students got an amazing deal: bright, clean, well-lit space that once was a Paulist seminary college, located next to both Catholic University and Trinity Washington University.
The students I met there during a visit were drawn by the allure of technology. It didn't hurt that at the school recruitment gatherings for parents and students in D.C. the WLA recruiters promoted drone racing as a school sport.
Isaiah Edmonds, for example, had never heard of WLA, but the drones caught his eye. "It looked really cool. I am more of a STEM person, and I am really into coding," he said.
After talking to Joseph Webb, the principal, he decided to attend a prospective student meeting at the school. "We got there, and they were flying drones. It was really cool."
Naia McNatt offered similar reasons for coming, despite a long commute.
"I wanted to be somewhere where I could improve my computer knowledge," she said. "When I grow up, I want to be an entrepreneur, and this school will give me that opportunity. Coding is my favorite elective. By the end of the year, we're supposed to be able to build a video game."
And she approves of the looser cultural rules that give students some uniform options. "It's not just 'wear that, wear that.'"
I ran into parent Jerome Foster, who was picking up his son, also named Jerome, who recalled the presentation at the school fair. "It was so awesome that we had no choice other than to come here," he said.
Jerome's previous school was all about academics, said the father, and they were looking for a mix. "There's more to a kid than academics. We didn't want to burn him out before college. We wanted him to explore out-of-the-box opportunities."
The school culture at WLA backs off a bit from the very tight rules at many charter schools. Said Principal Webb: "The uniform allows for some wiggle room. Kids have four or five different shirts they wear, and two different colors."
At the beginning of the school year, the entire staff set aside the first week and a half to do nothing other than get to know the students individually.
"That takes more energy," said Webb. "It's exhausting, and it can be messier. We knew that, but it went pretty well."
To Andrew, WLA is a true Version 3.0 charter, emphasizing personalized learning. "We have a much less structured environment for our kids. We have a hundred kids in this school and all the kids have their own schedules, moving at their own pace."
What makes the school different from other next-generation charters, he said, is preparing technology for thousands of students to use. Inventing virtual reality programs will provide that scaling vehicle.
"This is how our kids are going to be experiencing the world. In five years, VR is going to be far more widely accessible, cost-efficient and normalized, and so I want our students to get ahead of it," said Andrew.
"Because this school teaches computer science all four years, by the time they graduate they're going to program their own virtual reality experiences. They're not just going to consume the VR, they're going to actually create the VR," he said. "And that's something that we're all really excited about."
Kauffman Foundation senior fellow Richard Whitmire is author of The Founders: Inside the revolution to invent (and reinvent) America's best charter schools.
Support The 74's year-end campaign. Make a tax-exempt donation now.