A Dad's Plea: My Daughter Is in 3rd Grade and COVID-19 Is Spreading Like Wildfire in Our TN Schools. We Need Help From Anyone Willing to Stand Up for Kids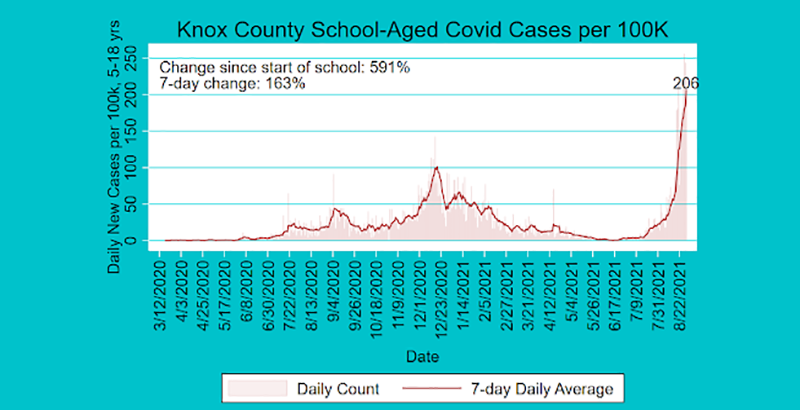 No paywall. No pop-up ads.
I'm writing from Knox County, Tennessee, where my daughter is in third grade and COVID-19 is spreading like wildfire in schools. We need help from anyone willing to stand up for kids. I suspect other places need similar assistance. This is an SOS distress call on behalf of our kids.
The current childhood COVID-19 outbreak in our county and in many places around the country is far worse than anything experienced to this point in the pandemic. We have become accustomed to charts depicting the number of daily new COVID-19 cases per 100,000 population for states. Here is a chart for Knox County kids ages 5 to 18.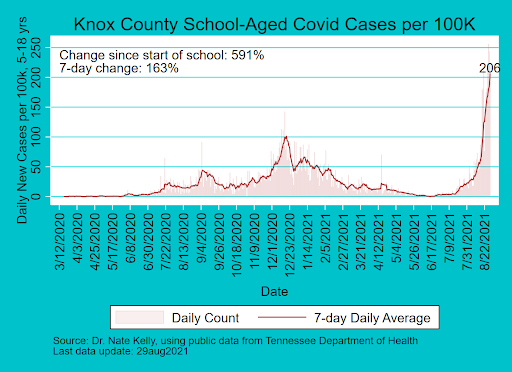 There is currently a daily average of 206 new COVID-19 cases per 100,000 Knox County kids. For context, if there were a state composed only of children in our county, that state would have the highest level of COVID-19 spread, well-ahead of South Carolina, with its 100 new cases per 100,000. Through the entire pandemic, no state has ever experienced spread like this. COVID-19 is hitting kids at unprecedented rates.
The previous peak of childhood COVID-19 spread in Knox County was in December 2020, but the numbers are now about 100 percent higher. That previous peak led school officials to shut down the entire district two weeks early for winter break. But now, state and local officials in charge of our schools have collectively shrugged.
We need help, and we need it now. Last year, our school district, like so many others, implemented a host of strategies to mitigate the spread of COVID-19. Those interventions worked well. This year, local school officials suspended almost all mitigation efforts, despite promising last spring that schools would "follow Tennessee Department of Health guidelines with regard to COVID-19." And amid a major outbreak among our kids, only shocking indifference remains.
As we head into the fourth week of school, numerous mitigation tools are absent — no physical distancing, no limits on large indoor gatherings, no universal face coverings, no enhanced ventilation and air filtration, no surveillance testing and no school-based contact tracing. The not-so-super superintendent of our district has routinely insisted that others — like the school board, Gov. Bill Lee or the Tennessee Department of Education — have tied his hands. The school board has done the same kind of finger-pointing. So far, there has been more effort to shift blame than there has been to protect our kids.
With this leadership void, many parents are doing whatever they can on their own initiative. Nearly every school and every grade level in the district now has a system of do-it-yourself contact tracing that parents set up to self-disclose positive COVID-19 tests and exposures. People are choosing to share this personal information to protect other kids as well as dedicated school staff who are trying to help students learn despite the harrowing conditions. This is clearly less than ideal because the DIY approach creates disparities, since not every family has the time or resources to connect to these grassroots contract-tracing efforts and it forces people to give up anonymity when they have to self-report directly to other families. Some parents have offered to provide HEPA air purifiers for classrooms, but the district's central administration has prevented schools from accepting our donations.
I recognize that schools are largely controlled at the local level. But we are in a dire situation that demands an all-hands-on-deck approach. I am asking, begging, really, if you are in a position to help, don't delay. If you are a journalist, I ask you to shine a light to further publicize our situation. If you are part of a public-interest law firm that wants to make a difference for some kids in need of help, look hard at whether anything happening here could be challenged in court. If you have decision-making authority in a relevant federal agency, please find creative ways to intervene that prompt compliance with existing laws and regulations at the school district level. Can a school fail to implement Centers for Disease Control and Prevention-recommended mitigation strategies and still provide an equal education to students with disabilities? Are transportation regulations being violated when face coverings are not required on school buses? Are workplace safety violations occurring? Are regulations regarding the use of federal recovery funds being circumvented? We need intervention at the local level.
We are in an emergency, and we are surely not the only locality experiencing this. As more schools open in the coming weeks, the scope of this emergency is likely to spread. The time is now — those in positions of influence must act on behalf of the kids in Knox County and across the country.
Nathan Kelly is co-director of the Tennessee Scholars Network, a professor of political science at the University of Tennessee and director of data and analysis for Knox County Schools-Parent Advocates for School Safety.
Get stories like these delivered straight to your inbox. Sign up for The 74 Newsletter