A Cry for Help from Teen Boys in Austin is Answered
With suicide rates climbing, a mentoring program with the University of Texas helps boys share their mental health struggles before it's too late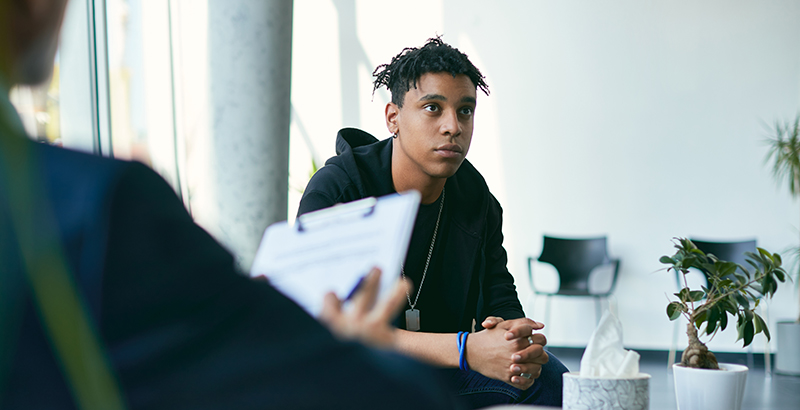 Get stories like these delivered straight to your inbox. Sign up for The 74 Newsletter
Life lines in Austin: Combatting the teen mental health crisis — After two years of fear and isolation among teens across the country, suicide attempts among adolescents are up along with substance abuse rates. Anger and despair are palpable in middle and high school hallways, students say, as the pandemic's youth mental health crisis rages. But counselors, mentors, and teachers in Austin, Texas, have developed a plan, strategically deploying resources targeting suicide, teen alcoholism, social isolation. The approach is working. Teens and adults say they are seeing glimmers of hope. In this series The 74 looks at three pre-pandemic programs offering lifelines to students in their late-pandemic distress.
As teenage boys in Austin, Texas, returned to school last fall after more than a year learning remotely at home, counselors were alarmed to see how many were talking about suicide.
"We've definitely seen an increase in suicidal ideation," said Roxie Frederick, a counselor at Austin Independent School District's Alternative Learning Center who often meets the boys after their emotions have boiled over into an angry confrontation resulting in disciplinary action.
The teens are then sent to the alternative campus after a disciplinary incident, where Frederick gets them talking about what's really going on — and it's not always easy to get them beyond the monosyllabic answers.
But once she does, Frederick discovers just how many of them are losing hope — like many youth across the country who are battling mental health issues after two years of isolation, fear, and struggle.
"Young males who seem tough are opening up about it,." she said, adding it often means the teenage boys are pretty far into crisis.
The teen boys in Austin are part of a larger and terrifying trend. In 2021, the American Academy of Pediatrics, the American Academy of Child and Adolescent Psychiatry and the Children's Hospital Association issued a joint statement declaring children's mental health, especially children of color, a national emergency; and a Centers for Disease Control survey found 20 percent of teens had contemplated suicide, and nearly 10 percent had attempted it.
But that same research offered a solution: Students who felt more connected to their peers had better mental health, and were less likely to report contemplating or attempting suicide.
So even though the desperation at the heart of the mental health crisis is largely beyond Frederick and her colleagues' control—they can't bring back family members who died during the pandemic, loss of parents' jobs, or social confidence— they are committed to making sure the young men can keep talking. To share their fears and frustrations before they either lash out and end up expelled, or worse, succumb to hopelessness.
A lot of the problems start in middle school, and this year's 12-14 year-olds are in a particular bind.
The 7th grade boys from Covington Middle School missed a critical transition year, and they've felt it. It's always been tempting to act tough instead of asking for help, the boys said, but the pandemic worked against them from several directions. It made them feel distant from their classmates, it deepened their anxiety and frustration, and it created a sense that the entire world was too fragile to handle whatever burdens they were carrying.
Parents worried about jobs and health didn't always have the bandwidth for the emotions of a kid missing their friends, or struggling with school. Friends were accessible online, but the crises in their homes often kept them from having much to offer by way of support.
"From the pandemic, you know, we forgot how to talk to people," said Tremain Purnell, one of the kids in the Project MALES group.
Frederick knows the reality: there's not always a licensed counselor around when a boy is in crisis, especially for families who cannot afford a private therapist. Schools rarely have the student to counselor ratio they would need to meet the demand. Knowing that mental health resources will be hardest to access for young men of color, who disproportionately experience poverty and underfunded schools, she often connects them with Project MALES (Mentoring to Achieve Latino Educational Success), a mentoring program primarily for Black and Latino young men.
The group setting makes it seem normal to talk about tough feelings. It gives them language to describe their struggles. And when the boys are done with their stint at the alternative center, usually just a couple of weeks, there's likely already a Project MALES group on their home campus where they can continue getting that support.
Serving around 200 boys on 13 Austin campuses, Project MALES is preventative as much as it is responsive. The mentors want to help as many boys as possible before something happens that would land them in alternative school, disrupting their academic progress. They do that by helping them understand the social and emotional challenges at the heart of their behavior.
After two years of pandemic pressure kids need someone to talk to about challenging emotions more than ever. But it's not easy to tell people how you feel, admitted Jordan Kennedy, a seventh grader at Covington Middle School in Austin. Vulnerability and seeking support can be the opposite of the tough, unaffected personas young men are trying to project.
​​"It's honestly kind of hard, and sometimes we try to hide our feelings," Kennedy said. Though he says he's naturally pretty outgoing and jovial, "there is a kind of pressure, I'm not gonna lie. 2020 and 2021 has been a lot."
It's different when he goes to Project MALES. There Kennedy and seven other boys gather to talk through the ups and downs of their week, and practice both asking for and offering support to each other. Their mentor, a student at the University of Texas, offers support based on over a decade of research on improving academic and life outcomes for Black and Latinx young men.
"We want to provide space and opportunity for men to have these conversations they may not be able to have anywhere else," said Emmet Campos, the director of Project MALES and the Texas Education Consortium for Male Students of Color. Sessions often start with the boys sharing their "happies and crappies" from the week, he said, and using those experiences to work on social and emotional skills. These "power skills" have always been necessary, he said, but the pandemic made it even more so. Whatever challenges they had were exacerbated by isolation.
But staying connected over Zoom was almost impossible, the boys at Covington said, especially as they started middle school with a bunch of kids they had not met before.
"I would barely talk. I don't really like to talk over computers," Purnell said.
Most kids, sick of online learning, weren't as engaged with online mentoring, Campos said. "You can't replace the in person engagement for young men"
A year online didn't give them much to build on when they came back this year, either.
"I wouldn't be able to know people over the computer, because I might not know what they looked like," Kennedy said. Since they've been back,"there has been some kind of awkwardness."
The Project MALES group has helped ease that awkwardness, especially for the members who were the most uncomfortable coming back, he said. "When I joined the group there were more people to talk to, more team work things, more collaboration."
It's also a place where talking about your feelings isn't just allowed, but encouraged and modeled by the mentor, Purnell said. It makes it easy to follow suit. "If someone's feeling down, you can ask them 'what's up, how you doing?'"
It feels natural and casual, but the Project MALES mentorship is heavily intentional. Housed in the Division of Diversity and Community Engagement at the University of Texas at Austin, the mentorship is one pillar of a larger intercollegiate initiative to study the experiences of young men of color in educational settings. As they researched outcomes, particularly for Latinx males, Campos said, the founders of the initiative saw the value in mentorship, and decided to put their research into practice accordingly.
"Mentoring is a powerful intervention strategy," Campos said, "Everybody can point to a mentor in their life that has made a difference."
The Project MALES staff is made up of paid doctoral students and undergraduate volunteers who receive stipends and take a two-semester class to prepare them to mentor the middle school and high school boys. The mentorship is aligned with Austin Independent School District's social and emotional learning curriculum, and uses what Campos calls "critical mentoring" and restorative justice. The boys chosen to be in the program are often those who need a mid-level behavioral intervention, Campos explained. Instead of punishment, a grant from the Department of Justice has allowed Austin ISD to expand its restorative justice efforts with programs like Project MALES.
For those students who do end up at the Alternative Learning Center after an expulsion, Austin ISD has not given up restorative and therapeutic discipline, said Frederick.
Having groups like Project MALES on the campus at ALC allows the licensed professional counselors to focus on individual needs, she said. For some kids this will be their first and last access to professional mental health services. "There's definitely a shortage of therapists in Austin."
Many would benefit from more focused therapy, but a lot can be done if those students are willing to talk to a caring adult and peers about their feelings. "If I can just show you that it's okay to talk about your feelings," Frederick said, she can connect them with support, often Project MALES or Communities in Schools, on their home campus.
Given the prevalence of the crisis, she added, every school would benefit from a full time presence to be there when the need arises, whether that's school staff, mentors, or nonprofit case managers from Communities in Schools. A scheduled check in with a counselor or mentor is great, she said, but kids can't always schedule their crises around adults' availability. The biggest impact will be in the moment, she said. "The real work happens when they slam the door and walk out of class."
If you are in crisis, please call the National Suicide Prevention Lifeline at 1-800-273-TALK (8255), or contact the Crisis Text Line by texting TALK to 741741.
Get stories like these delivered straight to your inbox. Sign up for The 74 Newsletter