A Civics Lesson in Social Change: Charter School Rally in Connecticut Demands Fair Funding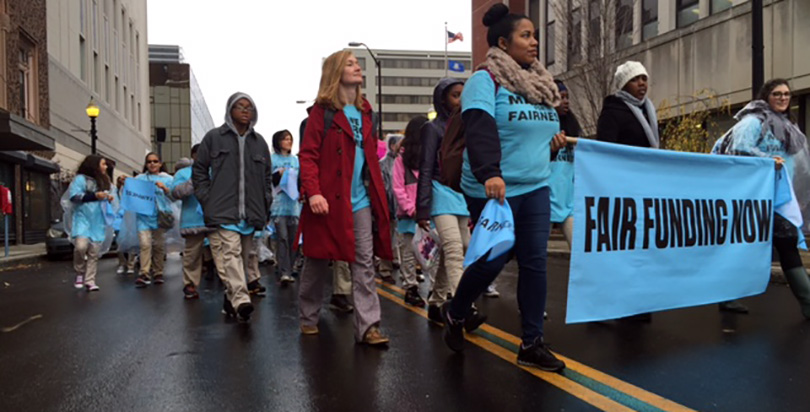 Bridgeport, Connecticut
Sometimes, Anthony Montgomery falls asleep on the bus on his way to school. Waking up at 5:25 a.m. to get there on time, the 13-year-old commutes to New Haven each day to attend one of the state's highest-performing high schools. He doesn't return home until 7 p.m.
The Bridgeport teen said the schedule is tough, but worth it.
"Honestly, I'm lucky to have this opportunity," he told more than 1,000 students, parents, and charter school teachers at a rally Tuesday morning to promote funding equity between charter and district schools in Connecticut. "I work hard every day and I really go above and beyond to achieve my dreams."
Directing his comments at state legislators, his speech quickly shifted to policy. He said his efforts in school are to make sure he's successful later in life, yet state lawmakers value his education less than most other public school students — at least according to their checkbook. In Connecticut, students who attend public charter schools receive almost 30 percent less funding, on average, than traditional public schools.
"My fellow scholars and I need your help," Montgomery said. "I'd like to know why we are worth so much less than other public school students."
Following remarks from Montgomery and others at Bridgeport's Washington Park — and after pausing briefly for a dance party — those attending Tuesday's rally marched to the beat of drums toward Baldwin Plaza in front of the Fairfield County Courthouse.
With marchers donning matching blue T-shirts that read "We march for fairness," the Bridgeport rally resembled
recent
rallies
in New York City, sponsored by pro-charter advocacy and lobbying group Families for Excellent Schools, which called on Mayor Bill de Blasio to treat charter schools the same as the city's district schools. ConnCAN, the Northeast Charter Schools Network, and Achievement First Charter Schools joined Families for Excellent Schools in sponsoring the Connecticut rally.
Charter school funding debates in Connecticut are far from new. Charter opponents have argued charter schools divert money from district schools and they aren't required to teach the same student population.
In 2014, Families for Excellent Schools held a
citywide campaign
in Bridgeport to rally residents to register to vote. In May, a coalition of charter advocates
rallied
at the state Capitol in Hartford for more available seats in charter schools.
The debate among lawmakers was heated but the charter groups got what they wanted. In June, legislators
approved a budget
that provides about $12.4 million for the expansion of charter schools. But to get there, lawmakers also shelled out more than $23 million for the state's traditional public school districts.
With two new charter schools opening in Bridgeport and Stamford this year, there are now 24 active charter schools in Connecticut, serving more than 9,000 students. Connecticut is one of two states that breaks out separate state budget items for charter school funding.
About 73 percent of Connecticut's charter school students are considered low-income, yet they receive about $2,800 less per year than traditional public school students, according to Families For Excellent Schools.
But even district schools in Connecticut are far from equitable. While the state's average per-pupil expenditure is about $15,700 per year, some school districts spend up to $30,000 per student while others are as low as $12,000, according to the Connecticut School Finance Project. The districts that spend the most are generally in Connecticut's affluent suburbs while those that spend the least are in the cities where students are more likely to be poor and minority.
"If our public schools weren't failing systematically on average, then we wouldn't feel the need for our kids to go to these (charter) schools," said Chris James, a Bridgeport resident with two teenage children. "But if we do decide for them to go there, then I feel like the money should be dispersed evenly."
The rally served as a call to close the funding gap between charter and district schools, but James said the event also offered a hands-on civics lesson for his 17-year-old daughter Elisa Martinez, who attends The Bridge Academy in Bridgeport. With parental approval, several charter schools in Connecticut allowed students to attend Tuesday's rally in place of morning classes.
"If you want social change, sometimes you have to go out there and actually put yourself at the forefront, so we're using this as an educational tool for our children also," he said. "They've made banners, they've made posters, they've been actively involved in this from the start."
Support The 74's year-end campaign. Make a tax-exempt donation now.