A Chancellor's View: Celebrating the Bravery and Perseverance of the 50,000-Plus Members of the CUNY Class of 2020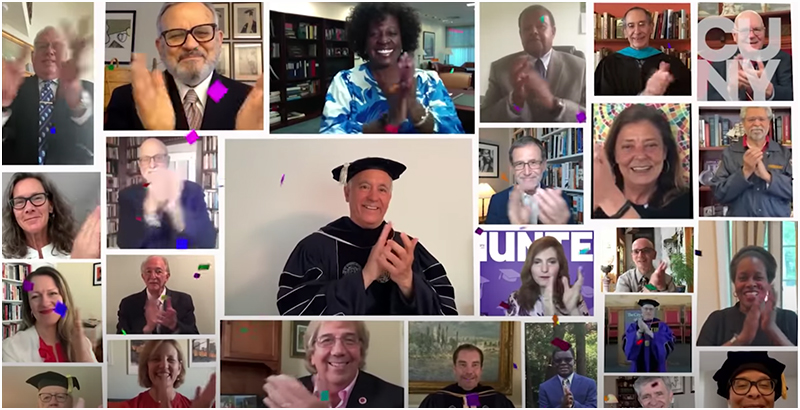 City University of New York senior Rosa Jimenez has been working as an emergency medical technician in the Bronx since the coronavirus pandemic began, providing badly needed treatment as she completed her bachelor's degree in cell and molecular biology at John Jay College of Criminal Justice.
On May 27, as she and her classmates were feted in a virtual commencement ceremony, Jimenez experienced a wave of emotion as she took in the speakers' messages of encouragement and hope.
One segment of the college's virtual ceremony featured a montage of video tributes from the graduates. They recounted their earliest impressions of the campus, their happy times spent with friends, the experiences that the school made possible for them and the sadness that gripped them when their in-person college experiences came to an end.
In those moments, Jimenez reflected on the final weeks and months of her own final semester, the long nights treating patients with COVID-19, the times when it was hard to find a quiet place to do her schoolwork. It occurred to her that if she could conquer the challenges that confronted her during the pandemic, then she could triumph over most anything as she moves forward in life.
The ceremonies may be virtual this year, but the milestones they signify are very real. The lack of a procession with caps and gowns cannot diminish the power of this moment for the newly minted grads of the nation's largest urban public university.
To honor the brave members of this uniquely resilient class, CUNY this week released a celebratory end-of-the-year video. The 18-minute tribute features performances from students at the Conservatory of Music of Brooklyn College and The Macaulay Triplets, an a cappella ensemble from Macaulay Honors College, as well as congratulatory messages from class valedictorians, salutatorians and speakers, college presidents and deans, and a plethora of notable well-wishers.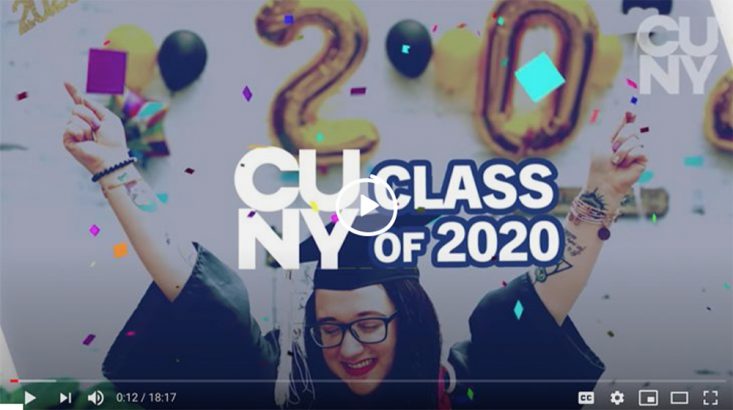 For more than 50,000 members of CUNY's resilient Class of 2020, it goes without saying that it has been an extraordinarily difficult period as they struggled to complete the academic year amid almost inconceivable disruption, uncertainty and anguish.
But even as the structure of their lives was shaken, and their campus life forced to an abrupt and resolute end, they stayed strong and supported one another, quickly transitioned to distance learning and managed to make it to the finish line.
They are students like Lehman College senior Jasmine Euyoque, the child of Mexican immigrants and the first in her family to attend college, who won a Fulbright U.S. Student Scholarship and will spend a year teaching English in Uruguay while encouraging youngsters toward opportunities in tech.
And Kingsborough Community College's Jaweria Bakar, who grew up in Pakistan and was inspired to become a doctor after her father's recovery from a stroke. This spring, Bakar was one of three high-achieving CUNY community college students to win a highly competitive Jack Kent Cooke Foundation Undergraduate Transfer Scholarship, an award that will help Bakar to continue pursuing her bachelor's degree at Yale.
Jimenez, Euyoque and Bakar represent a standard of sacrifice and service that is shared among many of their fellow CUNY graduates, an intense desire to help advance their communities that has come into sharp focus during the pandemic.
Their successes reinforce the values of CUNY as a transformative engine for thousands of families with roots in every corner of the world, and they explain why I'm as optimistic and excited as ever about their futures.
They also illustrate why commencement season has long been my favorite time of the school year — because it is a chance to honor and revel in these students' extraordinary accomplishments.
CUNY schools have been holding virtual commencements that include speakers from the worlds of government, philanthropy and the sciences.
I have participated in many of these celebrations and addressed the graduates of several schools, including the first graduating class of CUNY's School of Medicine. Those brave students concluded their studies ahead of schedule so they could join the battle against COVID-19, and many of them have already been doing that as volunteers at St. Barnabas, Jacobi and Staten Island medical centers.
As I've told many of our students, the Class of 2020 has demonstrated a resolve that continues to inspire. We know they will keep on making a huge difference in the health and well-being of our communities, our city, the nation and beyond. I am so proud of them and congratulate them on a job well done.
Félix V. Matos Rodríguez is chancellor of the City University of New York.
Support The 74's year-end campaign. Make a tax-exempt donation now.