80 and Still Teaching! Arkansas Kindergarten Teacher Gets Surprise Birthday Visit From Football Star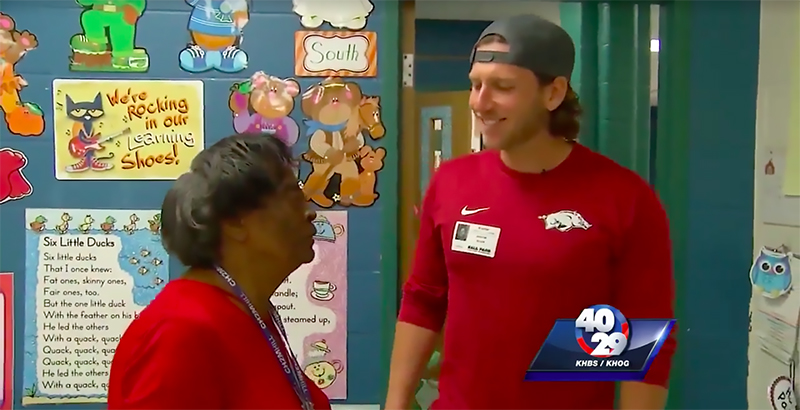 This article is one in a series at The 74 that profiles the heroes, victories, success stories, and random acts of kindness to be found at schools all across America. Read more of our recent inspiring profiles at The74million.org/series/inspiring.
Thelma Thomason, at 80 years old and 53 years into teaching kindergarten, remains one of the most popular teachers at Vandergiff Elementary School in Fayetteville, Arkansas.
University of Arkansas starting quarterback Austin Allen made sure everyone understands that.
As a way to honor his kindergarten teacher, the Razorbacks star made a surprise visit to Thomason's classroom on her 80th birthday, bringing back warm memories from 15 years ago.
"It is where I started education, and so many memories are coming back seeing her and seeing this place," Allen says during the visit. "It is pretty special."
A big football fan herself, Thomason was impressed that Allen remembered her, saying it was "just amazing to see that he would take his time and come back to see me. That was just a good feeling."
Thomason has taught for more than a half-century, including 20 years at Vandergiff. During that time, according to 4029 TV, she taught all three Allen kids. Both Austin and his brother Brandon went on to lead the university football team as quarterback.
Coincidentally wearing Arkansas' ssignature color — bright red — Thomason was just as happy to see Allen as he was her. "I'm so proud of you and so glad you came to see me," she says.
"She taught me everything, really," Allen says. "She laid the groundwork and made learning fun."
Get stories like these delivered straight to your inbox. Sign up for The 74 Newsletter