8 Important Numbers From New Report on Children's Well-Being: Progress on Poverty & Hunger, Rise in Depression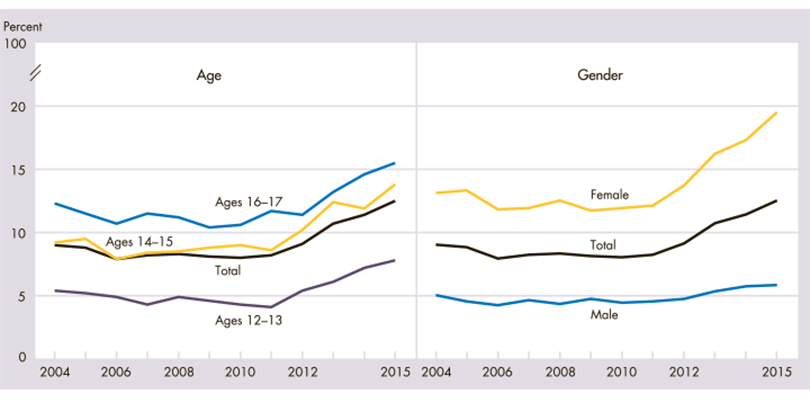 Increasingly, schools are becoming the centers of student well-being, providing more meals during the day, health exams, as well as greater social and emotional coaching. So the most recent
federal report
on children's well-being gives a snapshot of what today's 73.6 million children need — from mental health services to substance abuse support — if they're going to ultimately succeed in the classroom.
The
data
come from the Federal Interagency Forum on Child and Family Statistics, which for 20 years has released an annual report that synthesizes the most recent data from multiple government agencies.
Eight numbers to know from the 2017 snapshot:
20 Percent in Poverty — The number of children living in poverty dropped over the past year from 21 percent to 20 percent. Minorities are more likely to live in poverty, especially black and Hispanic children (34 percent and 29 percent, respectively) as compared with white children (12 percent). The majority of children, 28 percent, live in families with medium-level income.
24 Percent of 12th-Graders Engaged in Substance Abuse — The number of 10th- and 12th-graders using illicit drugs has remained steady over the past year at 16 percent and 24 percent, respectively. Eighth-graders' usage has decreased over one year from 8 percent to 7 percent. In good news, the number of middle and high school students who smoked in 2016 is the lowest in the history of the survey, with about 5 percent of high school seniors smoking daily as compared with 25 percent in the mid-1990s. Binge drinking is also on a downward trend.
40 Percent Experience Housing Pressures — Some children are living in housing that is inadequate, is overcrowded, or is more than their family can afford. Nearly 40 percent of households with children have at least one of these problems. About 7 percent of children live in households where the drinking water does not meet all the health standards.
3.5 Point Rise in Depression — More children are experiencing depression, with 12.5 percent of youth ages 12–17 reporting at least one depressive instance in 2015, as compared with 9 percent in 2004. There's a stark difference between genders here, with 19.5 percent of females reporting depression versus 5.8 percent of males.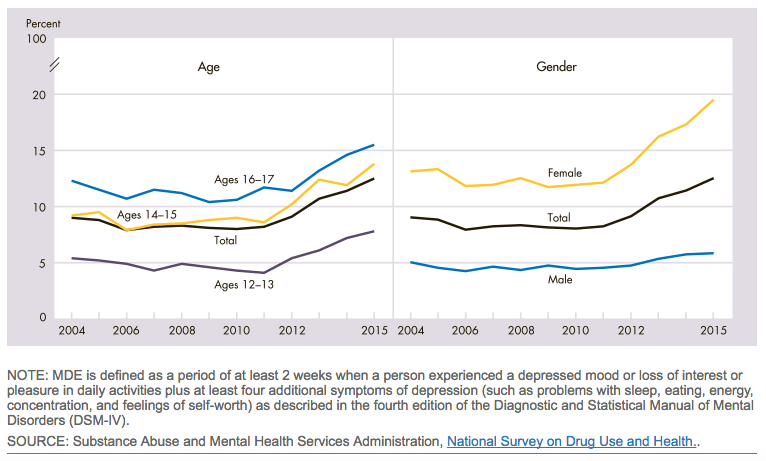 21 Percent of Teens Are Obese — Obesity rates have also increased, from 11 percent in the early 1990s to 18 percent for children ages 6–11 and 21 percent for youth ages 12–17.
22 Percent Speak a Language Other Than English at Home — More children are speaking a language other than English at home, 22 percent, up from about 18 percent about 15 years ago. Most of these dual-language children are Asian and Hispanic students. About 4 percent of school-age children speak another language at home and have trouble speaking English.
18 Percent Struggle with Food Insecurity — Food insecurity affects 18 percent of children, down from 21 percent in 2014. The definition of food insecurity can range from difficulty in obtaining food to having to skip meals due to lack of food. This affects minority groups more, and especially those whose parents don't have a high school diploma or GED.
5 Percent of Children Lack Health Insurance — The number of children without health insurance has decreased over the past decade from 14 percent to 5 percent. More children are using public health insurance, and more are being vaccinated.
Get stories like these delivered straight to your inbox. Sign up for The 74 Newsletter