$75 Million Later: The 'Painful Truth' of the Ongoing Teacher Strike in Los Angeles — as Told by 9 Dire Numbers
*Updated Jan. 18
L.A. Unified reports losing a net $75 million in the first week of the teacher strike from low student attendance, stretching its finances further as the district struggles to remain solvent.
While the district tries to satiate the teachers union's demands, it's teetering on a proverbial "fiscal cliff" — shouldering more than $15 billion in future retiree health benefits, rising pension costs, and rapidly declining enrollment. Its reserves are projected to be nearly depleted by 2020-21. This latest funding blow from the strike is likely to shrink the pot of money available for paying off debt and for reaching a settlement that would end the now weeklong walkout.
"Nobody wishes more than I" that the district could meet all the demands of United Teachers Los Angeles, Superintendent Austin Beutner told reporters this week. "But the painful truth is we just don't have enough money to do everything UTLA is asking."
UTLA resumed negotiations Thursday with a 12-hour session. The two sides met again Friday and were prepared to meet through the weekend.
"We need the district to … get us an agreement, so we can re-establish some normalcy in the city," UTLA President Alex Caputo-Pearl said Wednesday.
As the talks continue, here are some big-picture numbers to know:
1 $75 million
An estimate of lost district funding stemming from drastically lowered attendance the first week of the strike. Beutner announced Friday that the district has lost $125 million, but he says the district is saving about $10 million a day from not paying striking teachers, alleviating part of that burden.
Attendance levels in the 486,000-student district have been more than 60 percent below normal levels each day. The number of students in class every day dictates the amount of state funding California school districts get. L.A. Unified receives $68 per day per student.
Here's the breakdown provided Friday, without savings from teacher salaries deducted:
● Monday: 156,774 students present. A $22.8 million loss to the district.
● Tuesday: 171,480 students present. A $21.7 million loss to the district.
● Wednesday: 134,724 students present. A $24.4 million loss to the district.
● Thursday: 84,160 students present. A $28.2 million loss to the district.
● Friday: 85,274 students present. A $28.1 million loss to the district.

Attendance is normally around 450,000 kids, Beutner said this week.
2 $135 million
An estimate of what L.A. Unified could lose — considering average lost funding over the first five days — if the work stoppage runs for nine days, the length of the 1989 teacher strike.
Striking UTLA members would also lose about $90 million in salaries.
3 $130 million
L.A. Unified's offer currently on the table to lower class sizes and hire almost 1,200 new staff, including educators, nurses, counselors, and librarians. This does not include salary.
This offer spiked dramatically within a week, with L.A. Unified's base proposal of $30 million rising to $105 million on Jan. 7 and to $130 million on Jan. 11. The union rejected both.
The latest proposal to limit class sizes and add staff is $40 million above the high end of what a neutral, state-appointed fact-finder recommended in December. Read more.
4 $755 million
The total "rainy day" reserve the county projects L.A. Unified to have by the end of the 2018-19 school year. If L.A. Unified uses these reserves as a backstop to lost attendance funding, about 10 percent of it will have already been lost.
The reserve this past year was nearly $2 billion. The district, however, says the bulk of that money has already been earmarked for costs such as federal and state-required programs for low-income students, anticipated teacher pay raises, and more staff hires.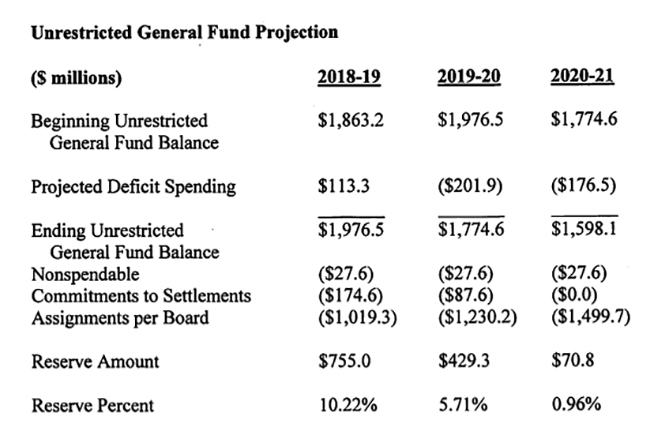 Los Angeles County, which oversees L.A. Unified, projects the district's reserves will drop about 90 percent between this year and 2020-21, placing it slightly below the minimum mandated reserve level.
The county already sent fiscal experts to the district this week and could install a fiscal adviser with the power to rewrite budgets, overturn school board decisions, and invalidate upcoming labor deals if an agreement with UTLA lurches reserve levels further in the red. Read more.
5 $19.6 billion
The district's unrestricted net deficit, or money L.A. Unified needs to pay out in future years with future revenue. This debt takes from funds available for classroom spending, experts say.
Erasing that debt would take $4,180 from every man, woman, and child in the district, according to an L.A. Daily News op-ed by state Sen. John Moorlach. Read more.
6 $314 million
Projected retiree benefit spending for 2018-19 alone. The district offers free, lifetime benefits for retirees, employees, and their dependents — a generous perk few workers get.
Some other retiree health-care-related numbers …
● The total cost of the district's promises to provide future retiree health benefits is $15.2 billion.
● The annual cost of retiree benefits equates to $12,500 in district spending per teacher, says Chad Aldeman, a senior associate partner at Bellwether Education Partners.
From 2001 to 2016, LAUSD increased:

– Overall spending by 55.5%
– Spending on salaries and wages by 24.4%
– Employee benefit spending by 138% pic.twitter.com/sprEG74EHZ

— Chad Aldeman (@ChadAldeman) January 7, 2019
And on the general health care package….
● $2,300 of the roughly $16,000 L.A. Unified received per student for 2018-19 goes toward funding the district's health care package. Read more.
● Employee benefit spending spiked 138 percent between 2001 and 2016.

● Health care benefits, along with rising employer pension contribution rates, are expected to consume half of district spending by 2031-32. Read more.
7 $1.4 billion
What the district could be spending yearly on pensions by 2021-22 — 19 percent of its general fund revenue. That figure is calculated with L.A. Unified's current budget of about $7.5 billion.
Employer pension contribution rates are regulated at the state level and are rising. Gov. Gavin Newsom has proposed a one-time $3 billion infusion in 2019-20 to assuage those costs statewide.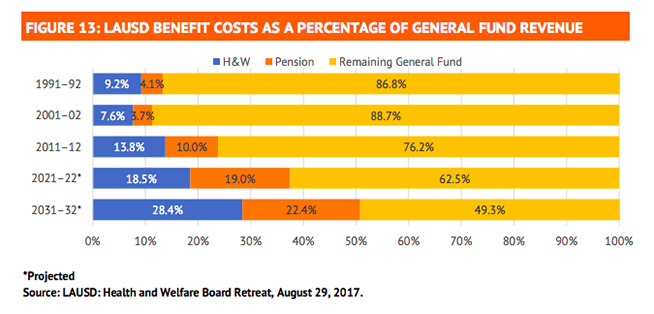 8 $800 million
How much UTLA's current demands would add to annual district spending, Beutner said this week. UTLA contract demands include a full-time nurse in each of the district's 1,100 schools, smaller caseloads for special education teachers, and a 6.5 percent pay raise retroactive to 2016-17.
The current salary offer on the table from L.A. Unified is 6 percent: 3 percent retroactive to 2017-18 and 3 percent for this year.
9 $630 million
The estimated loss in district funding annually from student chronic absenteeism. Chronic absenteeism is when a student misses 10 percent or more of the school year.
L.A. Unified is also losing millions as at least 12,000 students leave the district annually. While charter school growth plays a role — about 35 percent of students who leave the district are going to charters, according to a Reason Foundation study — the decline is attributable as well to lower birth rates, dropouts, and transfers out of the district. Read more.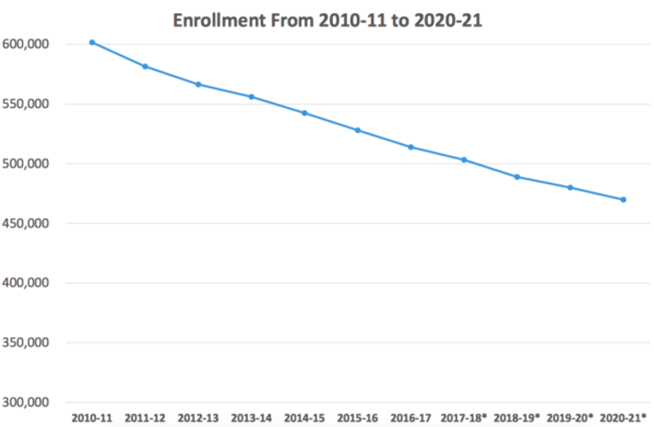 L.A. Unified
About 1/2 of the loss of students is due to increased enrollments in charter schools, but about 1/2 due to decline in the birth rate as well as students dropping out of school or transferring to other school districts.

— Robin Lake (@RbnLake) January 15, 2019
An optimistic number that could be coming down the pike, though ….
$1.4 billion
The amount of annual funding that Los Angeles County schools, including L.A. Unified, could receive if California voters pass the California Schools and Local Communities Funding Act, a tax reform initiative that will be on the November 2020 ballot.
UTLA and the district school board have both backed this measure. Union members are also leading a "20 x 20" campaign — which the district also supports — to raise per-pupil spending statewide to $20,000 by 2020, up from $10,291, adjusting for cost-of-living.
L.A. Unified received about $16,000 in per-pupil spending for 2018-19, significantly lower than New York and Chicago.
*This article has been updated with Thursday's and Friday's attendance numbers and costs.
Get stories like these delivered straight to your inbox. Sign up for The 74 Newsletter