74 Interview: NY Education Chief MaryEllen Elia on ESSA, Undocumented Students & Turning Schools Around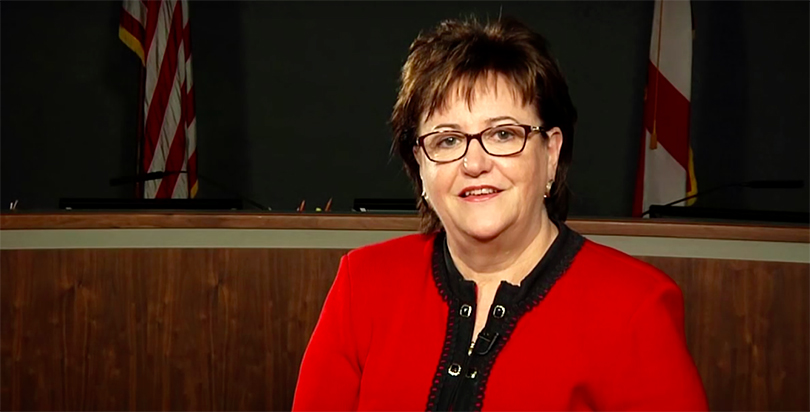 Updated April 25
See previous 74 interviews, including former secretary of state Condoleezza Rice, Senate Education Committee Chairman Lamar Alexander, former education secretaries John King and Arne Duncan, and education activist Yolie Flores. Full archive here.
MaryEllen Elia became New York's education commissioner in spring 2015, succeeding John King, whose departure for the U.S. Department of Education helped complete a contentious chapter in New York's education politics.
Elia started her career in her native western New York, spending 19 years as a social studies teacher in Buffalo's Sweet Home Central School District and then moving on to administrative roles.
Elia now presides over nearly 700 school districts and more than 2.6 million students at a time when education policy in states with new, energetic Republican majorities are moving swiftly toward a pro-school-choice agenda, enacting voucher programs and introducing charter schools.
Under Elia's leadership, the controversial Common Core standards that
King championed
have been slightly, and quietly, revised. While she's kept a markedly lower profile than her predecessor, she has had an active tenure.
When she does grant interviews, Elia gives little away, unsurprising for an administrator who has persisted for more than a decade in every major position she's held in her 45-year career.
As students gear up for the second round of
annual state tests
in May and the Board of Regents anticipates the implementation of as-yet-unknown federal education policies, Elia spoke with The 74 about some of the most important initiatives she's led since taking the job almost two years ago — and what's ahead.
This interview has been lightly edited for clarity and length.
The 74: Early in your tenure, you inherited a new law Gov. Andrew Cuomo intended to spur improvement in New York's worst-performing schools. If the schools didn't make progress within either one or two years, the state would intervene, placing them under "receivership." When your department found last year that dozens of schools had improved enough to come off the list, and subsequently released them, it prompted a dispute with the state budget department and a lawsuit over whether they could still access the $75 million promised to help them. In your estimation, is the receivership program working?
Let me point out to you there were some things that were put in this law — and this was crafted before I became the commissioner — and I identified within the first two to three months of being in the position some issues I thought were important for the legislature to be aware of, and
I actually testified to those
things.
Right, you advocated for slowing the process down, giving the 144 schools slated for receivership ample time to turn things around, as well as more funding for the department to implement the law.
So I think that yes … if you look at the work that's being done in those schools, I think there's a focus by those districts on what needs to occur and we're seeing some growth. Now, the growth is not to the extent that I'd like it to be, but I will tell you that as we look at these indicators over time, we are seeing that the districts are really involved in making sure that, as a superintendent receiver, the superintendents are aware of the work being done in those schools, and there is more attention that we are keeping [on them] as the state ed department, and therefore we believe that these districts are more focused on. I'm out visiting these schools on a regular basis and seeing the growth that is occurring and the focus on students and what they really need for success, with an emphasis on resources being placed in those schools to provide the opportunities for those students to improve.
New York City has spent at least $550 million in the past three years trying to improve its most struggling schools and help its most vulnerable students through Mayor Bill de Blasio's Renewal Schools program. Recently, he decided to move forward with several school closures, reversing an earlier decision to focus solely on alternative improvement efforts, like staffing overhauls and addition of wraparound social service supports. In your view, has the program been effective?
I can speak to the Renewal program as it relates to specifically the receivership schools in New York City. The work that I have seen, that has put additional resources into the Renewal schools to focus them on providing a community-based organization working with families in those schools and extending their community-schools concept to those Renewal schools, I have seen that those [efforts] have really focused more on supports for students.
There also is a renewed focus on staff development, particularly both for the leadership and for teachers. And we've seen there that, in fact, if you look at the number of schools that were at risk [of going into receivership] in New York, only one of those schools was unable to make the necessary changes to move forward. So I would say to you that the focus of the Renewal schools in New York City in my experience has shown that additional resources put into those programs and the supports for the leadership and the teachers has really made a change in the schools.
Now, we still have to make sure those changes are at a constant and increased pace, if you will, and those are the things we are watching very carefully from the state's perspective in all of the receivership schools. The key components of receivership that I have seen be part of the program, I think are making a difference in those schools.
---
---
New York, like other states, is gathering public input for its accountability plan due to the U.S. education department under the Every Student Succeeds Act, the federal K-12 education law. When New York assesses school quality under the new law, which indicators are you most inclined to support in the plan?
Although we haven't come to a final group of indicators, one of the things that's been a strong discussion point with the Regents and myself is that equity be the driver in much of this. If you're a rural school and you have students [who want] to take higher-level coursework, those opportunities should be available to you just as they might be in an urban school, or if you're in an urban school, you have an opportunity to take those higher-level courses that might be offered in another high school in your district. I think that [access to advanced courses] is a very important factor and that that will drive decision-making in the districts.
Another one that's had much discussion in the state is the issue of attendance. Some of the things that we know that support attendance for students are things like community schools, where if a child does have a chronic absentee problem, their staff members focus on "What can we do to support the family to have the child attend school on a regular basis so that they can learn?" A child cannot learn if they're not in school, and we need to support all of that agenda so that ultimately we can have families understand the importance of that and that students want to be in school because they are learning and that environment is a good one for them. We have been very focused on making sure people across New York state have the opportunity to give us feedback and to help us as we are crafting our ESSA plan.
Here's the issue. The law is in place. It's a bipartisan law that was passed. The things that we're hearing from Washington are that although the rulemaking may be suspended … the law is in place and from the new secretary of education, generally anything coming out of that office is that we should move forward with putting our plan in place, and the April and the September [deadlines] are still in place. [New York intends to submit its plan by the September deadline.] So the pause isn't really affecting us because our plan included putting in enough time to get feedback from people across New York state and then bringing that together and having that be part of Regents discussion. [Last fall] we held 50 meetings across the state; [this spring] we have more than 80 meetings planned, followed by additional hearings. We'll also have discussions with the Regents and with our external advisers on the important key components of the plan. It is not in any way being suspended because of concern or change occurring in Washington.
In his budget proposal, President Donald Trump included a multimillion-dollar private school choice measure that would use public money to help families pay private school tuition for their children. In 2015, Cuomo pushed unsuccessfully for a similar measure that would set up a state tax credit scholarship program. How would a federal policy on private school choice play out in New York? Is there potential for a renewed measure at the state level?
Yes, we did have the governor suggest some of that in his plan, but it didn't get approved two years ago. I think it's premature to talk about what would happen out of Washington because they certainly don't know yet the direction that they're going … I think we just have to see and not speculate about what comes out of the U.S. DOE and then depending on what does come out of U.S. DOE, see if that gets any traction in New York. The major parameter is that there be a strong accountability program for anything that places public money in any other circumstance, whether it's tax credit scholarships or private schools, whatever.
Turning to western New York now. When can New Yorkers expect a decision on the petition sparked late last year to remove Carl Paladino, the Buffalo school board member whose opponents are trying to oust him after he made inflammatory and racially tinged comments about former president Barack Obama and Michelle Obama in a local newspaper?
We have a process we're following; it's a very specific process and it requires, clearly, opportunities for both the individuals that submitted the appeal to my office as well as Mr. Paladino to give feedback. There's a 306 application for removal of a school board member; I've received four appeals related to this and we are moving forward in that process.
It is not fast, but it is very specific, and we're moving appropriately to study all of those cases and determine whether or not we'll have a hearing, and then specifically having a hearing, taking the outcome of that hearing and making a determination. [Since this interview was conducted, Elia scheduled a hearing on the Paladino matter in Albany on June 22.]
I'm hearing a lot of uncertainty right now from families and educators about what the future of the U.S. public education system looks like, given our fraught political climate and Education Secretary Betsy DeVos's controversial appointment. In New York and other cities, the Trump administration's policies on immigration have generated fear about potential deportation raids at schools. Students granted temporary stays under the Obama-era Deferred Action for Childhood Arrivals (DACA) policy are worried that their status won't be enough to protect them. Are you feeling some of that uncertainty? What is your message to families?
I think that as an educator, a long-term educator, and as a person that's been very focused on providing opportunities within public education for students and families to have success, I think it's absolutely critical to our democracy to make sure that we have a strong educational system in place for the students of this country. The realities are that no matter what kind of opportunities we provide, we've got to make sure that they can get to all students, everywhere.
I think it's unfortunate that we have the kind of upsetness that can really put families in a position of uncertainty. They don't need that, and clearly the students in our schools need to feel safe if they're going to go into a learning environment and feel like they can focus on learning as opposed to the vagaries of what's occurring outside of the school building.
I think it's really a critical item that educators across this country provide stability for the families and the children that they serve. The reality is that probably at any single point, no matter what kind of opportunities or choice you put in place, public schools are going to be the place where children of this country are going to get their education. We've got to make sure that we have the best public schools, that everyone is focused on what needs to be done in those schools, but one of the things we don't want to have happen is that we divide our students and our parents and put wedges between the security and the supports that they need to be successful in this very difficult time.
In New York, I know the Regents and I know myself [are] very focused on … providing supports and the environment that would support those [immigrant] families and making sure that there is respect and that their rights are undergirded with the laws that we have to protect them. I think it's a very important time in our country to be strong. We have provided joint guidance with Attorney General Eric Schneiderman … to talk to these issues and how we expect schools to be able to provide that security for their families and for their children.
Get stories like these delivered straight to your inbox. Sign up for The 74 Newsletter