74 Interview: How Retired Football Player Wade Smith Has Dedicated His Post-NFL Career to Tackling Bullying and Illiteracy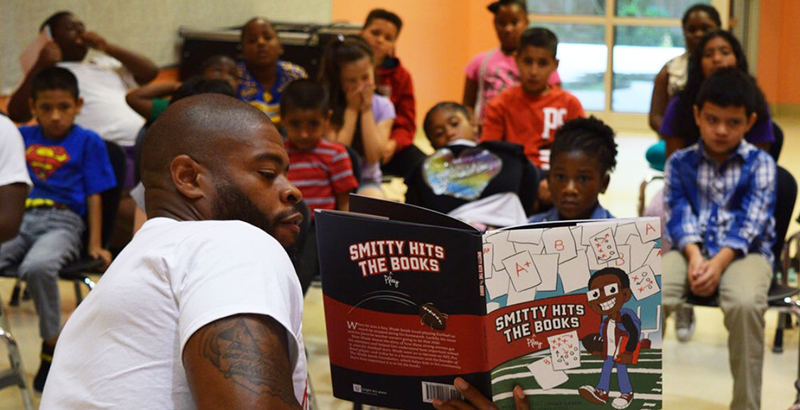 See previous 74 interviews, including 2017 Teacher of the Year Sydney Chaffee, former education secretary John King, and former secretary of state Condoleezza Rice. The full archive is here.
Wade Smith's Dallas, Texas, community was always there for him: Moms on his high school football team made meals and bought shoes for teenagers who needed them. Retired educators taught free SAT/ACT prep courses for Smith and his classmates who couldn't afford them. The older kids on his middle school football team stood up for one another against bullies.
That's why the former NFL offensive lineman, who retired in 2015 after 12 seasons, believes it takes a community to take down bullying in schools. His new children's book, Smitty Tackles Bullying, published Sept. 1, discusses the power students have to prevent bullying or intervene when their peers are targeted.
The book is the latest education advocacy initiative for Smith, who created The Wade Smith Foundation in 2012 — the same year he was invited to the Pro Bowl. Smith recruits professional sports players to visit low-income schools with him in Houston and Dallas/Fort Worth, where they read to students and talk about the importance of education. His foundation also pays for student college scholarships.
Smith spoke with The 74 about the connection he and his bespectacled book character, Smitty, have observed between literacy and bullying, the power of community intervention in education, and, of course, his favorite book.
This interview has been edited for length and clarity.
You're coming out with your second book, Smitty Tackles Bullying, in September. Why was bullying an issue you wanted to cover?
When I was a little kid, I was the type of kid that loved to read every opportunity that I got. But I have friends of mine, when it came time to read out loud in class, they would avoid it — they would do things to get in trouble, they would act out so they would get out of reading. As a kid, I didn't realize they were doing that because they struggled with reading and they were doing that because they were embarrassed that they would be made fun of if they read in front of people who realized they couldn't read well. I have since seen where these people have ended up in life. Some of them aren't here anymore, some of them are in prison, some of them are in dead-end situations. Back then, as a kid, I wish that I would have pulled some of my friends to the side and said, "Hey, are you not reading because you're struggling with it? You need help?"
That's one of the reasons I started The Wade Smith Foundation — to go around and talk to kids about the importance of reading. If they struggle with reading, I always tell them, "It's OK to be that way, but it's not OK to stay that way." This book was a result of that whole idea. A lot of what those kids are worried about is that somebody would pick on them or make fun of them when a situation like that arises.
You've spent a lot of time in schools through the work of your foundation. Have kids ever shared their experiences of being bullied with you or asked for advice?
A lot of times when I'm doing book readings, questions like that do come up. I always try to let them know it doesn't have to be a confrontational thing, but you can help take the attention off of somebody. Or if you're somebody that is being bullied … letting someone know that you don't appreciate the way they're talking to you or you make me feel a certain way, of course [letting] the teacher know if it gets to that point. It has to takes a group effort to handle bullying, and there's not one particular way you go about it.
Did your experience in football shape the way you viewed bullying?
I was a football player starting in seventh grade, and I think bullying really didn't take place until sixth, seventh, or eighth grade. A lot of times the football players on our team, we took it upon ourselves to not let anyone get bullied. But it's funny, because we would make fun of each other and poke fun at each other all the time, but we never allowed someone to just really get singled out or bullied, whether it's physically or verbally. I've seen a kid get picked on and jumped, and a bunch of the football kids running over there to intervene.
Why do you believe that it's so important for communities to participate in their schools?
Without my community, I don't think I ever would have been able to achieve what I was able to achieve in life. The community I grew up in in Dallas was very diverse; I was able to grow up with all different types of kids. I had friends that didn't have a lot and some that did. It was an all-in and everyone pushing toward the same goal-type atmosphere to help one another out. That was how we were able to be successful — whether it's team moms making lunches for kids that wouldn't have lunch waiting for them — everything is community-driven. Everyone is helping one another. I think the best and brightest solutions happen when you have a community of people helping one another strive to do their best.
How do the children you work with respond to your school visits?
It's awesome — I'll get current and former NFL players, I'll get WNBA players, TV reporters, radio disc jockeys, doctors, lawyers, policemen, firefighters, professionals in all different realms, and we do an assembly with the older kids in the school. I'll talk to them about the importance of reading, how cool it is, how it opens up their mind to so many different opportunities. You literally cannot achieve the dreams you want to achieve in life if you don't have that solid foundation of being able to read.
Then we do a Q&A. You get all types of questions: What was your favorite subject growing up in school? What was your favorite book to read as a kid? What type of books are you reading now? So it gives them an opportunity for the kids to see somebody on the stage that they identify with and they might want to be like. All these people on the stage from all these different professions and careers are talking about how important reading is in order to be successful. You can tell these kids get it. I try to make it so the kids feel like at one point I was them and the people on the stage were them. If we were them at one point, that means that they eventually can be us.
Then we break up and go read to the younger kids in the school. We talk about the importance of reading as well in their classroom. We let the older kids in the school know that we're going to go read to younger kids in the class, and we encourage the older kids [to read to their siblings]. A lot of times kids don't have parents that are at home because they're working or they have parents that just don't read to their kids. Ninety-nine percent of the schools I go to are schools that are in the lowest socioeconomic areas of the city. So parent involvement isn't what it needs to be for these kids at home. So you have to put the onus on ourselves, like, OK, I'm the big brother in the house, I have to look out for my brothers and sisters.
You said some kids ask what books you read when you were younger and what books you read now. What do you tell them?
I tell them my favorite book was The Indian in the Cupboard. That book was mind-blowing to me at I guess about 8 or 9. When I was a kid, we didn't have money to go travel all over the place. In this book, this kid took a toy Army man and a toy Native American and put them in a cupboard and turned the key and they came to life and actually ended up traveling back in time with them to their Iroquois tribe. That just blew my mind. As far as the book I read now — I'm a big fan of Game of Thrones. I'm a big fan of John Grisham books. What I like to read to kids is Dr. Seuss.
Get stories like these delivered straight to your inbox. Sign up for The 74 Newsletter