74 Interview: David Hardy on Putting Purpose Before Politics and Kids Before Adults in Leading Ohio's 2nd State-Takeover District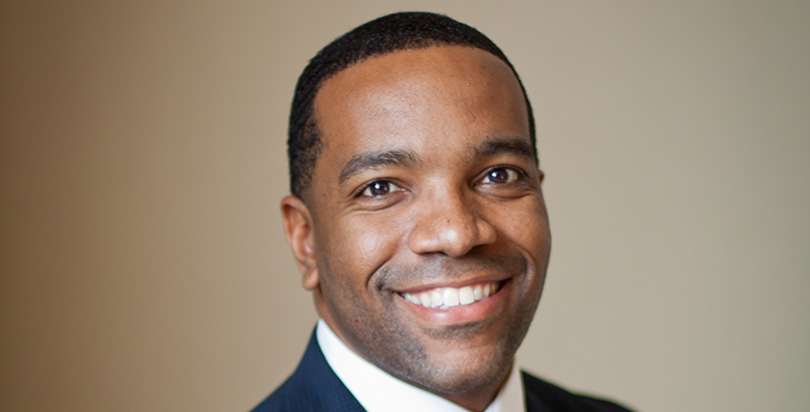 See previous 74 interviews, including 2017 Teacher of the Year Sydney Chaffee, former education secretary John King, and former secretary of state Condoleezza Rice. The full archive is here.
David Hardy, the freshly selected superintendent of Lorain, Ohio's troubled schools, has no patience for putting the convenience of adults over the benefit of children.
"We, unfortunately, in education have made things very convenient for adults, which then inconveniences our kids and their possibility and their potential. Lorain is presenting an opportunity where I don't have to make that compromise, nor will I feel that I have to shadow my thinking or shape my thinking around the perception of my decision, knowing that kids will be put first," he told The 74 in an interview a week after his selection.
The 6,700-student district, which is about 40 percent Hispanic, 35 percent African-American, and 25 percent white, has been under state oversight since 2013.
A 2015 law, known as House Bill 70, gave more power to commissions that step in after districts fail to meet benchmarks, including hiring a CEO with broad powers. Youngstown is the only other district in Ohio under state supervision.
On July 24, a state-led commission picked Hardy from among 37 initial candidates and five finalists to take over in Lorain. He was selected for his work as an assistant superintendent in St. Louis, where he helped the district return to full accreditation for the first time in 10 years, The Chronicle, a local paper in Elyria, Ohio, reported.
He has also taught and held central office positions in Miami, New Jersey, and Philadelphia. He was the founding principal of a middle school in the Achievement First network in Brooklyn.
Hardy will move to Lorain in September after he wraps up some work in St. Louis, he said.
The following interview has been lightly edited for length and clarity.
The 74: Congratulations on your selection to lead the Lorain schools. Can you tell me a little bit about the district?
David Hardy: [It sits] in this very interesting spot just west of Cleveland, about 25 miles west of Cleveland, in a community that has seen some economic decline and still has this, like, fight and fervor for great education, which is awesome … in some of the, I kid you not, some of the best new buildings that I've ever seen.
Take this very interesting perfect storm of severe underperformance, and this passionate community, plus this opportunity [that] they are ready and primed to start something brand-new and transformative. I think it's just a perfect storm.
… One of the first things, and still sticks with me since I've read it, only 1 in 4 students actually took the ACT, and only 3.9 percent of kids are leaving Lorain High School ready for college. So [in a] graduating class of maybe 300 students, we're talking about in the 20s and 30s, maybe, that are actually ready to face the real world. So that's the big headline challenge to me. That can just be seen throughout the rest of the K-12 continuum.
To what do you attribute that underperformance?
I think there's a few pieces that come into play here. I don't get a sense that we're resource-strapped by any sense of the imagination, which is very good. We have some great support from surrounding communities, some strong support from some foundations. I actually am not worried about that.
What I am keen on finding out a lot more about, and will find out over the next few weeks, it seems like there's been a high rate of turnover of superintendents since 2000. I want to say since 2000 they've had seven to 10 superintendents. There's been a turnover of teachers and a decline of students …
I think there's just a lot of complexity around this little city, and for that reason, I don't think anyone's really stepped up and said, "I am the one accountable for these outcomes," in a real way. I think the birth of House Bill 70 actually illuminates the importance of that level of accountable.
Do you have any qualms about being seen as outsider coming in to take over from local leaders?
No. I don't at all. The fact that I don't have any reservation actually makes me feel very comfortable to meet the community where it is.
I will say, there's a mixture of comments from the community. Some are very apprehensive around this structure, where I've been given both the powers of the board, most of the powers of the board, and superintendent. [Some are] excited about the possibility, while others are just very fearful of what the outcomes can be, because of that …
I'm excited to do a job. I've always been driven by making sure kids come first, and this is a bill that says we will put kids first, and we need a leader to hold people accountable to make sure it happens.
What's your timeline for changes?
… There's some very short-term timelines in which I have to engage the community to get a sense of what is going on, what is working, what is not, in the first 30 days. I'm already deeply immersed in that. We'll be flying up to Lorain to hold about 12 to 14 meetings tomorrow just to meet the key stakeholders.
Then after that, 90 days out, I have to present a strategic plan to the academic distress commission to get feedback … and to see if I'm ready, and have a vote of confidence, to push forward with it.
From there, there are some metrics and benchmarks year after year if things continue to fall apart. It actually provides me with more guidance and/or authority to make some more drastic changes, some of which I think creates the apprehension for the community … After year three, House Bill 70 allows me the opportunity to charterize the district, which, again, is very controversial for many reasons but something that is looming if things don't turn around.
I know you've only been on the job a short time, but any early ideas of what you want to do?
Right now, I think the biggest thing for me is just understanding the community. I need to know what works for this community and what doesn't … I want people to know that I am there to listen first and truly understand how we can turn this place around.
I honestly think there's some really good people there, I just need to find them. I have to empower them to do the right things by kids.
The other piece, just from initial understanding of some reports I've read, from the academic side of things, it seems like there's a lot of work to be done around curricular development and assessment, and our approach to accountability for results. Six days in, I'm still trying to figure out some of that, but that's where my mind is leaning right now.
You've worked in districts across the country, in roles throughout school systems. What has that taught you about what makes a good superintendent?
One, purpose. I think the leaders that I have had the chance to work with are completely driven by a purpose and not by the politics and did not put kids second to anything. Some of the best people I've worked with and been around, there's just no doubt what their reason is for doing the work they do.
The second, it's complicated … Having this just impatience and optimism to find your way through the complicated nature of a district, of a community, and make sure that you keep kids on the forefront of any decision that you make. Those two things, I think, stick out to me the most.
You helped get St. Louis back to full accreditation. To what do you attribute that success?
I wish I could put my finger on it. I think there's just a lot of great people who just said no to stagnation and yes to progress. There are a bunch of people that want the best for kids, and we made sure it happened. I attribute that to just the wonderful people that I was just so humbled and lucky to work with every single day.
The second is, we became a lot more intentional. Things didn't happen by accident. There were decisions that were made, there were systems put into place, there was data that we followed religiously every single day that not only drove our decision-making but also made us hold each other accountable more than we had in the past.
Granted, I think we still could do more in St. Louis with accountability, but I honestly think there's this balance between truth and honesty, and making sure you have relationships to guide that truth and honesty. I lean more on that truth and honesty, and all the relationships will [be built] after you win. Like any great team, winning makes everything a little bit easier.
I think that's what I'll bring to Lorain, is just an attitude of, "We're going to do what's best by kids first. We're going to follow what the numbers say we need to do, and we're gonna do it well and have some fun while we do it."
In all the school systems you worked in, did you notice any commonalities of things leaders and systems are doing well for kids, or something they could be doing better?
I think in all of these situations, there is a tendency to kind of migrate to the mean, or to abide by the status quo, versus actually just stepping out and taking a risk for what we all know is right.
That stems to, like, having the tough conversation around what assessment platform to use, to hiring the right folks to lead schools and to be in front of our kids every single day, and not compromise for convenience or the perception of what it could look like if this person is hired or another. So if we were able to actually put all of that aside, and just push forward on an agenda that actually addresses the needs of our students every single day, there's no doubt in my mind that urban school districts would operate differently.
My dissertation, which I'm completing hopefully this fall, thank goodness, is centered around the impact of effective school districts on schools and school leaders. What the research just pointed out glaringly to me is that there has at some point been a wedge inserted in the urban school districts to decrease the impact that highly effective people can have on supporting highly effective schools, and that wedge is truly politics. I think politics then trump reforms and negate the ability for change.
I think education is one of those very unique situations where that's allowed to happen … If we were to try and take what some school districts do in education and put that into a medical field, it would not happen. It would be called malpractice. There would be people literally dying. If you were to translate that to, like, the NFL, there would be some very short NFL careers, shorter than they already are. You would see coaches on a much more rapid pace, and then you would see some excellent players rise to the challenge, because there would be a different expectation if you take that wedge out of the education landscape.
Anything else you'd like to share?
[A gentleman in Lorain] sent me this picture that I thought just kind of captures the whole thing. His comment to me in his email was basically saying, "If you are, with your authority, if you're able to follow this model that was not only true 100 years ago in Lorain, it can be even more true now." It's this picture of this gentleman who I guess was the longest-standing superintendent in Lorain, and it says the schools are run for the children of Lorain, not for the convenience of anyone else.
That is now how I will think about Lorain, but also how I've always operated. I think we, unfortunately, in education have made things very convenient for adults, which then inconveniences our kids and their possibility and their potential. Lorain is presenting an opportunity where I don't have to make that compromise, nor will I feel that I have to shadow my thinking or shape my thinking around the perception of my decision, knowing that kids will be put first.
Get stories like these delivered straight to your inbox. Sign up for The 74 Newsletter