7 Things to Know About How a New Task Force in Los Angeles Is Looking to Improve the City's Schools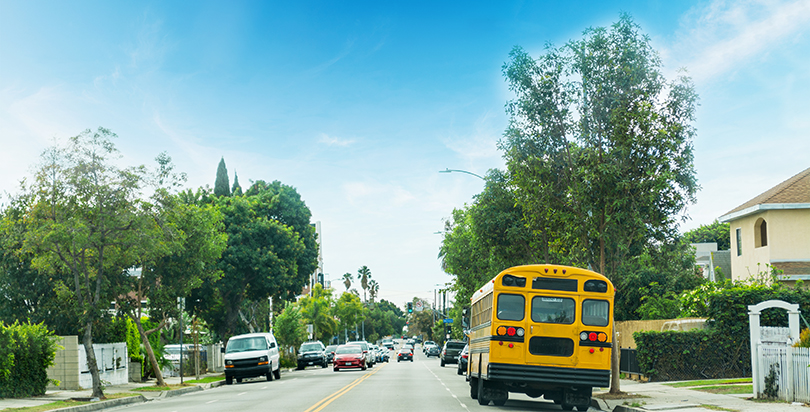 This article was produced in partnership with LA School Report. (See our complete coverage of education in Los Angeles)
Philanthropist and former Los Angeles Times publisher Austin Beutner said he doesn't see the new task force he is co-leading as a body that has any intention of usurping the new LA Unified School Board, or telling the superintendent what to do.
"We are here to support Michelle King and offer suggestions," Beutner said in an interview with LA School Report. "Classically, the role of the school board is to set policy issues and oversee the leadership. That's not what we're going to be doing."
Beutner teamed with Laphonza Butler to create a diverse 11-member team for the LA Unified Advisory Task Force that includes leaders in marketing, business, ethnic groups, government, and more. Butler is president of Service Employees International Union Local 2015, which represents home health care workers and helped reform the state's home health care services.
The task force is an outside advisory group that has no specific standing with the district and won't cost the district any money. At least two school board members contacted said the new task force is a great idea, similar to the Independent Financial Review Panel that gave financial advice two years ago. This is not to replace but to supplement the panel's suggestions, and in fact, one of the review panel members is on the new task force.
School Board President Ref Rodriguez said, "I support that Superintendent King assembled this diverse group of leaders because I believe it's always important to have external entities serving as thought partners to help us reach our goal of 100 percent graduation. Working collaboratively with Dr. King, this group can examine and reimagine the way this district is working towards the objectives laid out in the strategic plan and help us communicate our progress to the public."
King notified the school board months ago in her weekly newsletter update to the members and has attended the two meetings that the task force already had in May and June, where they determined that their first plan of attack is trying to curb chronic absenteeism.
"At my request, business leader Austin Beutner has assembled the LA Unified Advisory Task Force, bringing together innovative civic, education and other leaders to support our efforts to improve District schools and accelerate student achievement," King said in a statement. She said, "The task force is partnering with me to provide recommendations for effectively executing the goals outlined in our Strategic Plan. At the same time, we want to foster a culture of change in which we identify opportunities and embrace solutions to close the achievement gap."
King noted, "My team and I are excited and energized by the opportunity to collaborate with these community partners in the bold and transformative work of educating our future leaders."
Former city controller Wendy Greuel, who is also on the task force, said, "I've been impressed with how Michelle King is engaged with the task force and how enthusiastic she and her staff are about taking on the challenges of the district."
Greuel, who is now the chairwoman of the Los Angeles Homeless Services Authority, said, "I am a product of LAUSD, and my son is in an LA Unified school now."
Beutner challenges the critics who have already suggested that there aren't enough educators or labor leaders involved. "I would say to them to take a look at our list again," Beutner said. "We have Michael [Spagna, provost and vice president for academic affairs at Cal State Dominguez Hills]; we have Sherry Lansing [past studio chief of Paramount Pictures and 20th Century Fox], who can help with marketing and getting the story out; we have Helen Torres, of HOPE [Hispanas Organized for Political Equality], who can help us figure out ways of involving the Latino community. I think we are pretty well represented."
And if they don't have the experts on the task force, they plan to ask for some and have raised $400,000 independently of the school district to help pay for that. Beutner said the money came from the California Community Foundation, the California Endowment, the Weingart Foundation, and the Ballmer Group, a charity started by Steve Ballmer, the owner of the Los Angeles Clippers basketball team and former Microsoft chief. Beutner said that the money will help pay for the consulting firm, Education Resource Strategies.
Longtime school board member Mónica García said she thought the task force was a great idea, adding that it was a strategy that the district has been trying to do for a while, bringing in community leaders and philanthropists.
"This effort by Dr. King reflects her leadership," García said. "I reject the speculation that she or we are not doing our job. I'm delighted she has engaged leaders like this and that everyone is looking forward to helping us serve our kids. Look at the size of our organization. We need a lot of support."
Beutner said the team won't be touching the issue of charter schools in the district because that is a policy issue. "It doesn't matter what kind of school you're in, chronic absenteeism is an issue," Beutner said.
Greuel pointed out that Beutner went out of his way to make sure the task force isn't specifically tilted toward one way of thinking or another.
"We all plan to work together to find resources without any side," Greuel said. "I'm sure there will be a lot of conversations coming from outside about what we are doing."
Beutner predicted that the first report of the task force will be sometime in early fall, maybe as early as September, after King decides how to implement any of their suggestions. Then, they will discuss what to tackle next — there could be 10 to a dozen other issues facing the district. There is no deadline, and the task force will exist "until we run out of steam," Beutner said.
Board member Richard Vladovic first got Beutner in touch with King after she developed her strategic plan, and there was some criticism by board members that it wasn't specific enough and had no plan for implementation. Vladovic said at the July board meeting that he felt the board is dictating too many edicts to the superintendent and that it should "let her do her job" without so many resolutions.
García said, "Kids and families aren't waiting for us. I can appreciate some people coming up with solutions, and it is our duty to hold ourselves accountable."
One of the items García said she hoped the task force would look into is more funding for special education. Greuel said she hoped the next project may include how to help principals at schools on a local level with day-to-day support.
"For now, it is important to establish at kindergarten how important it is to show up to school every day," Greuel said. "When kids are in their seats, that means more funds, and it means more are learning."
The task force may meet once a week or once a month, depending on the schedule of some very involved members.
"We are all very busy people," Beutner said. "But if you want something done, like they say, go find the busiest people you know."
Some other questions and issues that have come up about the task force:
1. What is this task force supposed to do? The LA Unified Advisory Task Force has no official standing at the school district and no legal authority to set education policy and was created by King to help her figure out ways of best implementing her strategic plan for the district.
2. Who is on the task force? The panel members are:
• Austin Beutner, former deputy mayor for Los Angeles Mayor Antonio Villaraigosa and past publisher of the Los Angeles Times;
• Elise Buik, first female president of the United Way of Los Angeles;
• Laphonza Butler, president of Service Employees International Union Local 2015, which represents caregivers, nursing home workers, and home healthcare workers;
• Wendy Greuel, former Los Angeles city controller and chairwoman of the Los Angeles Homeless Services Authority;
• Sherry Lansing, former CEO of Paramount Pictures and the first woman to head a major studio when she ran 20th Century Fox;
• Miguel Santana, former city administrative officer for Los Angeles and head of the Los Angeles County Fair Association, who also served on the Financial Review Panel;
• Chris Silbermann, a founding partner at the ICM talent and literary agency;
• Renata Simril, head of LA84, supporting youth sports, and also on the LA2024 Olympic Bid Committee, as well as former chief of staff to the Los Angeles Times publisher;
• Michael Spagna, provost and vice president for academic affairs at Cal State Dominguez Hills and former dean at Cal State Northridge;
• Helen Torres, executive director of Hispanas Organized for Political Equality (HOPE); and
• Jake Winebaum, an entrepreneur and founder of Brighter.com, which helps people find cheaper and reliable dental care.
3. Is this a rebuke or concern about either the new school board or King? Superintendent King actually convened the panel, after talking about it with Beutner, and she will be sitting at all the meetings. "Dr. King is very excited about working with these folks," said LA Unified communications director Shannon Haber. "She will not be surprised about anything they report because she will be sitting in at all the meetings."
4. How will the public know about what is going on with the task force? Beutner said that when the task force has a report ready to issue, it will be made public. "I don't want this to be a secret process. We will explain our recommendations," he said.
5. Is the task force going to replace the findings in the blue-ribbon Independent Financial Review Panel? No. This is a brand-new task force created to give guidance to the district and to be a supplement to the review panel's budget findings. The review panel was put together by past superintendent Ramon Cortines as a gift to his successor to have outside experts give advice about how to fix the financial problems facing the district. Led by former state treasurer Bill Lockyer, the panel did include two former superintendents from other districts.
This new task force includes one person, Miguel Santana, who was also on the financial review panel.
6. Is this undercutting anything the school board may ask the superintendent to do? No. Many of the recommendations that the task force could come up with won't require a vote or input by the school board, and the superintendent could act on the suggestions. Vladovic did say that he thought the school board was getting in the way of the superintendent by issuing too many resolutions that set policy for the district and give instructions to the administration.
7. Does this have anything to do with charter schools? No. Beutner said that charter issues are policy issues that the school board itself will have to tackle, but he did acknowledge that some topics they get involved with may have some ramifications or involvement with charter schools. Five of the 11 board members donated to charter-backed candidates in the past, according to the Los Angeles Times. The SEIU union that Butler is a part of helped support labor-backed candidates that charters opposed.
Sarah Favot and Esmeralda Fabián Romero contributed to this report
Get stories like these delivered straight to your inbox. Sign up for The 74 Newsletter