5 Tips to Make Masks and Other COVID Realities Less Stressful for Young Students in the 'New, New Normal'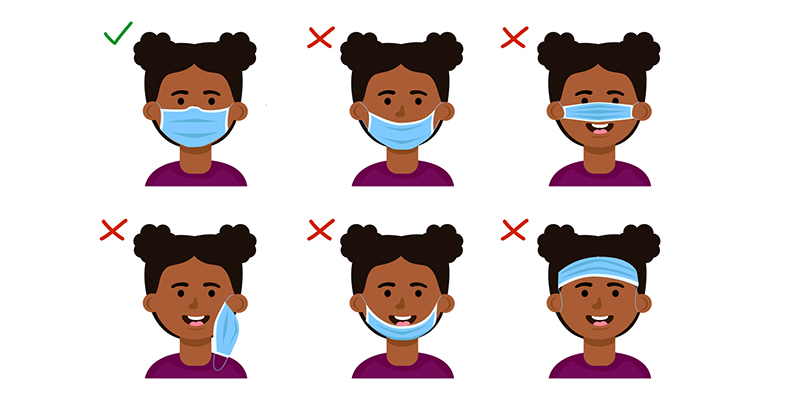 Support The 74's year-end campaign. Make a tax-exempt donation now.
Most public schools in our region have now returned to five days of full-time, in-person instruction after almost 18 months of virtual and hybrid learning. Many parents met this day with both excitement and trepidation as elementary-age children, who are too young to be vaccinated, re-entered schools just after the Delta variant surge. Many parents fear that high numbers of unvaccinated children in school buildings may result in quicker spread.
If the pandemic has shown us anything, it is that we never know what will happen next. Thankfully, we have had a year to glean what might work to keep children physically and mentally healthy in this new, new normal. After a summer that felt like a break from pandemic living, it may be time to recommit to strategies that keep children healthy and keep schools open. The following are five recommendations for children under 12.
First, continue to do what we already know works—vaccinate family members who are eligible, wear masks in indoor spaces and when in close proximity to others, maintain physical distance, practice regular handwashing, and stay home when sick. Find a mask or two that fits your child well and purchase backups so that they can switch throughout the school day (see guidance here and here). Keep in mind, the mask that is most effective is the mask your child will wear.
Help children to recognize when they may need a mask break (i.e., playing with their mask, repeatedly pulling it down) and teach them to ask their teacher for one just as they might ask to go to the bathroom.
If you do not already, model mask wearing, hand hygiene, and distancing for children and talk about them in a way that does not imply that they are annoying or ineffective. Make these things fun by playing games, singing songs, or making up rhymes to remember them and to avoid making them stressful or anxiety-provoking. Similarly, share positive messages with your children about how taking these steps helps them and others in their community, especially those who are more vulnerable.
Second, take the time to familiarize yourself with your school's procedures for health screening, testing, quarantining, and case reporting. Make the completion of the health screener part of your daily routine. At-home temperature checks can also be an effective means of early detection. Reacquaint yourself with the symptoms of COVID-19 and call your family's pediatrician if your children are experiencing any of them.
Third, in the context of optimizing immune support for your children and family, it is important to examine your child's diet to make sure they are getting the right nutrients. Recent studies have explored a possible link between vitamin D deficiency and risk for COVID-19, however, it is important to know there is no research suggesting that taking extra vitamin D would be helpful to those with sufficient levels. Most kids can get the right amount of vitamin D from 10-15 minutes of sun exposure a few times per week. During the winter months, or when children do not spend much time outdoors, vitamin D needs to come from food sources (e.g., whole milk, eggs, yogurt, fish, fortified cereal, mushrooms) or supplements. Different amounts of vitamin D are recommended based on a child's age, therefore, if you are concerned that your child is not receiving enough vitamin D, ask your pediatrician if a supplement is recommended.
Fourth, have a plan for testing in case your child is a close contact of another individual with COVID-19 or she/he begins to exhibit symptoms consistent with the virus. Understand local quarantine recommendations and know what your local school, day care, or workplace requires with respect to the type of test (i.e., molecular or antigen) in order to return to work and school. Become familiar with your local testing options and how long it takes to get results in the event that you need proof of a negative test.
Fifth, think twice about where you take your children until the Delta surge has subsided. Avoid unnecessary trips to crowded indoor places whenever possible and shift activities outside as much as you can.
Unfortunately, even with extensive planning and preparation, there is still the possibility that even vaccinated family members can contract COVID-19. Have a plan ready for where each family member might be able to isolate if they can do so safely. When this happens, talk to your doctor and reach out to your support network for help with food and supplies.
Finally, be conscious of how you talk to children about the virus. Empower them to keep themselves and others safe without overwhelming them. Be calm and reassuring. Allow children to share their fears and acknowledge that those feelings are normal. Let them know that the more precautions we take, the safer we will be.
Support The 74's year-end campaign. Make a tax-exempt donation now.