4 Tips From a Homeschool Mom for Setting Up a Pod That Works for Your Children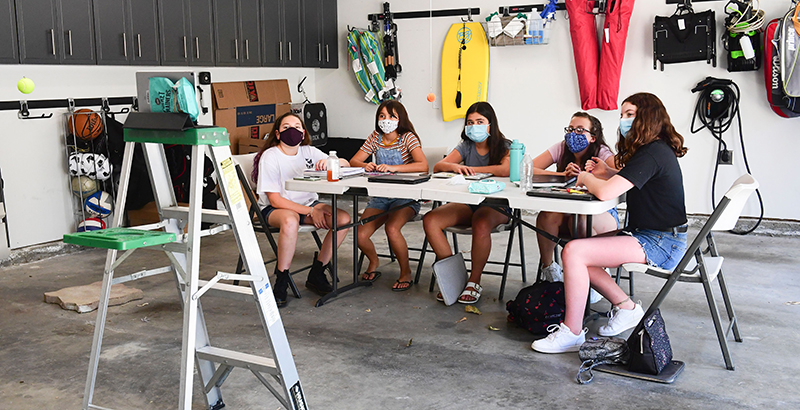 Homeschool pods – otherwise known as pandemic pods – are the newest trend for fall. Under this model, small groups of kids learn together in one another's homes, either with a tutor or with parents sharing teaching duties.
But do they work? As a homeschooling mom, author and consultant, I'm asked this question a lot. Some parents have a hard time finding families that are the right fit and compare looking for podmates to online dating. I've seen some pods work well and others fail terribly. Here are four things to consider when putting together a pod:
1 Pick your pod design and stick to a schedule

Here are the three models I've seen work the best:
Each family completes core subjects, like math and reading, at home in the morning and then gets together for subjects like science, book discussions and phys ed in the afternoon. This model is easiest to adapt for families with different curriculum and learning needs.
Two to three families split the week, hosting all kids on assigned days to work individually for 2 to 4 hours at their pod. This model works well for early elementary school, where most parents can address core subject questions of all students and recess can be included in the time together.
Families hire a college student or teacher to come to their home and teach one to two families' kids five days a week. This model works with a small number of students, especially if mid-elementary age and older, as hosting multiple younger students can be ineffective.
2 You may want to separate your academic pod from your social pod
Separating work from play can make work more efficient and play more meaningful. This is especially true for elementary-age students. So little time is actually required to educate a child one-on-one in the early elementary years that it is much more efficient to take an hour somewhere in the day to go over math and reading individually than to try to do it with a whole group of kids. When work is done, send your child over to a podmate's house to get creative, watch an educational video, listen to literature on audiobook while building Legos or have free play.
For junior high and high school students, there are far more online resources for completing work independently from home at their own pace. Beyond coursework, students can supplement their learning by building historical fiction book clubs with their peers over Zoom, then get together outside of home to de-stress and connect socially.
3 Capitalize on strength areas

Choose fellow parent teachers based on skill sets. One parent may know a foreign language, while another is an artist or a computer programmer. Take turns once a week exploring a new subject area in depth. This will bring variety into your curriculum and help pace your week. Or, consider asking friends outside your pod to do a video chat with your kids if they're experts in an interesting subject.
4 Create pod guidelines

Parameters for keeping kids safe during the pandemic must extend to pods in other people's homes. Decide whether the kids will wear masks and bring their own water bottles. Set aside regular times for handwashing. Establish rules stating, for example, that adults should not be alone with a student who is not their child, or that two adults must be present if there is more than a certain number of children. Talk to your child about how to self-protect, and let her know she should talk to you if she feels uncomfortable.
For parents who can't find a pod, don't worry. There are many free online homeschool groups that can provide an important sense of community. Also, remember that parents globally are struggling — our children aren't falling behind their peers. I'm confident that we'll come out of this with a new resilience around education that will help our kids in the long run.
Anne Crossman is CEO and founder of HomeschoolExpert.com. A former homeschool child herself, Anne attended Stanford and Duke universities, taught in public high schools and on military bases, authored three books on education and has been homeschooling her four children since 2006.
Get stories like these delivered straight to your inbox. Sign up for The 74 Newsletter