4 Things to Know About John King, the Next Education Secretary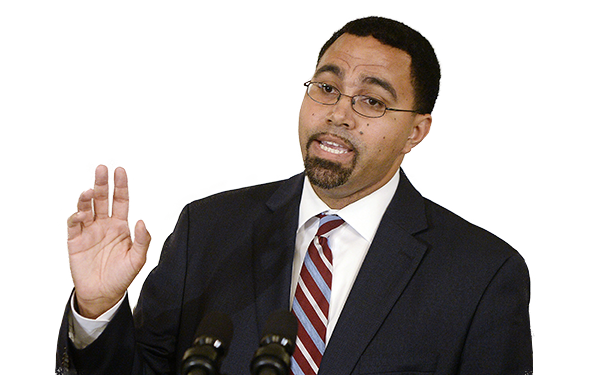 The surprise news Friday that Education Secretary Arne Duncan will
step down from his post
by the end of the year also came with the bulletin that John B. King Jr., currently an advisor for K-12 programs, will lead the department in an acting capacity when Duncan returns to Chicago.
King has had a
long career in education
. He was a classroom teacher, helped found a charter school in Boston, ran a charter management group in New York and, before joining the Education Department early this year, was New York state education commissioner.
During his three and a half years leading the Empire State schools, he oversaw implementation of the Common Core and a new teacher evaluation system tied to student test scores. Here's four things to know about the man set to lead the Education Department for the rest of the Obama administration:
1. He Bears the Scars of the Common Core Wars
King oversaw the rollout of the Common Core State Standards in New York and was the face of much of the criticism from students, parents, and teachers over the standards.
"He has been shushed, booed, called imperious and mocked as the incomprehensible teacher who bleated on and on in Charlie Brown's classroom…Parents call him deaf to the misery of pupils taking standardized tests and too open to commercial involvement in the system; teachers blame him for sapping what joy they had left in their craft."
After a particularly contentious hearing in Poughkeepsie, King and the state education department cancelled the remainder of the listening tour. State legislators criticized the cancellation and at least one called for his resignation,
according to Capital New York
. The listening tour was quickly reinstated with a new format,
Chalkbeat NY reported
.
2. He Sees Integration as a Top Priority
As one of his last acts as the New York state chief, King offered $10 million in state funds to New York City for a pilot program aimed at increasing diversity at low-performing schools. Eight "focus" schools could get up to $1.25 million each to offer new programs or admissions policies aimed at attracting students from higher-income families,
Chalkbeat NY reported
.
And he's been raising the issue for years: in 2012 he said the city's process for assigning students left some schools overly burdened with high-needs students, preventing them from excelling,
Chalkbeat also reported
.
3. Unions Aren't a Fan
And following the announcement that he'd take the helm in Washington, American Federation of Teachers President Randi Weingarten
released a statement
panning King: "No one doubts John's commitment to children, but his tenure as New York state's education commissioner created so much polarization in the state with parents and educators alike that even Gov. Andrew Cuomo is finally doing a mea culpa over the obsession with testing. We can only hope that King has learned a thing or two since his tenure in New York."
4. He Credits NYC Teachers With Saving His Life
King's mother, a guidance counselor originally from Puerto Rico, died when King was eight, and his father, the first African-American principal in Brooklyn, died when King was 12. He moved around among family members during that turbulent time, and credits teachers for his successes.
"New York City public school teachers are the reason that I am alive. They are the reason that I became a teacher. They are the reason I am standing here today. Those teachers created amazing educational experiences, but also gave me hope — hope about what is possible, what could be possible for me in life," he said at the Friday press conference.
In an
interview with The New York Times
in 2011, he credited his fourth grade teacher at PS 276 in Canarsie and a middle school social studies teacher who gave a particularly creative assignment on the Aztecs.
Support The 74's year-end campaign. Make a tax-exempt donation now.