3 Things the New Trump Book Reveals About His Rebellious, Defining Days in School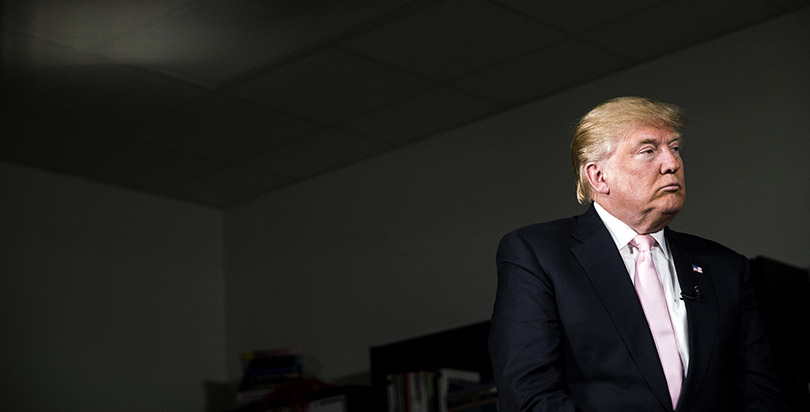 Donald Trump's campaign has turned into a never-ending political quagmire of the candidate's own making.
His egocentric behavior appears to know no bounds even as he
insults
military families, accuses President Barack Obama of
founding ISIS
and boasts about the
size
of his genitalia.
While the chattering class might dissect the political shift Trump's unlikely rise represents for years to come, less talked about is how and when Trump became the man the country is reckoning with today.
Michael Kranish and Marc Fisher, two renowned
journalists at
The Washington Post
, and a team of other reporters tackle this question in their newly released
book
,
Trump Revealed: An American Journey of Ambition, Ego, Money, and Power
.
The 347-page volume chronicles the Trump family from its origins in Scotland and Germany through their most famous son's nomination at the Republican National Convention. What is often striking is just how similar Donald was in his early years to how he is now: The book paints a picture of a rebellious adolescent who was willing to challenge authority, a student who thrived on competition and a boastful peer who often talked about money and girls.
Here are three moments in the book that illustrate this the most.
Stop the music
As a youngster, Trump attended Kew-Forest School, a private, K-12 prep school in Forest Hills, Queens, where he developed a reputation for disrupting class, resisting teachers' commands and bothering his classmates. Once a female student slammed her lunchbox on Trump's head after he had pulled her pigtails. He spent so much time in detention that his fellow students nicknamed the punishment DTs — short for "Donny Trumps."
But perhaps there is no better example of Trump's rebellious nature as a child than a story he recounted himself to The Washington Post about the time he punched a teacher. In Trump's version of events, he was so fed up that his second-grade music teacher wasn't sufficiently well versed that he gave him a "black eye."
"I didn't think he knew anything about music, and I almost got expelled. I'm not proud of that, but it's clear evidence that even early on I had a tendency to stand up and make my opinions known in a very forceful way."
But the book's authors raise questions about the veracity of Trump's story.
They report that several of Trump's friends don't recall the incident or hearing him even talk about it. Relatives of the music teacher, Charles Walker, who died in 2015, told The Washington Post they have never heard the story either. But when Walker, lying on his deathbed in a hospice, learned Trump was considering running for president, he told family members, "Even then he was a little shit."
Asked about the black-eye incident decades later, Trump said, "When I say 'punch,' when you're that age, nobody punches very hard. But I was very rambunctious in school."
'He would do anything to win'
As a teenager, Trump attended the New York Military Academy in Cornwall-on-Hudson, New York, a boarding school modeled after West Point with a strict code of conduct. The school, as Kranish and Fisher describe it, strove to celebrate "masculine excellence."
Students learned how to shoot a rifle. Bullying and hazing of younger students was routine. Students could be punished for a dirty uniform, an unmade bed, holding a girl's hand, not walking properly or even uncut hair.
But even as a teenager in that environment, Trump seemed to have a thirst for competition, whether it was over sports or grades. He relished the chance to win awards for his neatly made bed, clean room and shiny shoes. He questioned whether a study partner had cheated when the partner scored higher than him on a chemistry test.
Trump's competitive drive seemed to help him as an athlete. He made both the varsity football and baseball teams, where he developed a relationship with coach Theodore Dobias. Dobias was a tough World War II vet known for hitting students if they defied him. Twice a week he would order cadets with poor grades or disciplinary issues to fight each other in a boxing ring he set up.
"You had to learn to survive" under Dobias, Trump told the Post. The coach and Trump seemed to share a similar zest to win, even if Dobias didn't particularly care for Trump.
Dobias told the Post that he borrowed former Green Bay Packers head coach Vince Lombardi's most famous line and instilled it in his athletes. "I taught them that winning wasn't everything, it was the only thing.… Donald picked right up on this. He would tell his teammates, 'We're out here for a purpose. To win.' He always had to be number one in everything. He was a conniver even then. A real pain in the ass. He would do anything to win."
Meanwhile, Trump was busy trying to win over Dobias.
"I figured out what it would take to get Dobias on my side," Trump told the Post. "I finessed him. It helped that I was a good athlete, since he was the baseball coach and I was the captain of the team. But I also learned how to play him."
Ladies' man boasts of father's wealth
Those around Trump knew he came from money. Often when he met new people, he asked them what their father did and talked about his own father's real estate business. He once bragged to his senior-year roommate that his father's wealth doubled every time he completed a project.
Girls, too, were a common topic of conversation for Trump. He was quick to judge a girl's appearance. And while the cadets were not permitted to leave the school, they could bring girls to their campus to watch a ball game or get a bite to eat. He would bring around "beautiful, gorgeous women, dressed out of Saks Fifth Avenue" to campus, classmate George White told the Post. In his senior yearbook, Trump was identified as a "ladies' man."
Trump also oozed with confidence about his own future.
"He was self-confident and very soft-spoken, believe it or not, as if he knew he was just passing time until he went on to something greater," fellow cadet Michael Pitkow recalled.
And Trump agreed with him.
"I'm going to be famous one day," he once told another student.
Support The 74's year-end campaign. Make a tax-exempt donation now.