3 Keys to Helping California's Latino English Learners Achieve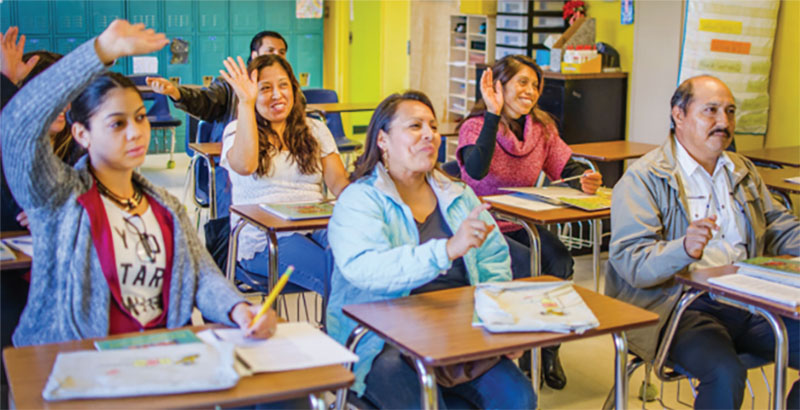 This piece was produced in partnership with LA School Report. 
In California, Latino students face many challenges to succeed academically at the same level as their white or Asian counterparts, but it's even tougher for Latino English learners, according to "The Majority Report" from Education Trust–West, which details ways they can be supported and lists examples of school districts and organizations that are doing it right.
California's 1 million Latino English learners face the task of simultaneously learning a second language while learning a curriculum that even English-proficient students struggle to master. They often have insufficient academic support to meet their particular needs and may even be identified as needing special education services because language needs can be mistaken as learning disabilities, according to the report.
"We think the state has to develop a sense of urgency in closing the achievement gap between Latino students, Latino English learners, and the rest of the students," said Leni Wolf, senior research and policy analyst at Education Trust–West. "We believe there are ways to do it now, and even some are already implementing practices to support them better."
(Read more from LA School Report: Latino students lag far behind whites in every county in California, new study shows)
According to last year's standardized test results, statewide nearly 10 percent of English learners met or exceeded the English language arts standards, and about 9 percent did so in math. Those scores are 30 percentage points behind their English-only peers, the report says.
LA Unified's English learners didn't show any improvement for the second year in a row on the tests — only 4 percent of them were proficient in English and 5 percent in math.
Here are three key ways to support English learners, according to the report:
1. Reclassification
The main goal for English learners is to be reclassified as fluent in English as soon as possible, even though experts have agreed that mastering a new language takes an average of five years. But the sooner they are integrated into mainstream classes, the more access they have to rigorous coursework, including college-preparatory opportunities.
The issue now, said Wolf, is that some are being reclassified too fast and others stay too long in the EL category.
"There are huge variations across districts around how they reclassify EL students, and the result is that some students are reclassified too quickly and others want to be reclassified sooner. The state has a role to play in providing more standardized criteria around the reclassification process."
In the state, 1 in 6 students are considered long-term English learners, spending six years or more working toward English proficiency — mostly, says the report, because of the complicated reclassification process.
2. Access to a rigorous curriculum
Wolf said some districts such as Alhambra Unified are thinking strategically about how to provide English learners broader access to a rigorous curriculum.
In Alhambra — which serves 17,000 students, of whom 41 percent are Latinos and 22 percent are English learners — all ninth-graders are enrolled in an A-G–approved integrated math course.
"Ninth grade is so important. It's sort of a gatekeeper grade, so they are making sure that all students, including English learners, are accessing higher-level math courses so they can be successful in subsequent math courses and with the rest of their high school experience," she said.
Early in 2018, Education Trust–West will be releasing a new report on supporting English learners in math, she said.
3. Valuing their bilingual skills
Latino English learners who have Spanish as their first language make up 80 percent of all English learners in California. In LA Unified, English learners are a quarter of the student population and 92.5 percent of them are Latino, with Spanish as their primary language.
The passage of Proposition 58, which removed restrictions for bilingual and multilingual programs, has allowed English learners to value their primary language and use it as an asset.
"It's really exciting to see that a lot more school districts are planning to expand their bilingual and multilingual programs. Communities and educators are excited about the opportunities that these programs will bring," Wolf said.
The report highlights the Sobrato Early Academic Language program, currently used in 87 schools across California, which serves students from preschool through third grade. The program, which includes a bilingual Spanish-English option, infuses English learner best practices into science and social science content. By third grade, SEAL students score similarly to or better than similar students on English and math tests.
Bilingual programs have been proven to be more effective than English immersion only for English learners in both their English language proficiency and academic content. However, these programs will face the challenge of not having enough bilingual teachers, Wolf said.
"I think 53 percent of school districts are reporting having a bilingual teachers shortage, which are planning to expand their bilingual programs, so this is going to be a huge challenge and something that districts need to be very focused on," she said.
Wolf said districts can start supporting their own teachers who are bilingual to get their bilingual certifications by providing financial incentives. They can also create their own programs to develop bilingual teachers.
She said the role of parents and community members is key in asking schools and districts for these programs for Latino English learners.
"They can do so much for their students by making sure that they're receiving the right support and access," Wolf said. "They need to make sure it's happening in their schools."
Support The 74's year-end campaign. Make a tax-exempt donation now.