Recapping the RNC Live Blog: Empty, Confused and Dangerous Education Talk at Trump's Convention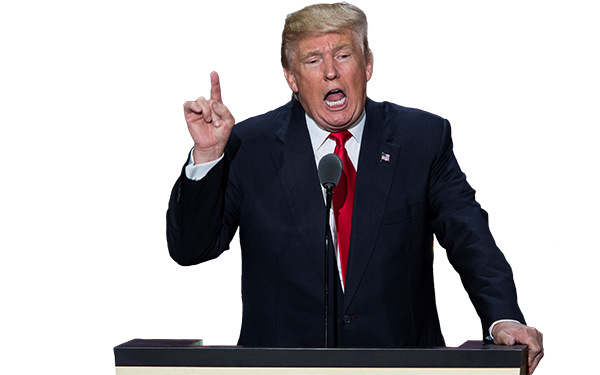 ---
---
---
---
---
---
---
---
The theme for the RNC festivities last night – Make America Work Again – sounds a lot more like a parents' reprimand to their recalcitrant teenager than an economic vision for the country. "Alright America. Get off the couch and go get a job. Or so help me, you're grounded. No TV for a week!"
The underlying assumption here is that Americans aren't working. That the country is bleeding jobs. But it is 2016, not 2008, and the facts just don't bear out. The unemployment rate is under 5 percent, and nearly 300,000 jobs were created last month. In fact, the United States has bounced back from the economic crisis of 2008 better than almost any country in the world.
But jobs and the economy were scarcely mentioned during last night's program. Instead, we heard at length from Trump family members, and speech after speech was dedicated to attacking Hillary Clinton. Whether you like Clinton or not, questioning her emailing habits or staging a mock indictment makes for poor economics.
Ultimately, the evening turned out to be a diversion from many of the real issues facing the country, namely: how to plan for the 21st century economy?
The answer lies, at least in part, in our schools. Millions of our students graduate high school without the critical thinking and problem-solving skills necessary to be successful in the labor market. Many more do not graduate at all. Unless we make a change, the result will be a growing labor pool that is not suited for available jobs.
With that in mind, Trump and Vice President hopeful Governor Mike Pence will need to reverse their positions on things like the Common Core. They can be angry that the federal government provided incentives to adopt them, but they should not undermine states' ability to implement higher and better standards for their students.
Although his record on Trump University doesn't instill much confidence, Trump will need to develop a comprehensive plan to expand access and support college completion for more American students. With over 30 million adults lacking a high school credential, he will also need to build a far more robust adult education and job training program.
These problems are urgent. They are an economic imperative. It is disheartening that the first two days of the Republican National Convention have not dealt seriously with the education challenges we face.
---
"Competition is why I'm very much in favor of school choice. Let schools compete for kids. I guarantee that if you forced schools to get better or close because parents didn't want to enroll their kids there, they would get better."
One would be forgiven for assuming this statement originated from an op-ed penned by a school choice advocate — or from a speech given by a charter school leader. But in fact, it appears in Donald Trump's 2015 book Great Again. In it, the Republican presidential nominee swears his allegiance to school choice and competition, even mentioning charter advocates' favorite research.
"Stanford University's Center for Research on Education Outcomes looked at the impact charter schools have made in 41 urban areas," Trump writes. "They report that charter school students, compared to students in public schools, learn 40 days more advanced in math, and 28 more days in reading. That is significant no matter how you look at it."
Although Trump hasn't talked much about school choice on the campaign trail — he's focused on (fact-challenged) opposition to the Common Core standards and broad complaints about the American education system — the statements in his recent book make clear where he stands on the issue of charter schools.
Again, though, you could be forgiven for assuming that a nominee's past statement praising charters and competition would be a cause for celebration by leaders in the charter movement.
But you would be wrong, as Trump is no ordinary candidate; some even fear that the perception of charters will suffer if Trump starts to vocally embrace them.
"The best thing Donald Trump can do for the education reform movement is to ignore education. His embrace of charter schools and school choice would do nothing but tarnish their 'brands,'" said Michael Petrilli, president of The Fordham Institute, a conservative education think tank. "I hope he stays focused on other issues — and loses big in November."
Greg Richmond, head of the National Association of Charter School Authorizers, said Trump's opposition to the Common Core standards actually undermines and contradicts his stated support for charters.
"Trump has not said a lot about charter schools, though he seems to like them. He has said more about the Common Core and accountability but his positions are hard to decipher. He is against the Common Core and 'mindless standardized tests' but he is for accountability. I don't know how you have good public schools that work for kids, including charter schools, without standards and assessments," Richmond said.
Marc Porter Magee of the school reform advocacy group 50Can downplayed Trump's significance in the broader charter school discussion: "It's difficult to imagine what an actual Trump presidency would look like, but it's likely that controversies on other issues would overwhelm questions about school choice. I'm confident that no matter what happens, the one issue we will not be talking about on January 20, 2017 is school choice."
When asked whether his group is at least glad Trump has indicated support for charters, Magee said only, "We will be glad when this election is over. Then we will all need to engage in the difficult work of putting the pieces of our democratic culture back together."
Nina Rees, president of the National Alliance for Public Charter Schools, was less critical, but still tepid: "Trump has indicated that he is a charter school supporter and a big local control advocate. While we think empowering parents to select a high quality charter public school of choice is the way to bolster local control, the candidate has not expressly defined how he will support the growth of charter schools if elected President."
These reactions — ranging from hostile to lukewarm — are hardly surprising, considering the tough spot charter advocates are in politically. On the one hand, Trump has a real chance of becoming president and insofar as he actually supports school choice, advocates might be pleased.
But to the contrary, Trump — with his well-documented bigotry and general policy incoherence — is a toxic political brand as well as a tough candidate for many advocates to support personally. (This doesn't even begin to touch on how leaders of actual charter schools might feel — surely many are horrified at the example Trump sets for their students.)
Worryingly for choice backers, if Trump starts talking up charters in the debates or on the campaign trail, support for them could suffer.
Rees, however, points out, "The charter brand is already established in many ways. What's unique here is the fact that since their inception 25 years ago, charter schools have consistently received strong bipartisan support from presidential candidates from both sides of the aisle. That's the great thing about the charter school movement. Every presidential nominee, regardless of party, and every president has supported the charter school movement."
Looking ahead to the Democratic National Convention in Philadelphia, charter schools may actually be a more tenuous political proposition among Democrats. President Obama and his administration have strongly backed charter schools. Although Hillary Clinton has also indicated some support for charters, she's also raised pointed criticism, which are echoed in amendments that have been proposed to the official Democratic platform.
---
---
He just floated a controversial school funding formula.

Christie rocked New Jersey's political establishment earlier this year when he announced a proposal to give every school district in the state the same amount of funding per student. Dubbed the

"Fairness Formula,"

the plan would slash urban school budgets while lowering property taxes in the suburbs. One

analysis

found that cities with many poor black and Hispanic students could lose millions of dollars in funding — forcing them to make massive tax increases, layoffs, and program cuts.

He flip-flopped on the Common Core

— sort of. Six years ago New Jersey became one of the first states to adopt the new standards, about which he

once said

he "agreed more with the president than not." The state subsequently replaced its annual state test with PARCC, a series of digital exams aligned with the Common Core. Just a few weeks before his presidential campaign announcement, however, Christie said the standards — which most Republicans view

unfavorabl

y — are "simply not working" and appointed a state task force

to review

them. The task force did release revised standards but one has to squint to find

many differences

with the Common Core. The state has also continued to administer the PARCC exam.

He supports charter schools.

Soon after Christie ended his own presidential bid and endorsed Trump,

he said he would advocate for expanded charter schools

during the remainder of his term. During Christie's administration, charter schools (particularly those run by well-known operators such as KIPP and Uncommon Schools) have

expanded exponentially

in troubled urban school systems controlled by the state.

He overhauled teacher tenure.

In 2012, Christie

signed a law

(backed by the state teachers union) that required teachers to serve four instead of three years before gaining tenure; During that

probationary time

, they had to earn positive ratings for two of the last three years. At any time during their career, teachers who were negatively rated for two years in a row be fired.

He's willing to make enemies.

Christie's image as a pugnacious straight-talker has been burnished by his attacks on critics of his education agenda. He has repeatedly said that teachers unions deserve "a

punch in the face,"

alleging that they don't work on behalf of children. He has also been dismissive of

complaints about charter expansion

by the mayor of Newark, whose school system Christie controls, telling him,, "I'm the decider and you have nothing to do with it."
---
---
Melania promises the 'best' education system — but Trump has a lot of work to do to live up to his wife's promises
Hold states accountable for improving the performance of struggling students. For years states have gotten away with providing some students with a world class education while giving others the short end of the stick. It's not fair. And, it's not a smart way to plan for America's future. Trump will need to make sure that states take their obligations to all students, but particularly students of color and low-income students. In all likelihood this will mean confrontations between the federal government and states. Hopefully Trump won't shy away from those fights.
Make sure that disadvantaged students get more not less funding. It is an unfortunate fact that America is among only a handful of countries that spends less money on the education of its poorest students than their more affluent peers. It's backward and unproductive. Yet, the problem has persisted for decades. If Trump is serious about providing all students with the best possible education, he will need to make sure that disadvantaged students get their fair share of funding. This will mean giving them more money.
Improve the teacher pipeline. Good teaching matters. But, for disadvantaged students it is often in short supply. Since the pay is so low and the hours so long, schools struggle to retain their talent. To make matters worse, schools of education are preparing teachers for classrooms that have long since faded into history. We need to rethink teacher compensation and revamp teacher prep to meet the demands of today's schools and labor market.
---
---
---
Colorado delegates at

#RNC2016

tell me Trump team is trying to seat the state's alternates to boot Cruz delegates who walked out

#copolitics
---
---
---
5 things the Pence pick could mean for the future of federal education policy
Prime-time in Cleveland: Who's on tap to speak tonight at the RNC
Senator Tom Cotton
Former NYC mayor Rudy Giuliani
Sen. Joni Ernst
Melania Trump
TV actor and producer Scott Baio, known for his characters in such hit television shows as "Happy Days," "Joanie Loves Chachi," and "Charles In Charge."
Rick Perry, former governor of Texas.

Willie Robertson, CEO of Duck Commander and star of "Duck Dynasty."
---
Gov. Kasich touts Cleveland Schools at NAACP convention; no plans to speak at RNC
---
Report: Trump will name prospective cabinet, including Secretary of Education, at Convention
---
GOP platform turns against public early education
Will Pence's recent push on CTE shape education conversation at RNC?
Jeb Bush publishes blistering anti-Trump essay that looks to the future of the GOP
---
Indiana's Superintendent warns America about Mike Pence's 'abysmal' education record
---
7:30 a.m. Saturday
Tim Tebow will not be speaking in Cleveland
The fact that Tim Tebow was supposedly speaking at the RNC was news…to Tim Tebow https://t.co/7co1FXtc1Y

— NowThis (@nowthisnews) July 15, 2016
---
Essay: If you want to stand up for today's students, you must stand against Donald Trump
Frequent 74 contributor Conor Williams recently weighed in with an impassioned essay about how Donald Trump's devolving rhetoric clashes with the attitudes and diversity to be found at today's schools.
As we've neared the GOP convention, his piece has again taken off on social media — you can read it in its entirety here — but Williams' case, in a nutshell, is that "the best reason that Trump must be wholeheartedly rejected is already on view in our schools. Students of color, often lumped together as 'minorities,' make up a majority of U.S. school enrollment — and their numbers are projected to grow significantly over time.
"Many of these young children are Americans of Latino descent, who eat dinner each night with their immigrant parents — the people Trump describes as venal, evil criminals. Many of these young children pray to Allah while fulfilling their scouting duties in the evenings and on weekends.
---
Indiana post-Pence: K-12 House leader Todd Rokita jumps into governor's race
Now that Indiana Gov. Mike Pence has officially withdrawn from his re-election bid to become Donald Trump's vice presidential pick, the race is on to find another Republican to run for his seat.
Almost immediately, two current members of Congress, Rep. Todd Rokita and Rep. Susan Brooks withdrew their names from the ballot for their congressional seats. (Indiana law prohibits them from running for two offices at once) Whoever Indiana Republicans select as their nominee will face John Gregg, a former speaker of the state House and Pence's opponent in 2012.
---
Trump tweets running mate, immediately gets trolled
I am pleased to announce that I have chosen Governor Mike Pence as my Vice Presidential running mate. News conference tomorrow at 11:00 A.M.

— Donald J. Trump (@realDonaldTrump) July 15, 2016
.@realDonaldTrump pic.twitter.com/gDKIJu0qj2

— Dave Itzkoff (@ditzkoff) July 15, 2016
SaveSaveSaveSave
SaveSave
SaveSave
SaveSave
SaveSave
SaveSave
SaveSave
Get stories like these delivered straight to your inbox. Sign up for The 74 Newsletter