$1M Grant to Help Build a Better Texas Counselor Preparation Program
Brown Foundation gift continues effort to enhance El Paso's education pipeline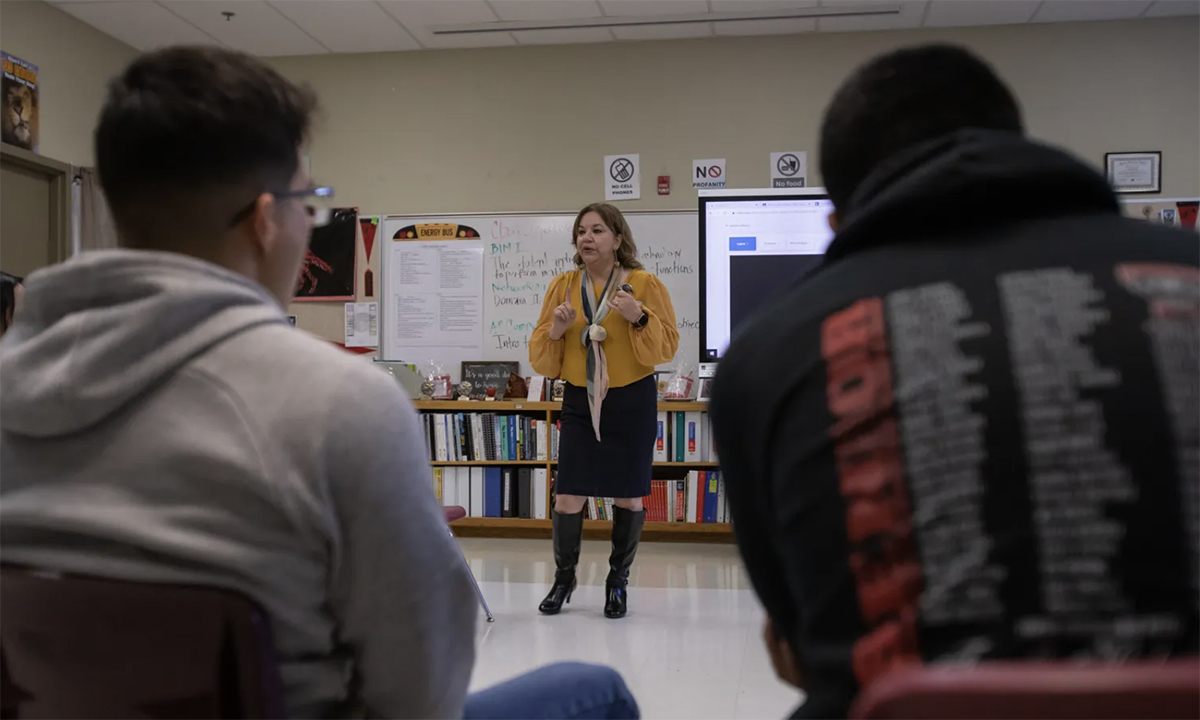 Support The 74's year-end campaign. Make a tax-exempt donation now.
A team of El Paso educators and community leaders plan to use most of a $1 million grant to launch an initiative to ensure more counselors are prepared to help the region's high school seniors be ready for college by the time they graduate.
"Our goal is not only to ensure that every classroom across El Paso has a strong teacher that is preparing students for college, but also that all students have access to the support they need to actually pursue a college education, and that includes having access to a school counselor," said Eddie Rodriguez, executive director of the Council on Regional Economic Expansion and Educational Development (CREEED).
CREEED and the El Paso Community Foundation recently received an "investment" from the Prentice Farrar Brown & Alline Ford Brown Foundation, through Bank of America, N.A. Trustee, for counselor preparation with a focus on academics. The Dallas-based Brown foundation is a private philanthropic grantmaking organization that supports best practices for students, teachers and after-school programs.
The counseling initiative is the latest effort spearheaded by the El Paso Education Community of Practice to enhance the region's education pipeline. The group already has met with counselors in and outside the region to learn which issues most affect today's students and it will continue to conduct similar meetings as it creates and refines its plans to recruit and prepare the next generation of counselors. The community of practice is made up of representatives from CREEED, El Paso Community Foundation, El Paso Community College, the University of Texas at El Paso, and the public-school districts in the Region 19 Education Service Center. The group is credited with building successful teacher and mentor teacher preparation programs since 2019.
The latest objective is to increase the number and enhance the quality of counselors in area districts to help students with everything from career guidance to financial aid applications because higher education degrees and credentials will be more important in the future. Data from the Texas Higher Education Coordinating Board's 60x30TX estimates that 60% or more of all new jobs by 2030 will require some post-secondary education.
Rodriguez said the initiative will elevate the counseling discipline with an emphasis on the academic side along with other aspects of the field such as student discipline, social services and social-emotional issues. While the focus is on high schools, he said the school districts will deploy the counselors where needed.
The current student-to-counselor ratio in Texas is 1,000 to 1. The average in El Paso is around 400-to-1, and the task force expects this initiative to lower that ratio, said Nadia Tellez, CREEED Choose to Excel director. She added that the recommended national ratio is 250-to-1, but said recent research funded by the American School Counselor Association found that the ratio should be closer to 150-to-1 in high needs areas such as El Paso.
Tellez said the task force wants the new initiative to improve the ratios, and to redirect and reinforce the current counselors where necessary, and better prepare counseling students at UTEP.
"We're at that infancy stage of what the model will look like," Tellez said.
Clifton Tanabe, dean of UTEP's College of Education, said counselor panelists have told the community of practice that more personnel is needed to deal with large caseloads of students who request help with career counseling and academic or personal challenges. The counselors also suggested a more holistic campus-wide approach to counseling where teachers would be trained with basic counseling tools. He said that research data has shown that students will not do as well academically if they are stressed by a lack of food and shelter or if they experience difficult emotional challenges.
"There's no escaping the fact that we're in a moment in time where we're dealing with social-emotional/mental health issues in schooling K-12 or higher," Tanabe said. "There's no way to sugarcoat it. That's a real issue and schools and educators need our support."
Tanabe said faculty from UTEP's Department of Counseling, Special Education and Educational Psychology are working on innovative ways to change parts of the curricula based on feedback shared by the counselor panels. He said the department wants to add the most relevant knowledge, skill sets and learning experiences into the curricula so the counseling graduates can better serve students. He expects the community of practice to pick the counseling initiatives it wants to pursue in spring 2023.
"(Counseling) is another piece of the puzzle," Tanabe said. "The bottom line is how can we work together with our school district partners and our community partners in supporting high-quality, academic-focused counselors so that we do not ignore that piece of the puzzle."
Angie Morales, the at-risk and counselor coordinator with the Tornillo Independent School District, has participated in similar panel discussions as the ones conducted by the community of practice. Tornillo is the only district in the Region 19 Education Service Center with student-to-counselor ratios lower than the suggested national average of 250-to-1. This school year the district's ratio is 206-to-1. She said her advice is to hire more counselors, especially in the big districts where high schools could have up to 3,000 students.
Morales previously worked as a counselor at Montwood High School, a campus in East El Paso with approximately 2,700 students. She tried to make sure that the more than 450 seniors that were her responsibility stayed on track to earn the necessary credits to graduate, while also maintaining student schedules, schedule changes and other assigned duties. She lamented that there was never enough time to do everything for everybody.
Morales, a first-generation college student, worked as a teacher for three years before she became a counselor in 2009 after earning her M.Ed. in school counseling from UTEP. She said students need guidance and direction since their freshman year.
One immediate solution she suggested was to relieve the counselors of the time-consuming duties of entering course requests and class schedule data. She said counselors often do that work after hours because they spend their day helping students in crisis to include contacting family and gathering the necessary resources for the students.
"What we need to take into consideration is that we only have eight hours a day with students, and we have seen more anxiety crisis, suicide outcries, students wanting to dropout, and students getting behind on credits because of the year we lost during the COVID pandemic," Morales said.
The collaborative community of practice started its effort to enhance the region's K-12 education pipeline in 2019 with UTEP's Miner Teacher Residency Program, which is a year-long, hands-on clinical preparation program. The group launched the Miner Teacher Mentorship Program the following year. The mentorship program pairs novice teachers who have less than three years of service with highly trained educators ready to offer hands-on classroom support.
The Brown Foundation also donated $1 million in 2019 and 2020 to enhance the teacher and mentor teacher programs, respectively. Stephanie Otero, vice president of operations with the El Paso Community Foundation, said that $650,000 will go towards the counseling initiative and the rest will be divided among the teacher mentorship program, some educator fellowships, and the creation of a regional teacher pipeline dashboard.
"Through our efforts, we hope to reimagine what a student-centered success model looks like at a school," Otero said. "(It's) a model where every adult on a campus plays a role in the support of student success, both mental/emotional health and college/career readiness."
CREEED's Rodriguez said the existing counseling system is well entrenched so it will take several years to test and evaluate the necessary changes before a new counselor plan is implemented.
He is confident that the necessary changes in the counseling initiative will be made based on the task force's past successes of the teacher and mentor-teacher programs.
"I think with the implementation of the teacher residency program, there will be more anticipation of fulfillment versus 'we don't know if this is really going to work,'" Rodriguez said.
Otero said that the next phase of education that the community of practice will tackle after counseling will be school leadership.
This article first appeared on El Paso Matters and is republished here under a Creative Commons license.
Support The 74's year-end campaign. Make a tax-exempt donation now.