17 Killed and 14 Injured in Florida High School Massacre, Among the Worst in U.S. History; at Least 23 Killed and 41 Injured in School Shootings This Year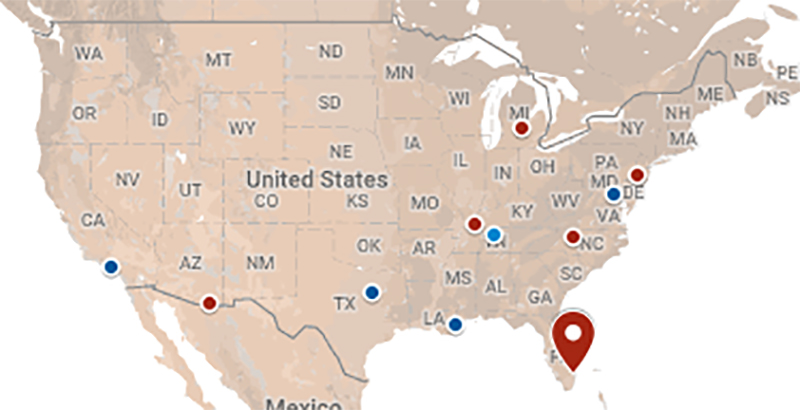 The 74 will be tracking gun-related injuries and deaths at schools throughout 2018. Bookmark this page for the latest reports, or sign up to receive updates straight to your inbox via The 74 Newsletter.
As officials release the names of the 17 school shooting victims in south Florida this week — including a football coach, a geography teacher, an athletic director, and 14 students — a picture of the suspected killer has begun to emerge, revealing a trail of red flags.
One of those red flags was missed by the Federal Bureau of Investigation, which on Friday acknowledged it failed to act on a tip from January, in which a person close to the suspected gunman told the agency he had a "desire to kill people, erratic behavior, and disturbing social media posts." Also Friday, Robert Runcie, the district superintendent, told the Florida Sun Sentinel the district plans to demolish the building where the shooting was carried out.
The Valentine's Day shooting unfolded near the end of the school day at Marjory Stoneman Douglas High School in Parkland, Florida, part of the Broward County School District, America's seventh-largest. The shooting, which claimed 17 lives and injured another 14, is the deadliest school attack in the U.S. since 2012, when 26 people were shot and killed at Sandy Hook Elementary School in Newtown, Connecticut.
The shooter in Florida, who has reportedly confessed to authorities, is 19-year-old Nikolas Cruz, now charged with 17 counts of premeditated murder. Cruz, a former student at the school, was expelled last year for disciplinary issues.
Armed with an AR-15 semiautomatic rifle, several magazines of ammunition, smoke grenades, and a gas mask, Cruz reportedly took an Uber to the school. At about 2:20 p.m., officials believe, Cruz pulled a fire alarm and opened fire on students and educators as they evacuated the building. Broward County Sheriff Scott Israel said 12 victims were killed inside the school, two outside the building, one on a nearby street corner, and two died in the hospital.
After the rampage, Cruz reportedly told investigators he dropped his rifle and slipped away from the school as he attempted to blend in with fleeing students. About an hour after the shooting, he was arrested in nearby Coral Springs without additional incident. Although a motive for the shooting remains unknown, Israel said investigators have found social media posts by Cruz that are "very, very disturbing."
Cruz and his brother Zachary were adopted and raised by their mother Lynda Cruz, who died in November. Their father, Roger Cruz, died in 2004. Neighbors reported Cruz had a history of causing problems in the community. He enjoyed abusing animals, people who know him said, and in recent years demonstrated an explosive anger.
Cruz had several run-ins with law enforcement in recent years, and although police responded to dozens of 911 calls, he was never arrested.
A therapists' report from 2016 said he was "no threat to anyone or himself." The FBI opened an inquiry into Cruz's behavior last year after he was reported for posting a comment on YouTube that said, "I'm going to be a professional school shooter."
The shooting, like those in the past, has surfaced a renewed call for action. U.S. Department of Education Secretary Betsy DeVos urged lawmakers to hold immediate hearings on the issue.
"We have got to have an honest conversation, and Congress has to lead on this," DeVos said during a radio interview on Thursday. "It's their job."
Among lawmakers calling for heightened gun-control measures is Sen. Patty Murray, the top Democrat on the Senate education committee. "Families across the country are tired of waiting for Congress to step up, have the tough conversations, and adopt common sense gun safety and other policies to end this scourge in our schools and communities, so I am very glad that Secretary DeVos has requested Congressional hearings on this issue and I wholeheartedly agree," Murray said in a statement.
Leading Republicans, however, have balked at calls for gun-control measures. Among them is Sen. Marco Rubio of Florida. "It is unfair to argue that there's nothing we can do other than be more careful," Rubio told the Miami Herald. "It's also unfair to argue that the reason why people are suffering today is because there's some great law out there that if we had just passed it, it wouldn't have happened. It's not accurate. Both of those things are wrong."
In response to the tragedy, President Donald Trump put the focus on mental illness. In a tweet, Trump said there were "many signs that the Florida shooter was mentally disturbed," noting that if people observe someone with erratic behavior, they "must always report such instances to authorities."
Trump did not offer specifics on how his administration would home in on mental health issues. In February 2017, Trump rescinded an Obama-era policy that was designed to restrict firearm purchases by people who receive Social Security disability checks due to mental illness or have been deemed unfit to handle their own finances. The National Rifle Association and the American Civil Liberties Union had opposed the Obama-era policy.
Mo Canady, executive director of the National Association of School Resource Officers, called for additional funding for school-based police officers "to keep students safe." About 20,000 school resource officers are currently stationed at K-12 campuses.
Behind the numbers:
Throughout 2018, The 74 is tracking in real time — or close to it — shootings at American schools. Our analysis will focus on incidents that occur on school grounds and result in injury or death. The Parkland shooting was the 11th such incident in 2018.
This year, at least 23 people have been killed and 41 have been injured due to school shootings. Learn more about each incident with our interactive map:

This map includes school shootings that took place on campus where a person was injured or killed. Incidents resulting in injury are labeled blue, while incidents resulting in death are labeled red. The most recent incident is indicated with a larger icon. Click on the icons to see details about each incident.
Nationally, nearly 1,300 children (17 years old and younger) die from gunshot wounds each year, and 5,790 are treated for injuries, according to a recent Centers for Disease Control and Prevention report. While unintentional firearm deaths and homicides of children have decreased in recent years, suicides have spiked.
Among child gun deaths between 2012 and 2014, 53 percent were homicides, 38 percent were suicides, and 6 percent were unintentional.
Less than 3 percent of youth homicides and less than 1 percent of youth suicides occur at school, according to a recent report by the National Center for Education Statistics.
If we've missed a school incident you think should be included in our coverage, please send an email to info@the74million.org, and bookmark this page for the latest reports of incidents involving the discharging of a firearm on school property that results in a wound or fatality.
Get stories like these delivered straight to your inbox. Sign up for The 74 Newsletter